The boss of United Airlines has blamed a passenger for being "disruptive and belligerent" after his forced removal from a flight by aviation security caused outrage around the world.
Social media erupted after footage of Sunday's incident appeared to show the 69-year-old man being ripped from his seat after refusing to give up his space on the overbooked United flight from Chicago to Louisville. After screaming and resisting the officer, he was dragged bloodied and motionless down the aisle.
United CEO Oscar Munoz apologized in a public statement Monday and said the airline was investigating what happened. But the airline boss also sent an internal letter, which has been seen by NBC News, telling United staff that he stood by them and appearing to criticize the conduct of the passenger.
The man was "politely asked" to get off the plane several times, according to Munoz's letter, "and each time he refused and became more and more disruptive and belligerent."
The airline said it had asked people to give up their seats for four crew members who needed to fly. When not enough people volunteered, despite being offered compensation, the airline used an algorithm to select people who then had to give up their space.
The man at the center of the viral video refused because he said he was a doctor who had to see patients the next morning, according to eyewitnesses.
Munoz said his staff had "no choice" but to call aviation security, who in turn "were unable to gain his cooperation and physically removed him from the flight as he continued to resist."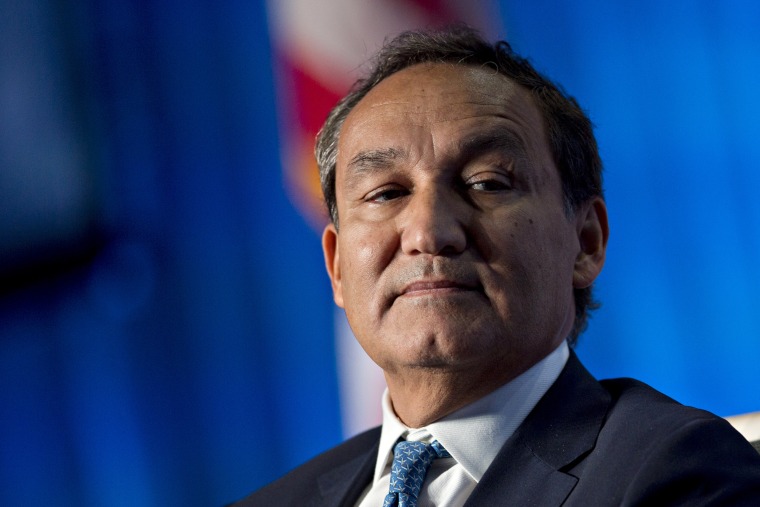 After being removed from the flight, the man manged to get back on the plane.
"Somehow he got back on," Tyler Bridges, one of those who filmed the incident, told NBC News. "He runs back on — dazed, bloodied, kind of in a mess — yelling, 'I have to get home, I have to get home.'"
Defending his staff, the airline CEO added that "our employees followed established procedures for dealing with situations like this" and "while I deeply regret this situation arose, I also emphatically stand behind all of you, and I want to commend you for continuing to go above and beyond to ensure we fly right."
The Chicago Department of Aviation said the officer who removed the passenger had been placed on administrative leave and that their actions were "not condoned" by the department.
By Tuesday, United Airlines was trending on Twitter and for all the wrong reasons. The hashtag #NewUnitedAirlinesMottos saw people conjuring satirical tag lines for the carrier.
The passenger dragged off the plane appeared to be of Asian descent, and in China this prompted a furious backlash on the social media site Weibo. Some 200 million people had viewed the video and 95,000 people had left comments — most of them negative — by 7 a.m. ET.
"We don't welcome this barbaric airline company's plane to appear on China's airport tarmac," one user from Harbin, a city in northeast China, wrote. "I think the whole of humanity also won't welcome this brutality, thuggery, barbarity!"
Part of the reason that the video seemed to gain so much traction in China was that some alleged that the passenger had been selected because of his race — although there was no evidence of this.
"This is racism, white people first!" wrote one user from Taizhou, in Zhejiang Province.