United Continental CEO Oscar Munoz apologized again Tuesday, this time to hostile lawmakers on Capitol Hill, for the forcible removal of a passenger.
"This is a turning point for United," Munoz said told the House Transportation Committee during a tense hearing.
One lawmaker, with his hands in the air, cited frustration over problems flyers repeatedly encounter, such as complicated booking systems, confusing fees, long waits and unexplained delays.
Committee chairman, Rep. Bill Shuster, R-Pa., opened the hearing by saying Congress will take action if airlines do not act, and he warned that they "would not like the outcome." He argued the airlines owe the public answers. "Something is broken," Shuster said.
"It is my mission to ensure we make the changes needed to provide our customers with the highest level of service and the deepest sense of respect," Munoz responded. "Ultimately our actions will speak louder than words."
The hearing was held to discuss oversight of U.S. airline customer service, following a public relations nightmare for United when a passenger was dragged off an overbooked plane for refusing to give up his seat.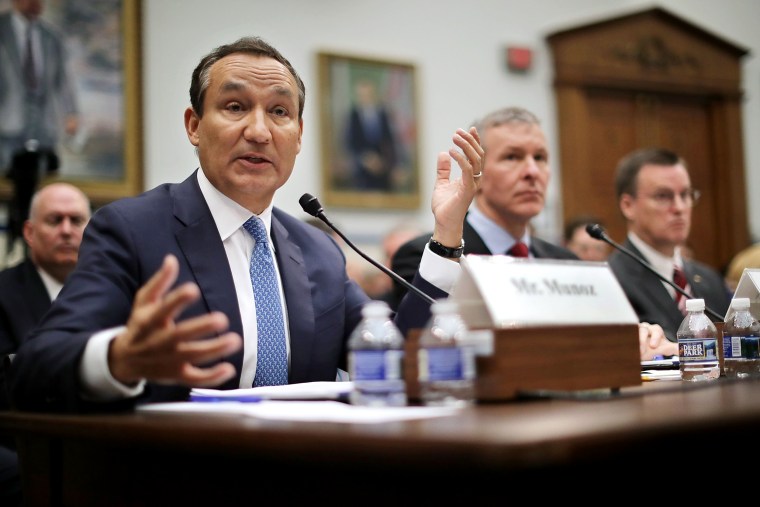 The airline has since announced that Munoz will no longer take over as chairman of United's board in 2018, as was planned. Further, United will now offer passengers who give up their seats — in an overbooked situation — up to $10,000.
"For the last three weeks, I have spent every day thinking about how we got here," Munoz told the committee. "As CEO, that is my responsibility. ... We need to do a better job of solving problems in the moment."
United recently settled with the injured passenger, Dr. David Dao, and has issued a number of policy changes. Munoz has spoken up in media interviews and has sent his own memos to United's customers, apologizing and promising changes that he says will improve service.
"Why do you hate the American people?" Rep. Duncan Hunter, R-Ca., who flies from San Diego to Washington weekly, grilled Munoz. "I was going to ask how much do you hate the American people, but I'm not going to ask that."
Hunter argued that airlines have created an environment where competition is nearly nonexistent at many major transportation hubs today.
Representatives of Southwest Airlines, Alaska Air, American Airlines and an aviation consultant for the Consumers Union also were present during the question and answer session with lawmakers.
As soon as the hearing began, users on social media were quick to criticize United and Munoz, as many have been doing for the past few weeks.
White House spokesman Sean Spicer said Monday that President Donald Trump would not, at this point, weigh in on whether new airline regulations are needed.
"I'll leave it up to Congress to decide whether it's appropriate to address this legislatively," Spicer told reporters. "Once there was a piece of legislation, then we could have an opportunity to weigh in."
Southwest announced last week it will stop overbooking passengers altogether. Alaska Airlines told the committee Tuesday that it's considering changes to its overbooking policy, but American Airlines has said it has no plans to end the practice.
Munoz has further defended the policy of overbooking, saying it helps the airline better serve passengers.