A University of Cincinnati police officer who shot a driver to death during a routine traffic stop probably would not have been indicted for murder, authorities say, without a key piece of evidence — video from a camera worn by the cop.
Law enforcement experts who reviewed the body-cam footage taken from Officer Ray Tensing also say it shows how he handled the situation poorly before it culminated with deadly force.
"Body-worn cameras can't change incompetence. When I look at that video, I see incompetence," Michael White, an Arizona State University criminology professor, told NBC News. "It's unfortunate, it's a terrible tragedy, how that individual became a police officer and served (since 2012)."
Related: Family of Man Killed by University Cop Calls for Peace
The video also calls into question why Tensing's version of events from the July 19 stop don't entirely jibe with the recording.
Tensing, 25, claimed in an incident report that he was dragged by Samuel DuBose's car. Tensing said he was "almost run over by the driver of the Honda Accord and was forced to shoot the driver with his duty weapon."
But bodycam video told a different story, prosecutors said.
In the footage, which was released Wednesday, the officer approaches DuBose's Accord after pulling him over for missing a front license plate. Tensing asks DuBose, 43, for his license, which the driver says he doesn't have on him.
The stop escalates when Tensing asks him to get out of the car, and a scuffle ensues when DuBose appears to start the car to drive off. Without warning, the officer shoots DuBose in the head while he is still behind the wheel, and the car accelerates down the road before coming to a stop.
Prosecutors said DuBose died instantly.
Related: Friend of Samuel DuBose Says His Death is Turning Point
In announcing the murder charge, prosecutors also said that Tensing wasn't dragged, and that use of force — much less deadly force — was "senseless."
Tensing's lawyer, Stew Mathews, contested prosecutors' account.
"He was afraid that he was going to lose his own life," Mathews told NBC News on Wednesday. "He thought he was going to be run over by Mr. DuBose's car. It sped away."
He added that a bodycam worn by another officer who arrived on the scene shows Tensing lying on the pavement, which "supports the fact that he was thrown off the vehicle in some fashion."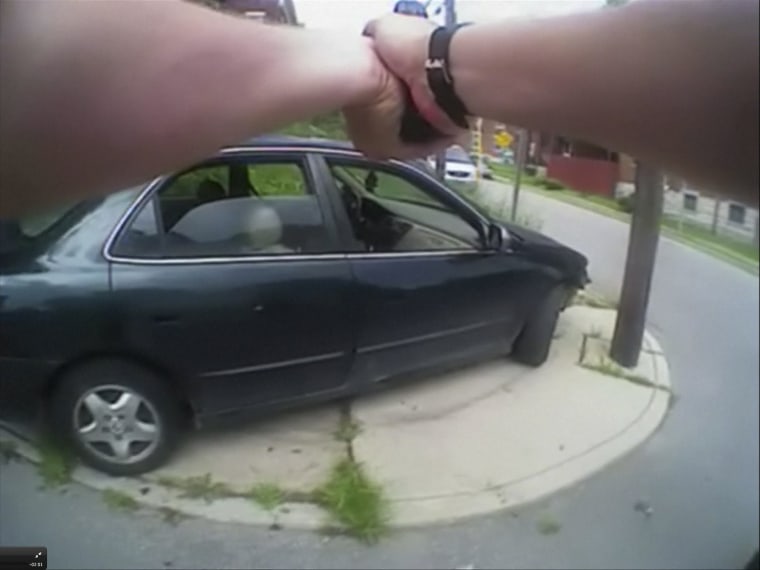 White said DuBose's alleged transgression — driving without a front plate — was not egregious enough to warrant Tensing grabbing inside the vehicle.
The officer, for his own safety, should have stepped away from the vehicle, White added. While Tensing told investigators he was dragged, the video doesn't show that — although Tensing does fall over after shooting DuBose.
"You can see that he pulled his gun out even before the car started moving," White said.
John Eck, a professor of criminal justice at the University of Cincinnati, said his view that bodycams have a limited usefulness was partially changed after watching this latest incident.
While parts of the video are not clear and the voices are muffled, the officer's overall actions show a progression "from dumb to stupid to tragic," Eck said.
It is "not often we get to view a story like this, and it makes me want to cry," he added. "It is clear that a body camera can make the events personal in ways that a car camera or a citizen's video from across the street cannot."
Tensing, who was terminated from his job, pleaded not guilty to murder Thursday.
Bond was set at $1 million. A bond deposit of 10 percent of that amount was posted and Tensing was released from jail at about 6:35 p.m. Thursday , according to court records and officials.
Experts credit the availability of a body-cam video in this case for allowing investigators to move quickly — as opposed to the months it took for a grand jury to review the fatal police shooting of teenager Michael Brown in Ferguson, Missouri.
"We will be seeing more and more of these types of cases as bodycams become ubiquitous around the country," said Bill Sousa, a criminal justice professor at the University of Nevada, Las Vegas, who studies the issue. "But just because we have video, doesn't mean we'll have all the answers."
Despite critics questioning whether such technology is an invasion of privacy, Cincinnati officials say cops wearing cameras is still better than nothing.
"Body cameras brought not a certain agenda, but the truth," Mayor John Cranley said on MSNBC on Wednesday, adding, "In this case, as the prosecutor said, the truth turned out to be murder."