University of Missouri police have apprehended a suspect accused of threatening black students and faculty on social media — the latest incident at a school on edge following weeks of racial tension.
Police identified the suspect Wednesday as Hunter Park, a 19-year-old sophomore at Missouri University of Science and Technology, which is part of the University of Missouri System.
Park, a computer science student, was taken into custody around 1:50 a.m. at a residence hall in Rolla, about 100 miles south of the flagship campus in Columbia, school officials said.
Related: Mizzou Teacher Apologizes for Blocking Journalist
Park was arrested on suspicion of "making a terrorist threat" and transported to the Boone County Jail. His $4,500 bond was revoked, NBC station KSDK of St. Louis reported.
The Columbia campus has been roiled by racial unrest, forcing both university President Tim Wolfe and campus Chancellor R. Bowen Loftin to announce their resignations Monday.
University police said Tuesday that warnings were made on the anonymous social media sharing app YikYak and other platforms, with a threat to "shoot every black person I see."
No weapons were found during the investigation, police said.
In addition, a "phoned-in threat" was made earlier in the day to the Black Culture Center on campus. The building was locked down and searched, but nothing suspicious was found and there were no arrests, police said.
A few dorms on campus were seen to have security notices Tuesday night notifying visitors that only those with identification for the buildings would be allowed inside.
"Threats of violence of any kind are not tolerated," Missouri Science and Technology Chancellor Cheryl Schrader said in a statement. "As a campus, we are grateful that the situation did not escalate."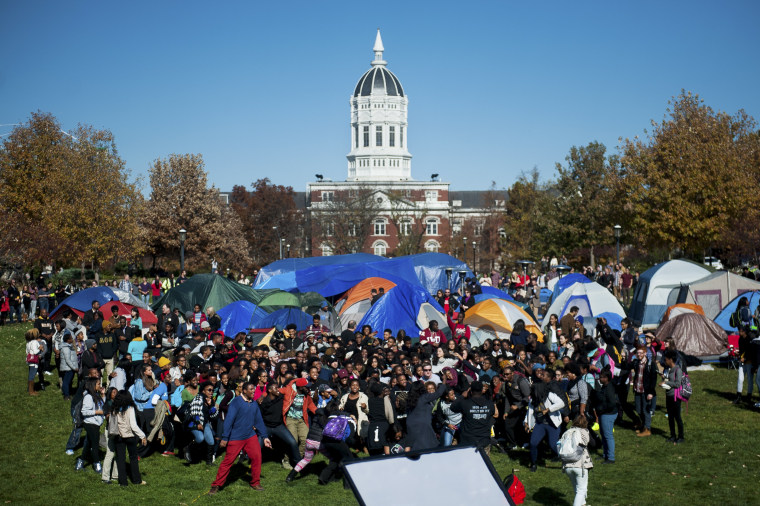 The campus green, which had been bustling this week with protesters calling for top officials to resign, was quiet Wednesday morning in the wake of the threat.
University leaders released a statement Wednesday afternoon calling the threats "reprehensible" and announcing a series of steps to bring calm back to the Columbia campus.
The effort will include counseling and "learning opportunities," including a Friday panel of faculty members who will discuss the week's events.
"The process of making our campus as inclusive as it must be will not be easy," the administrators wrote. "We have difficult conversations ahead, and we must all dedicate ourselves to learning together."
Black students at the mostly white Columbia campus say they've been taunted by white students using racial slurs, leading to protests on campus. On Oct. 24, a swastika was drawn with human feces on a dormitory wall.
The crisis drew national attention Saturday when black members of the University of Missouri's football team said they would boycott all team activities until Wolfe, who was accused of turning a blind eye, resigned.
Wolfe stepped down immediately after more than three years on the job. Loftin said he would exit by the end of the year.
Wolfe said he was to blame for failing to communicate with protesters and resigning was "the right thing to do."
Meanwhile, a second Missouri college student, identified as Connor B. Stottlemyre, 19, of Blue Springs, was being held for 24 hours for while campus police investigated allegations that he sent a racial threat via Yik Yak at Northwest Missouri State University in Maryville.
There have been no protests at that college, which isn't part opf the University of Missouri System. The Nodaway County Sheriff's Office said no connection to the unrest in Columbia had been established Wednesday night.