The University of Missouri assistant professor roundly criticized for trying to block a journalist from filming an encampment during protests on campus Monday has apologized.
"I have reached out to the journalists involved to offer my sincere apologies and to express regret over my actions," Melissa Click, who is an associate professor of communications, said in a statement Tuesday.
Click was seen on widely-circulated video telling a journalist Monday that he could not film an encampment, which was part of a protest that resulted in university president Tim Wolfe resigning over the handling of racial incidents on campus.
Related: University of Missouri Protesters Clash With Media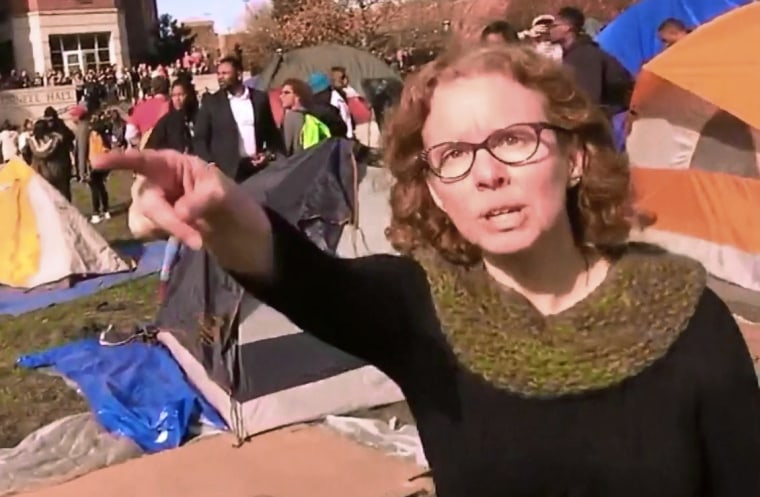 Click at one point asked others, "Hey, who wants to help me get this reporter out of here? I need some muscle over here."
"I regret the language and strategies I used, and sincerely apologize to the MU campus community, and journalists at large, for my behavior, and also for the way my actions have shifted attention away from the students' campaign for justice," Click wrote.
Click said she apologized to one of the journalists involved, who accepted her apology. She did not name the journalist. Mark Schierbecker was the person who captured the video showing Click asking for "some muscle."
"From this experience I have learned about humanity and humility," Click wrote. The apology was distributed on University of Missouri College of Arts & Sciences Twitter account.
Protesters also blocked another journalist, senior Tim Tai, who tried to take pictures of a celebration on a campus quad. He was working as a freelancer for ESPN.
The head of the university's journalism department praised Tai for the way he handled himself during the confrontation, and said journalists have a First Amendment right to cover the public demonstrations.
Related: University of Missouri President Resigns Amid Racial Unrest
Lt. Gov. Peter Kinder was among those who criticized attempts to block reporters. "Faculty and staff cannot be allowed to pick and choose which rights, viewpoints and freedoms they respect," he said in a statement.
Click is a member of the communications department, which is separate from the journalism school.
Mitchell S. McKinney, professor and chair of the department of communications, said in a statement that "intimidation is never and acceptable form of communication." McKinney said in a statement the department was barred from commenting on personnel matters.
Click holds a "courtesy appointment" with the journalism school.
Journalism School Dean David Kurpius said in a statement that "Journalism School faculty members are taking immediate action to review that appointment." Click later resigned from the courtesy appointment, Kurpius said.