One of the students spotted in a video of University of Oklahoma fraternity members singing a racist chant apologized Tuesday, while the family of another slammed their son's behavior as "disgusting."
Parker Rice, who was identified Tuesday by his high school, according to NBC Dallas-Fort Worth, said he had withdrawn from the University of Oklahoma and is "deeply sorry" for what he did.
"For me, this is a devastating lesson and I am seeking guidance on how I can learn from this and make sure it never happens again. My goal for the long-term is to be a man who has the heart and the courage to reject racism wherever I see or experience it in the future," Rice said in the statement.
The video that surfaced Sunday showed University of Oklahoma Sigma Alpha Epsilon fraternity members chanting a racial slur and referencing lynching.
Rice said the song "was taught to us," but he didn't say who taught them the song, and added that it doesn't excuse his actions.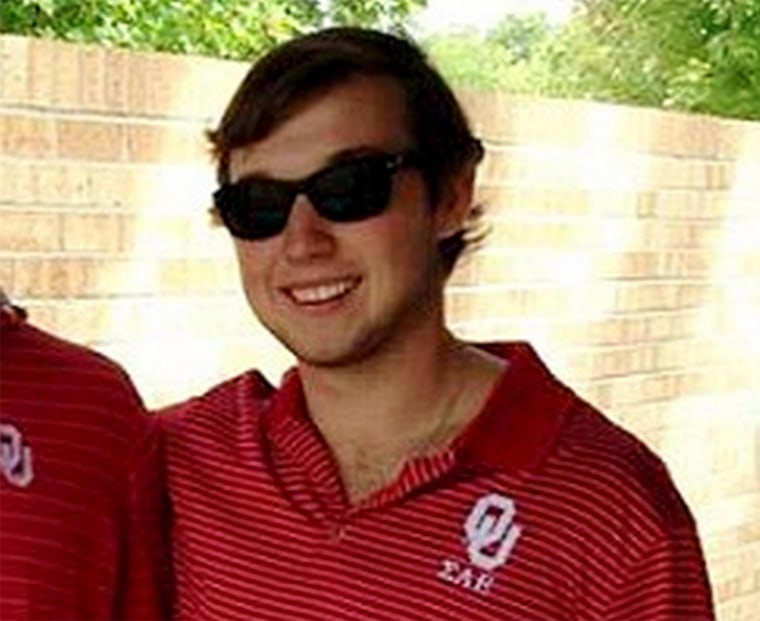 SAE's national leadership said the fraternity system "does not teach such a racist, hateful chant," and said its investigation found it "very likely" the chant was taught by fellow chapter members at the University of Oklahoma.
Meanwhile, the family of Levi Pettit, another student spotted in the video, labelled his behavior "disgusting" and expressed apologies to the "entire African American community."
Brody and Susan Pettit said their son "is a good boy, but what we saw in those videos is disgusting." The family said they raised Levi to be "inclusive," adding, "we know his heart, and he is not a racist."
But Levi "made a horrible mistake, and will live with the consequences forever," the statement from his family said. The family offered apologies to the "entire African American community, University of Oklahoma student body and administration."
The university, citing privacy laws, has not named either of the students it expelled.
Sigma Alpha Epsilon's national leadership said in a statement Tuesday night that it supports the decision by the university to expel two students connected to the video. The two students who were expelled have not been identified by the university. "We believe these men must be held accountable for their actions," Sigma Alpha Epsilon said in a statement.
The president of Rice's alma mater, Jesuit College Preparatory School in Dallas, released a statement saying he was "appalled by the actions in the video."
"It is unconscionable and very sad that in 2015 we still live in a society where this type of bigotry and racism takes place," Mike Earsing said.