Students at the University of Texas at Austin can't carry concealed handguns in the dorms, but they should be allowed to tote them inside their classrooms, a task force reluctantly recommended Thursday.
While members of the Campus Carry Policy Working Group said it "would be best" to not permit guns in classes at all, a "campus carry" law that goes into effect next August is forcing them to endorse the measure.
The gun guidelines come as pro-gun groups gear up for a controversial "mock mass shooting" demonstration planned near the campus this weekend. The event would feature prop guns, people dressed as victims and the sound of bullets on a loudspeaker, organizers said.
The campus-carry panel's report also detailed recommendations for exactly where licensed gun owners can carry their concealed weapons on campus and how to properly hold and store them.
The task force members said they could not recommend banning handguns from classrooms because of the pending state law — despite their own hesitations and "overwhelming sentiment" on campus that the weapons should not be permitted there.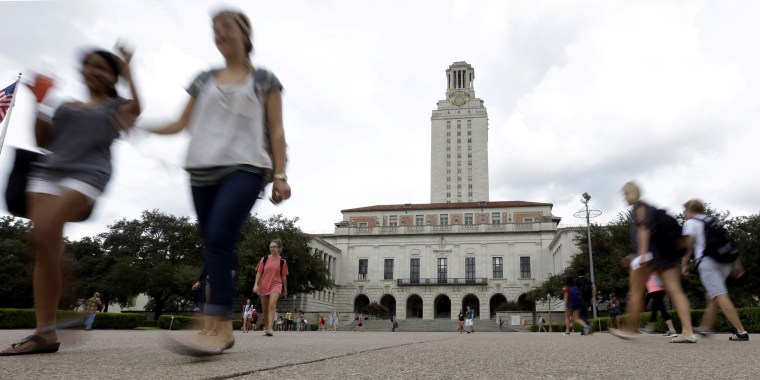 "Let me be perfectly clear about this, every member of the working group thinks that we would be best if we did not have handguns in the classroom," Steven Goode, a professor at the university's school of law and chair of the task force, said at a news conference Thursday.
But Goode said the group was tasked with making recommendations that are in compliance with Senate Bill 11, which was signed by Republican Gov. Greg Abbott in June.
Related: Jerry Falwell's Liberty University to Allow Guns in Dorms
"We felt we could not recommend that handguns be excluded in classrooms without violating that charge," Goode said.
Handguns would not be allowed in on-campus dormitories, with the report noting few students who dorm are older than 21 — the minimum age required for a gun permit.
The group recommended guns also be barred from campus health care centers, child care facilities, certain laboratories, university and campus programs for minors and events sponsored for grades pre-K through 12.
Meanwhile, the gun rights groups Come and Take It Texas and DontComply.com are still planning on hosting their pro-gun demonstration Saturday. They initially wanted to host it on school grounds, but the University of Texas has barred the outside organizations, a spokesman said.
Murdoch Pizgatti, president of the two group's hosting the event, told NBC affiliate KXAN that the demonstration was meant to call attention to the importance of campus carry laws.
"It's going to be an over-dramatized, non-realistic performance," Pizgatti said. "We're not there to disrupt or panic anyone."
Related: Movement to Allow Concealed Weapons on College Campuses Triggers Debate
But university President Gregory Fenves spoke out against the planned mock mass shooting in a statement Thursday.
"This week, we have heard disturbing reports about a non-university group's efforts to simulate gun violence against members of the UT community. Such attitudes have no place at UT and they reinforce my deep concerns about SB 11 and the potential impact that handguns will have on campus," he said.
Fenves, as the school's president, must now study the task force's recommendations, Goode said, and announce an official policy for the university.