A group of students at the University of Wisconsin-Madison said Sunday that they cooked up a Rice Krispies treat that shatters the Guinness World Record for the largest cereal treat by half a ton.
The group, called Project Freshman 15,000 — a reference to the notorious "freshman 15" — set out on a goal to construct a 7½-ton version of the classic gooey cereal treat while raising money for charity along the way, according to a statement from the school.
The student volunteers, led by the visionary of the project, Joe Tarnowski, started melting the butter and marshmallows Thursday morning and finished up Sunday with a Rice Krispies treat that was 11,327 pounds. While the finished product was a tad short of their goal, the group is still confident they beat the world record, which was set in 2010 with a brick of Rice Krispies weighing 10,314 pounds, according to Guinness World Records.
"We did it! At 10:30 PR15k broke the world record," the group proclaimed on Twitter. "Now, lets destroy it!!"
The "destroy" phase of the operation is when the money-raising happens. Project Freshman 15,000 is selling pieces of the history-making dessert and will donate the profits to Wisconsin charities, including Camp Kasem, which supports children with a parent who has been diagnosed with cancer, according to the school.
The one downside to this sweet deal is that no one thought to bring a giant glass of milk.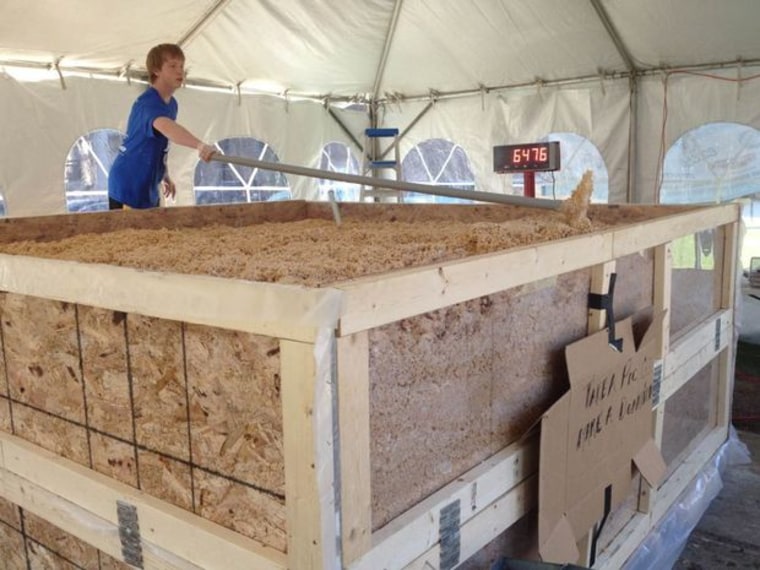 SOCIAL
— Elisha Fieldstadt