Wall Street is going to the dogs — or at least it did for a few hours on Monday.
That's when artist Alex Gardega installed a pug statue called "Sketchy Dog," which appeared to be urinating on the "Fearless Girl" statue's leg.
"Most people were amused or perplexed by it," Gardega told NBC News. "Kids petted it, people were taking pictures with it. A few were upset and kicked it."
Gardega said he created his clay and faux bronze "Sketchy Dog" as an act of solidarity with guerilla artist Arturo Di Modica, who created Wall Street's iconic "Charging Bull" statue.
"I have a lot of empathy for the creator of the bull, Arturo. He is very upset," Gardega said.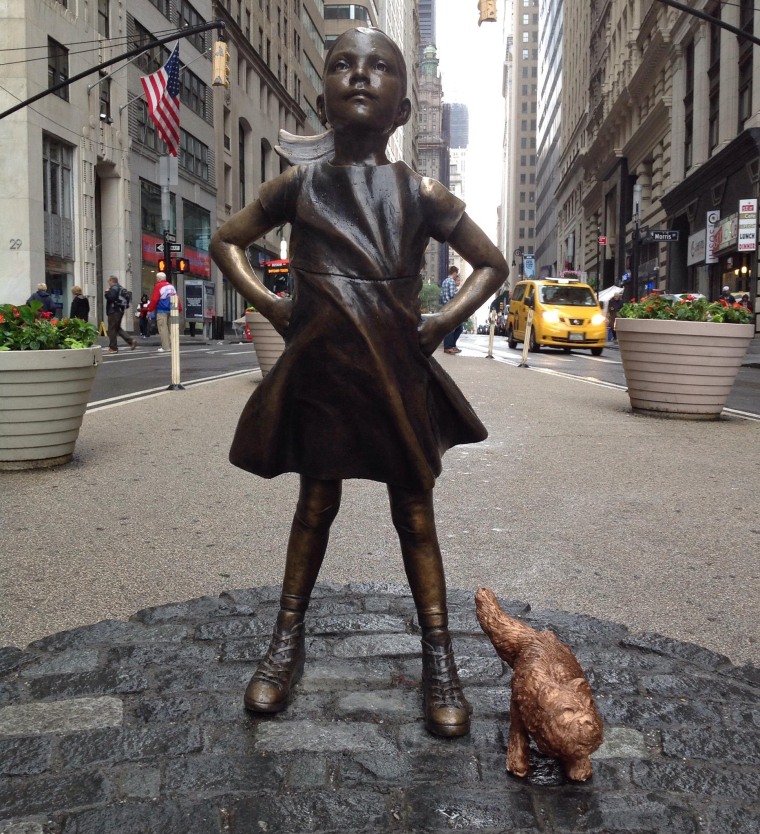 Di Modica finished "Charging Bull" after the 1987 stock market collapse, and placed it in front of the New York Stock Exchange as a symbol of American resilience. The city initially removed it, but later re-installed it in its current location near Wall Street in the Financial District.
Conversely, the "Fearless Girl" statue, was commissioned by one of the world's largest banks — State Street Global Advisors — as a way to call attention to the gender pay gap and a lack of women on corporate financial sector boards, according to the company.
State Street is also the creator of the Gender Diversity Index SHE, which tracks gender diversity in companies. An inscription at the feet of "Fearless Girl" reads, "Know the Power of Leadership, SHE makes a difference."
"That piece, ['Fearless Girl'] was not made by some individual artist making a statement," Gardega said. "It was made by a billion dollar financial firm trying to promote an index fund. It is advertising/promotion in the guise of art. That was my only point."
But Gardega said there is some value in the "Fearless Girl" sculpture. He said it's clear that it makes children happy, and "art is supposed to make kids happy."
After approximately three hours, Gardega took his "Sketchy Dog" down.
"I didn't want to leave it to be taken and certainly had no rights [sic] to bolt it to the ground," he said.
In response to the "Sketchy Dog" statue, State Street Global Advisors said it was proud of what "Fearless Girl" represented.
"We continue to be grateful to the countless people around the world who continue to responded so enthusiastically to what the Fearless Girl represents — the power and potential of having more women in leadership," a State Street spokeswoman wrote in an email to NBC News. "Fearless Girl was created to stand as a reminder that having more women in leadership positions positively contributes to overall performance and strengthens our economy."
Gardega said that there's nothing inherently wrong with the "Fearless Girl," and he created "Sketchy Dog" with a sense of humor, but he said neither piece should interfere with Di Modica's work.
"I'm a pretty happy person, not seething or angry and certainly not anti-feminist. My piece is not without a sense of humor but I do feel for Arturo and the integrity of his art," Gardega said. "There is plenty of room for 'Fearless Girl.' It just interferes with another artist's work/vision."