Facing a mountain of lawsuits over the Larry Nassar sexual abuse scandal, USA Gymnastics filed for bankruptcy Wednesday.
The beleaguered organization has been beset by financial struggles and leadership turnover as it has sought to contain a scandal sparked by Nassar, the longtime team doctor accused of molesting hundreds of young women and girls.
USA Gymnastics said it is currently facing 100 lawsuits representing more than 350 Nassar victims around the country.
By filing for bankruptcy, the organization is able to put on hold all litigation, including ongoing discovery and depositions of key figures, multiple sources told NBC News.
Kathryn Carson, who was recently elected chair of the USA Gymnastics Board of Directors, said the cases will be consolidated before a bankruptcy judge — a move that will allow the organization to resolve claims more quickly.
"We owe it to the survivors to resolve, fully and finally, claims based on the horrific acts of the past and, through this process, seek to expedite resolution and help them move forward," Carson said in a statement.
USA Gymnastics said the victims' claims are covered by insurance but the organization has "no other significant assets" to fund other expenses.
The organization is "not looking to close its doors," Carson added in a phone call with reporters.
Lawyer John Manly, who represents 180 alleged victims of Nassar, said the legal move will block their "ongoing efforts to discover the truth about who at USA Gymnastics and the U.S. Olympic Committee knew about Nassar's criminal conduct and failed to stop it."
"The leadership of USA Gymnastics has proven itself to be both morally and financially bankrupt," Manly said. "They have inflicted and continue to inflict unimaginable pain on survivors and their families."
The organization has lost many of its sponsors over its handling of the Nassar scandal, including Proctor and Gamble, Kellogg and AT&T. According to a 2017 tax filing, USA Gymnastics' revenue dropped 26% from the previous year.
The U.S. Olympic Committee, which has started the process of revoking USA Gymnastics' status as the sports' governing body, said it is reviewing the filing. "Financial stability and viability are essential for a national governing body to operate in the best interests of the athletes," said spokesman Patrick Sandusky.
Nassar, who also worked for Michigan State University, was sentenced in January to up to 125 years in prison after he pleaded guilty to molesting 10 girls.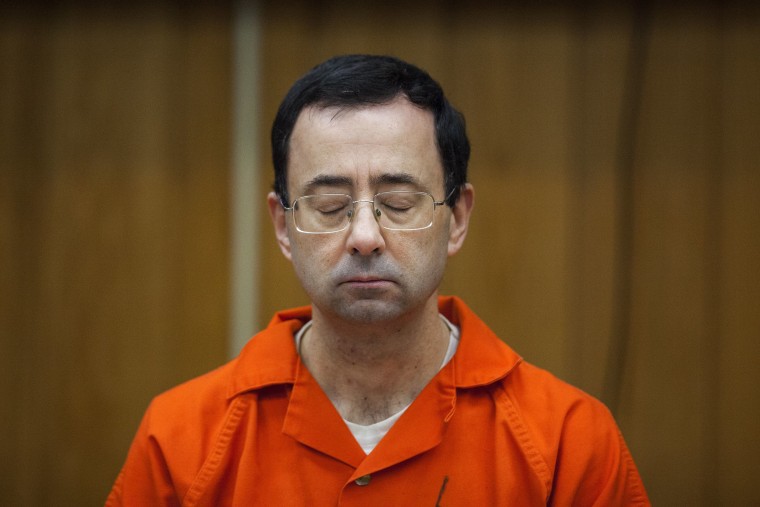 Then in October, Steve Penny, who resigned last year as president and chief executive of USA Gymnastics, was arrested on felony charges of tampering with evidence in connection with a Texas investigation into Nassar.
Penny's arrest came six months after an NBC News investigation revealed that he had reached out to several top U.S. gymnasts in what they believe was an attempt to silence them as the Nassar scandal was unfolding.
Text messages, emails and other materials supported the claims by athletes and parents that Penny and others at USA Gymnastics stressed discretion above all else, even as the gymnasts and their parents pushed to meet with law enforcement officials. The gymnasts told NBC News that they felt that not following Penny's warnings would jeopardize their potential spots on the Olympic team.
Last December, NBC News reported that Olympic gymnast McKayla Maroney filed a lawsuit alleging that USA Gymnastics tried to silence her by making her sign a non-disclosure agreement as part of a financial settlement she needed to pay for psychological treatment. USA Gymnastics said the "concept of confidentiality" was initiated by Maroney's attorney at the time of the settlement.