The governing body for gymnastics in the United States said Sunday that results from an independent review of it bylaws and policies is expected by the end of June after its longtime doctor Larry Nassar was charged with criminal sexual conduct and possessing child pornography.
USA Gymnastics, which oversees national competitive gymnastics, said Deborah Daniels — a former U.S. attorney for southern Indiana and assistant attorney general in the administration of President George W. Bush — was on track to complete her "comprehensive independent review of USA Gymnastics bylaws, policies, procedures and practices" sometime in April, May or June.
Nassar, 53, has pleaded not guilty to state charges in Michigan of sexual assault and federal charges of possession of more than 37,000 images of child pornography. Separately, more than 60 former patients have also filed police complaints alleging that Nassar, a sports medicine doctor, molested them under the guise of pelvic procedures.
Related: Larry Nassar Case: Accuser Details Childhood Abuse by Gymnastics Doctor
Nassar was fired by USA Gymnastics, which oversees national competitive gymnastics, and by Michigan State University, where he had his practice.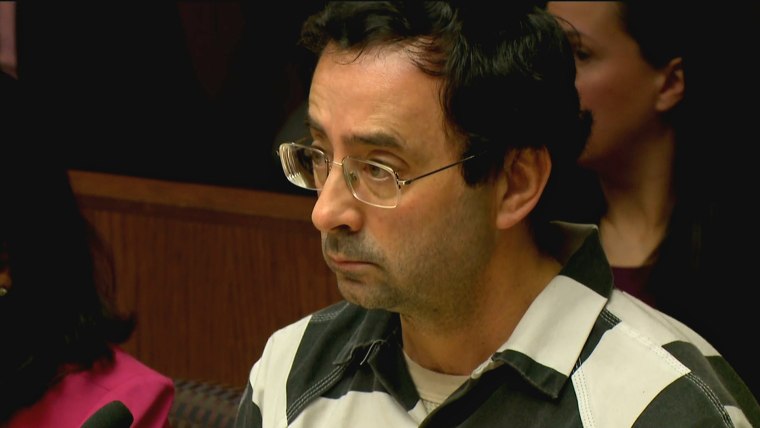 In a statement Sunday — shortly before three elite U.S. gymnasts outlined their allegations on CBS' "60 Minutes" — USA Gymnastics said that it was "appalled that anyone would exploit a young athlete or child in the manner alleged" and that it had cooperated fully with the FBI.
"Nothing is more important to USA Gymnastics than protecting young people," the organization said. "Their health and well-being is our priority, and USA Gymnastics is committed to doing everything we can to promote a safe environment for athletes."