Just days before USA Gymnastics President Kerry Perry is scheduled to testify before Congress about a sexual abuse crisis, she ousted the head of the women's program — who was the first official at the organization told of accusations against the team doctor.
Rhonda Faehn was at a national training camp in Tennessee late Thursday afternoon when she got the call from Perry, who asked her to return to the organization's headquarters in Indianapolis, two sources with knowledge of the conversation told NBC News.
Perry did not give Faehn a specific explanation, saying only that USA Gymnastics needed to "move forward" from the Larry Nassar molestation scandal, which plunged the sport into turmoil nearly two years ago. USA Gymnastics is the national governing body for the sport that selects Olympic teams and certifies clubs across the country.
Faehn, who did not respond to a request for comment, did not immediately resign and decided to stay at the camp with the 22 gymnasts and their personal coaches, who were blindsided by the news, the sources said. The last two practices were canceled at the gymnasts' request, they said.
On Friday morning, the sports federation announced that Faehn "is no longer with USA Gymnastics," though it did not say whether she eventually resigned or if it fired her. "This is a personnel matter that we will not discuss in detail," Perry said in a statement.
While some of Nassar's accusers, including former Olympian Aly Raisman, have criticized Faehn for her response to the first allegations against the team doctor, several current members of the national team expressed support on social media.
"We all strongly disagree in this decision and believe that Rhonda is the glue that is holding us together right now," national team gymnast Jordan Bowers wrote on Instagram. "We all trust her and believe she is moving Team USA forward."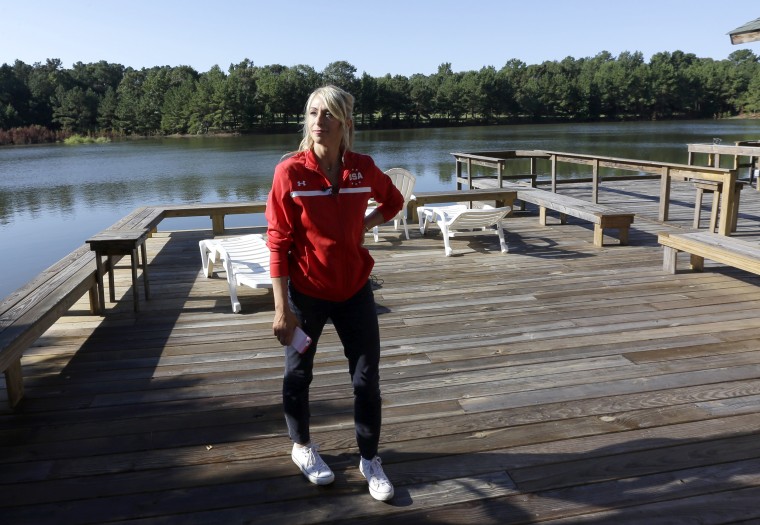 Perry was not at USA Gymnastics when Nassar, the Olympic team doctor, was exposed as a serial predator. She took over after former president Steve Penny stepped down while under fire for his handling of the allegations.
The first accusation was lodged in the summer of 2015 when a coach overheard two gymnasts, Maggie Nichols and Raisman, discussing Nassar's so-called pelvic treatments. The coach reported the conversation to Faehn, who then reported it to Penny.
Both Faehn and Penny have been criticized for not immediately calling police. Instead, Penny hired an investigator who interviewed Nichols, Raisman and McKayla Maroney. Only then, almost six weeks after the initial complaint, was the FBI contacted.
Although Nassar was removed as team doctor, he continued to treat and abuse young athletes at his Michigan State University sports medicine practice. USA Gymnastics and the FBI did not inform MSU of the allegations, and Nassar's abuse only came to light after an investigation by the Indianapolis Star in September 2016.
John Manly, an attorney for many of Nassar's accusers, said Faehn should have reported Nassar to the police and informed other athletes and their parents of the accusations as soon as she learned of them — and he blasted those defending her.
"It's honestly vile," he said in a tweet.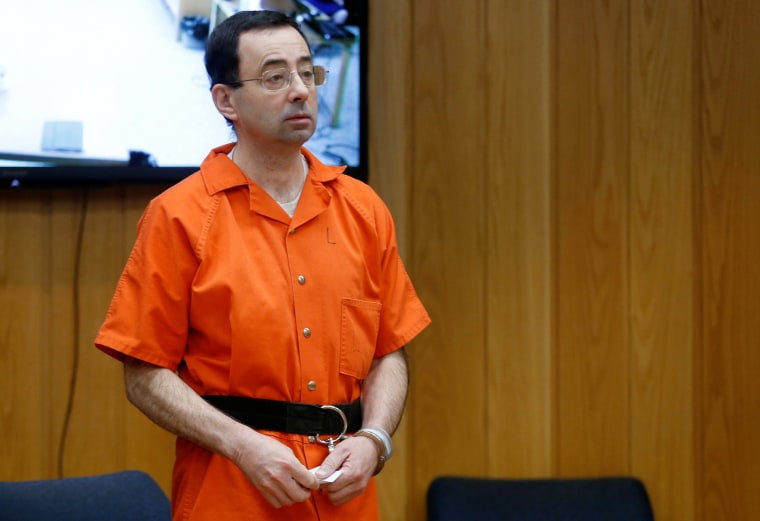 At least 332 women have said they were abused by Nassar, who is now serving up to 175 years in prison. MSU, which was accused of ignoring red flags about the doctor for years, agreed this week to a $500 million settlement for those victims and any others who might come forward in the future.
USA Gymnastics, however, has not settled its lawsuits and is also the subject of an investigation ordered by the U.S. Olympic Committee and inquiries by several congressional committees.
A Senate subcommittee investigating the situation postponed a hearing for next week because only one of five invited witnesses, former MSU President Lou Anna Simon, said she would attend.
Penny and Faehn did not accept the invitation, and former national team coordinator Marta Karolyi cited an unspecified medical issue. Former U.S. Olympic Committee chief Scott Blackmun, who missed the Winter Olympics after being diagnosed with prostate cancer, said he could not attend because of health problems.
That hearing has now been rescheduled for June and Sens. Jerry Moran and Richard Blumenthal will send out new invitations to Penny, Faehn, and Karolyi.
Meanwhile, Perry, who has not given an interview since she took over the reins of USAG, is slated to appear before a House subcommittee on Wednesday to answer questions about how the organization protects athlete safety.
At an emergency staff meeting on Friday, she announced a restructuring of the organization will include expanding the Safe Sport Department to include regional managers to make sure proper training and procedures are in place across the country.
Meanwhile, the current crop of elite gymnasts are trying to concentrate on competing while controversy swirls around them.
The team doesn't have a national coordinator. Marta Karolyi retired after the 2016 Olympics and her successor, Valeri Liukin, quit in February, citing the stress of the "present climate."
USAG cut ties with the Karolyi Ranch, where Olympians had trained for years, and a new permanent home has not been found. This week's training camp in Crossville, Tennessee, was the first one held since November 2017.
The thing that keeps coming up from the athletes is what is our future?
"The thing that keeps coming up from the athletes is what is our future?" one coach said.
"We tell the athletes: Just focus on your gymnastics, what you do every day in training matters. And we'll support you, even if we have to buy our own leotards.
"But the girls come to us crying, totally distraught. They ask us is there going to be a USAG? Will I be able to compete?"
In its statement, USA Gymnastics said it recognized that "change can be difficult."
"But we will not be deterred from making necessary and bold decisions to transform our organization. At USA Gymnastics, we are focused every day on creating a highly empowered culture that puts our athletes first," Perry wrote.
"Over the next few weeks, we will be communicating some positive changes that reinforce our desire to have our athletes train and compete at the highest level in an empowering and safe environment."