The National Football League got the thrilling game it hoped for, but not a Super Bowl free of controversy Sunday, as pregame protesters rallied against racism and a television ad infuriated many viewers by invoking the voice of Martin Luther King Jr. to sell pickup trucks.
An audience expected to top 100 million people watched a nail-biter contest that ended with a 41-33 victory for the Philadelphia Eagles over the New England Patriots. But American television's biggest annual audience also got a taste of something unexpected midway through the second quarter, with an ad opening with strains of King's 1968 speech "The Drum Major Instinct," based on a homily.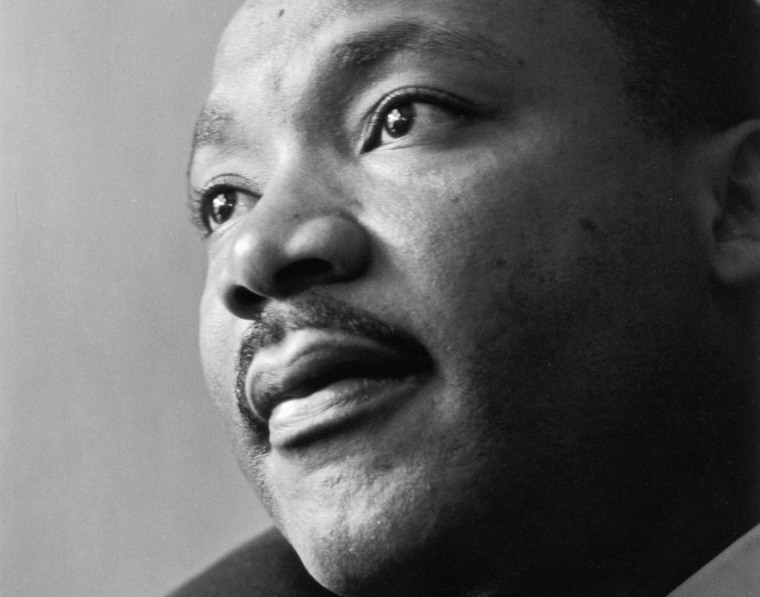 The 30-second spot turned into an homage to American patriotism, complete with pictures of U.S. Marines and a camouflage-clad soldier hugging his child. It was a pitch for Dodge Ram trucks' "Built To Serve" volunteer program, but the ad provoked outrage from many viewers and a rebuke from the King Center, which says its mission is to carry on his teachings and to "empower change-makers who are continuing his efforts today."
A bit later in the game, it was conservatives who were unhappy with the tone of an ad — this one a T-Mobile spot that featured shots of a row of babies, with a voiceover promoting pay equity and equal rights and allowing Americans to "love who you want."
The biggest blowback, however, was reserved for Dodge. To many commentators, the advertisement seemed to co-opt the martyred civil rights icon in the service of crass commercialism and unblinking patriotism. King loudly opposed the Vietnam War and argued for military expenditures to be redirected to domestic spending — particularly to serve the poor. Critics cited that as one of the ironies as they attacked the 30-second spot that, like others in the broadcast, cost Dodge more than $5 million to air.
A tweet from the King Center read: "Neither @TheKingCenter nor @BerniceKing is the entity that approves the use of #MLK's words or imagery for use in merchandise, entertainment (movies, music, artwork, etc) or advertisement, including tonight's @Dodge #SuperBowl commercial."
Although the center carries on King's teachings, a separate entity controls King's speeches and image — Intellectual Properties Management Inc. Eric D. Tidwell, managing director of the organization, which is run by King's son Dexter, said in a statement early Monday: "We found that the overall message of the ad embodied Dr. King's philosophy that true greatness is achieved by serving others. Thus we decided to be a part of Ram's 'Built To Serve' Super Bowl program."
The complaints rolled in on Twitter and other sites, including an immediate retort from daughter Bernice King. When writer Michael Arceneaux wrote on Twitter, "So that means the King children allowed Dr. King's voice to be used to sell me a Dodge truck," Bernice King replied with a single word: "No."
"Using a 'Martin Luther King' speech and completely taking it OUT OF CONTEXT for a truck commercial is a disgrace," read one tweet. Said another: "Still sitting here angry about the use of Dr. Martin Luther King Jr. and his legacy to sell RAM trucks. So Inappropriate." And a third: "So Ram Truck appropriated Martin Luther King Jr. and used an all white cast + 1 token black to sell trucks to Trump supporters as if we're back in the 1950s."
Those sentiments predominated on Twitter, although there was some pushback from users who said they did not understand the offense. Read one tweet: "I had to go back and watch it but liberals are all upset about the Martin Luther King Dodge Ram commercial, I don't get what they're upset about at all."
Besides dress-uniform Marines on the march and the soldier dad, the advertisement showed All-American depictions of young football players, fishermen, cowboys, a teacher, rescue workers and a fireman rescuing a child.
Underneath the images came King's unmistakable voice and the words from the speech he gave on Feb. 4, 1968, 50 years to the day before Sunday's Super Bowl. "You don't have to know the second theory of thermodynamics in physics to serve," King said, in part. "You only need a heart full of grace, a soul generated by love."
Photos: Martin Luther King Jr.: His life in black and white
An on-screen message concluding the pitch read, "Built to Serve," followed by the Dodge Ram logo.
The T-Mobile spot featured babies of many races looking up at a camera, while a woman's voice spoke over the tune of Nirvana's "All Apologies."
"You'll love who you want," said the narrator. "You'll demand fair and equal pay. You will not allow where you come from to dictate where you are going." The pitch ended with the words "Change Starts Now" on the screen, followed by the T-Mobile logo.
Conservative commentator Dana Loesch complained on Twitter that the perspective appeared to have been allowed when a message from American veterans was not. "Ugh, awful @TMobile ad. That was ok to run but not the AmVets ad?"
Another tweeter said babies making a political pitch was "just what nobody wants to see on Super Bowl Sunday." Another missive agreed: "Stop the preaching. We're sick of it."
Analysts had wondered for weeks whether any players on the field would kneel in protest, as many did during the season to protest racism and excessive force by police. Players eschewed such demonstrations, but the scene was different outside U.S. Bank Stadium.
About 200 people lined up in front of one of the stadium entrances just as the game was about to get underway, kneeling and raising fists against bigotry. A couple of hours before that, another group of demonstrators had formed what was described as a "human blockade" across a light rail line leading to the stadium. But police said they did not succeed in blocking access to the stadium.
In a game that was relatively injury free, there was one harrowing moment that evoked another of the NFL's major challenges — lessening the flood of injuries that has knocked out many major stars and left veterans with permanent disabilities, including brain damage.
Early in the second quarter, Patriots receiver Brandon Cooks was blindsided by Eagles defensive back Malcolm Jenkins. Cooks lay, nearly motionless, as the game broke for a timeout. The talented receiver was taken to the locker room for examination and was knocked out for the night with an unspecified head injury.