A U.S. Navy destroyer was involved in a minor collision with a Japanese tugboat Saturday during a scheduled exercise, according to the U.S. Navy's 7th Fleet.
The USS Benfold, a guided-missile destroyer, sustained minor damage when a tugboat lost propulsion and drifted into the ship, the Navy said. No one was injured on either vessel and an initial assessment of the damage showed that the destroyer only sustained minimal damage including scrapes.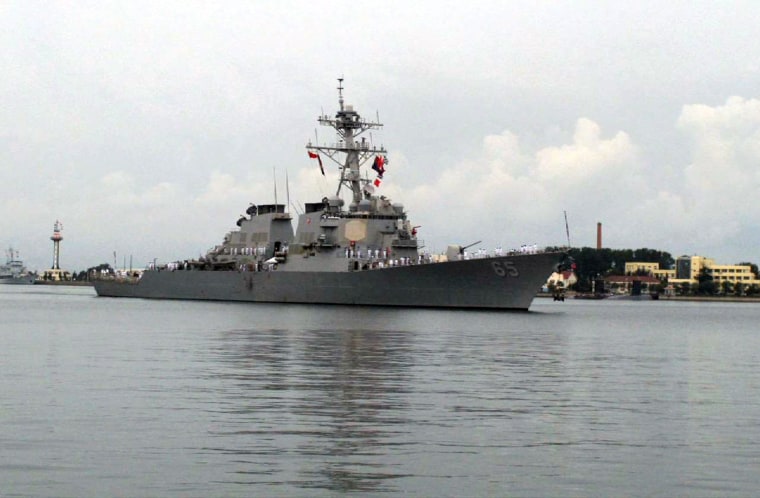 But the accident comes at a time when the Navy's 7th Fleet and the U.S. Pacific Command have come under increased scrutiny after several deadly collisions in the region earlier this year.
In June, seven sailors died when the USS Fitzgerald collided with a Philippine container ship. Then, in August, the USS McCain collided with a tanker off the coast of Singapore, killing 10 sailors. After the collision, the Navy ordered the entire fleet to take a one-day "operational pause" to ensure that the ships were meeting safety standards.
Related: Pacific fleet Commander to retire in wake of deadly crashes
In the wake of the accidents, several of the 7th fleet's leaders were ousted and Admiral Scott Swift, the commander of the U.S. Navy's Pacific fleet, announced that he would retire from his position after he learned there was no chance for him to be promoted.
In September, Swift said in a statement to NBC News he was retiring "with great appreciation and gratitude for the honor of having served so many Sailors and their families for what will be 40 years in January."