Twelve people have been confirmed dead and a 13th was missing Tuesday after a flash flood described as a "wall of water" swept away two vehicles containing members of two families in Utah the day before, officials said.
"This hit with a vengeance we haven't seen for some time," said Kevin Barlow, the assistant fire chief in Hildale, Utah.
Searchers continued to search for the missing person Tuesday night near the town of Hildale, located near the Arizona border.
A total of 16 people — three adults and the rest children, ranging from 4 years old to teenagers — were returning from a park at around 5 p.m. local time Monday (7 p.m. ET) when they found the road blocked by floods, Hildale Mayor Philip Barlow said.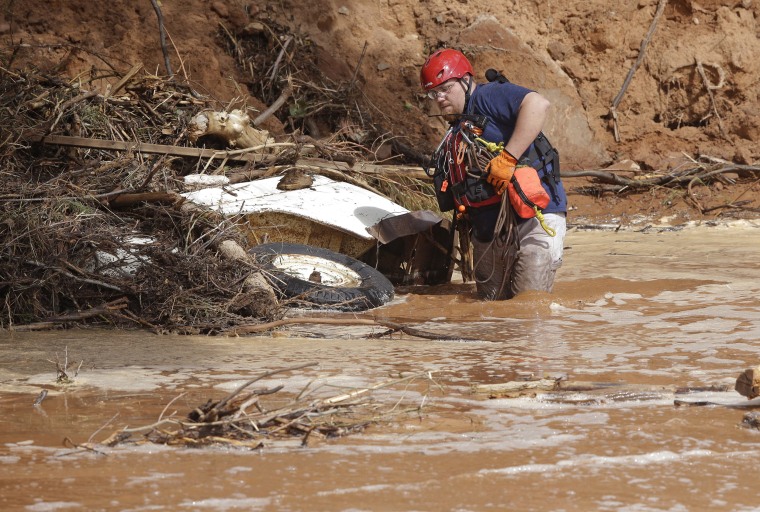 "Unbeknownst to them, a flash flood had developed up in the canyon and it came rushing down, and it actually came around behind the vehicles and engulfed the vehicles," the mayor said. "I've lived here all my life, and I've never seen anything like this," he said.
Three children were found alive. The names of those killed were not released Tuesday by officials.
Joseph Jessop said the victims included members of his family.
"My family and my friend's family were swept away in this flash flood. We express our sincere gratitude for the kindness and assistance in this inexpressible time of sorrow," Jessop said at an afternoon news conference.
Jessop said his family was part of the Fundamentalist Church of Jesus Christ of Latter-Day Saints in Texas in 2008 when it was raided by the government. He said his family recently lost another home, which he blamed on religious persecution.
"We survived the FLDS raid in Texas in 2008, have been forced to find a home and have our appeals for redress unanswered," Jessop said in a statement. "But now in an instant our families are gone."
"We know God is guiding in all things, and trust in him to heal our wounded hearts at this time." Jessop said.
The floods came after heavy rains fell in the canyons just north of Hildale and its sister town of Colorado City, Arizona, sending waves of water barreling through the streets. They sit at the foot of picturesque red rock cliffs about 315 miles south of Salt Lake City.
Hildale resident Guy Timpson told NBC News that searchers were were trying to sort through "a mass of debris."
"We've got quite an effort going on," he said. "It's been pretty amazing to see the community coming together to do what they can."
Rain hampered search efforts Tuesday, Washington County Sheriff Cory Pulsipher said, but was ongoing Tuesday evening. "We're not gonna give up until we absolutely have to," he said.
The search effort was scaled back Tuesday night but would resume in earnest in the morning, the Utah Department of Public Safety Division of Emergency Management said.
Ted Barlow, who lives in Colorado City, described the storm as among the worst in decades.
The downpour lasted for about 20 to 30 minutes and brought rapid and intense flooding from nearby mountains.
"Everyone is family here, and it's a tragedy however you look at it," Barlow said.
Meanwhile, four people were found dead and three more were missing Tuesday after flash floods in a canyon in nearby Zion National Park on Monday, the National Park Service said.
The group was canyoneering in Keyhole Canyon when storms dropped more than a half-inch of rain in an hour and Monday caused floods, the park service said. Zion National Park is about a 40-mile drive north of Hildale.
Hildale served as a home base for polygamous sect leader Warren Jeffs.
Members of the sect, the Fundamentalist Church of Jesus Christ of Latter-Day Saints, whose members believe polygamy brings exaltation in heaven, are believed to be discouraged from watching TV, using the Internet or having much contact with the outside world.
More than four years after Jeffs was sentenced to life in prison for sexually assaulting underage girls he considered brides, the community is split between loyalists who still believe Jeffs is a victim of religious persecution and defectors who are embracing government efforts to pull the town into modern society.
Utah Lt. Gov. Spencer Cox told residents that the state is doing all it can to help. He called the flash floods "one of the worst weather related disasters in the history of the state of Utah."
"We just want Hildale to know that we love you, that we're thinking about you, and that we're here to serve you," Cox said at a press conference. "I hope this will bring the state and these communities closer together as we work together to bring to an end this very difficult time."