In Utah, porn is now a "public health crisis."
Gov. Gary Herbert signed a resolution Tuesday that calls for increased "education, prevention, research, and policy change at the community and societal level" to combat pornography — but sets aside no money to combat the supposed social scourge.
"We realize this is a bold assertion and there are some out there who will disagree with us," Herbert said. "We're here to say it is, in fact, the full-fledged truth."
But it is a non-binding resolution that makes no attempt to shut down porn sites.
"Pornography perpetuates a sexually toxic environment," the resolution states. "Efforts to prevent pornography exposure and addiction, to educate individuals and families concerning its harms, and to develop recovery programs must be addressed systemically in ways that hold broader influences accountable."
That was music to the ears of the Mormon church-backed Utah Coalition Against Pornography.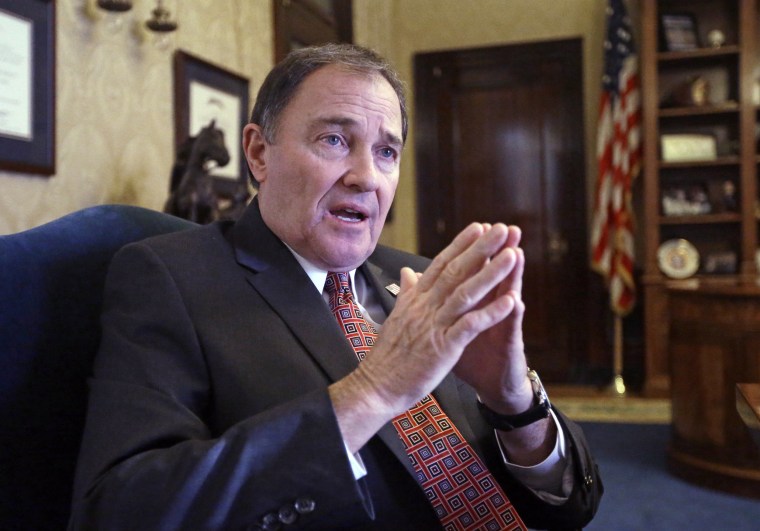 "If this moral plague could catch our imagination the way a medical epidemic does, we would be calling out every available member of the health care industry," wrote Elder Jeffrey Holland on the group's website last month.
The resolution is the brainchild of another Republican politician in Utah, State Sen. Todd Weiler. He told NBC News earlier that he was not trying to ban pornography.
"What I am saying is we have taken steps to protect people from tobacco, but we haven't done that for pornography," said Weiler, who introduced the resolution on behalf of his constituents in January 2015.
Ultimately, Weiler said, he would like to see default settings on the internet changed to make access to pornography more difficult.
"I do believe pornography is addictive," he said.
Ian Kerner, a nationally-known sex therapist who has made numerous appearances on NBC, agreed that it's far too easy for children and teenagers to access pornography. But he said there's not "a whole lot of evidence" to back up claims that watching pornography is addictive.
"We live in a culture that's very porn-hysterical," he said. "Hundreds of millions of people consume porn daily. Don't you think we'd live in a society that looked like 'Mad Max' if it was as dangerous as some people say it is?"
Herbert also signed legislation that requires computer technicians to report child pornography — and makes it a misdemeanor punishable by up to six months in prison if they don't.
Utah is the home base for the Church of Jesus Christ of the Latter-day Saints and one of the most conservative states in the country. But a Harvard study back in 2009 found that Utah's religious residents were the nation's top consumers of online porn.
Subsequent researchers have questioned the methodology and findings of the Harvard study, which was titled "Red Light States: Who Buys Online Adult Entertainment?"