A Utah police department has cleared an officer who opened fire on a woman in June after threatening to shoot her as she paced around holding a screwdriver and verbally taunted officers.
But a county prosecutor had a different interpretation — that the shooting was not legally justified and that the officer came ready to open fire.
Police body camera video, obtained by NBC News, depicts Cpl. Jeremy Dunn of the Enoch City Police Department responding to the scene of a burglary call on June 28 and coming upon a woman refusing to drop a screwdriver as another male suspect stood near her side.
The woman, Ivonne Casimiro, is seen in the video repeatedly telling officers to "go ahead, blow," as they aimed their guns at her.
"You come at me with that knife, I guarantee I'll smoke ya," Dunn told the woman.
After two failed taser attempts to subdue Casimiro, Dunn aims his gun at her. She raises the screwdriver in her right arm and starts to take a step with her left leg. That's when Dunn squeezed off three rounds at Casimiro's legs.
Investigators said Casimiro was treated by paramedics after being struck twice in the knee. She was later treated and charged with assault on an officer and having a stolen vehicle, NBC affiliate KSL reported.
"She is not pointing the screwdriver at the officers, nor does she appear to be threatening them, although she is defiant and combative," Iron County Attorney Scott F. Garrett said in a letter to the Enoch police.
Garrett, the county's chief prosecutor, concluded that the officer's use of force was illegal, but he also said criminal charges would not be filed.
"It cannot objectively be stated that the officers or anyone else were in danger of death or serious bodily injury at the exact moment that lethal force was used," he wrote. " ... It was not objectively reasonable for Corporal Dunn to use deadly force ... "
The prosecutor decided, however, that the state would be unable to prove "criminal intent."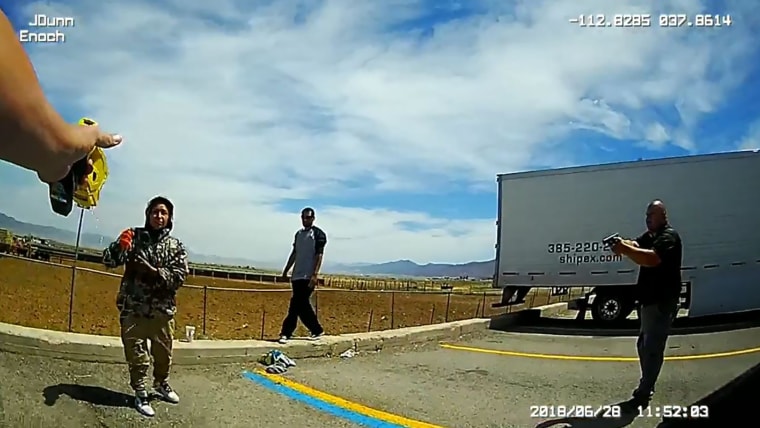 A report by the Enoch City Use of Force Review Board dated Wednesday came to a different conclusion — that the shooting was within department policy despite Dunn's admissions that he was aiming for the woman's extremities and that he approached the confrontation having "mentally purchased" the idea that he'd have to open fire, according to documents in the case.
The city report states that "reasonable force was used" by Dunn, and it appears to support his decision to aim for Casimiro's extremities.
The report said "Dunn chose to incapacitate the female suspect using lethal force in a nonlethal manner."
Garrett had a different interpretation: There was still time to de-escalate the situation because the woman and her companion were a safe distance from the officers and had not charged at them.
Instead, Dunn was depicted as escalating the situation. He said later that he believed Casimiro had a "God complex" that made her feel invincible, and he's heard on the recording telling another officer, "I can take her out like last time."
The Use of Force Review Board said Dunn was referring to a 2012 shooting that he and another officer were involved in, "in a near identical situation."
Dunn has been placed on administrative leave, the city said.