The little Utah town where at least eight people were killed in a flash flood is the home of a polygamist religious sect whose leader was sentenced to life in prison for sexually assaulting girls he considered brides.
The town of Hildale, a 3-square-mile patch of land along the Arizona state line, is the headquarters of the Fundamentalist Church of Jesus Christ of Latter-Day Saints, which split from the Mormon Church a century ago.
On Monday night, a strong thunderstorm caused a flood that sluiced through the canyons north of town and killed at least eight people and left five more missing. It was described as a wall of water so strong that it swept away a van and an SUV carrying 16 people in all. Three were rescued.
"This hit with a vengeance we haven't seen for some time," said Kevin Barlow, the assistant fire chief.
The 8,000 people who live in Hildale and next-door Colorado City, Arizona, are split between defectors from the FLDS sect and loyalists to Warren Jeffs, the former leader.
The sect, which is believed to have about 10,000 followers, believes that plural marriage is a path to exaltation in heaven — and that Jeffs, now 59, is God's earthly spokesman.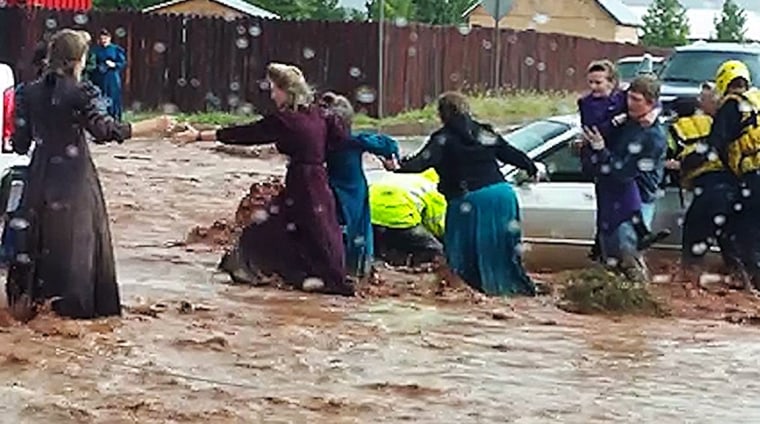 In 2008, police raided an FLDS compound in West Texas and placed more than 400 children in protective custody. Authorities discovered pregnant underage girls during the raid.
In August 2011, Jeffs was given the life sentence for sexually assaulting an underage follower he had taken as a bride. He was given an additional 20-year sentence for assaulting a 15-year-old girl. DNA evidence showed he had fathered a child with her.
Jeffs, now 59, maintained that he was a victim of religious persecution.
A profile of Hildale published by The Associated Press earlier this year described the town as a patchwork of upscale homes and unfinished houses where construction was stopped in the early 2000s, when Jeffs ordered that the sect focus on building the Texas compound.
Women and girls can still be seen in home-sewn prairie dresses around town. A photo from the flood on Monday showed women in the ankle-length dresses joining hands to escape the waters.
From prison in 2010, Jeffs ordered his followers to build him a new compound in Hildale, meant to house him after his eventual acquittal and release. Jeffs' former bodyguard bought it in 2013 and turned it into a bed and breakfast.