A University of Virginia student who was thrown to the ground by liquor control agents and arrested in a bloody encounter in March has filed a $3 million lawsuit against the Virginia Department of Alcoholic Beverage Control.
Photographs and video of Martese Johnson's arrest outside Trinity Irish Pub near campus on March 18 sparked public outrage and protests. Charges of public intoxication and obstruction of justice were later dropped.
"The agents' brutal and unjustified attack on Martese has left Martese permanently disfigured as there is scarring to Martese's forehead and scalp," Johnson's attorneys wrote in the lawsuit filed Tuesday.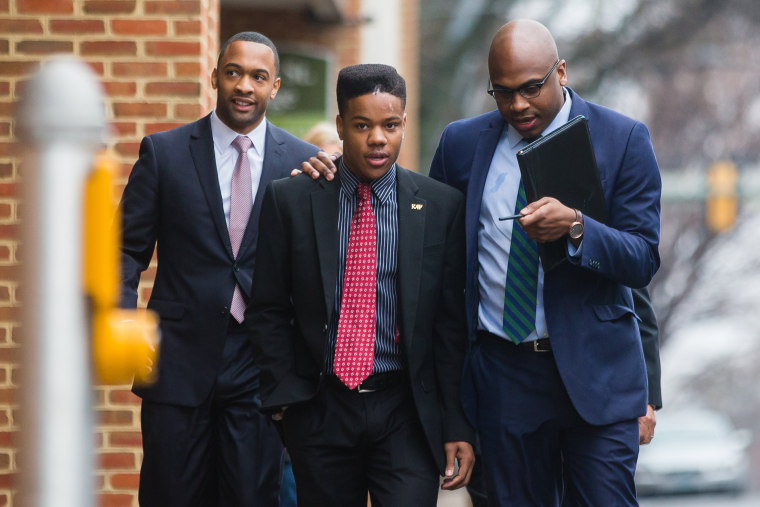 The suit also names the three agents involved in the arrest — Jared Miller, Thomas Custer and John Cielakie — and the director of the department, Shawn Walker.
Prosecutors declined to charge the agents. The Virginia State Police launched an administrative investigation. In August, Department of Alcoholic Beverage Control cleared the agents of wrongdoing and returned them to work.
Johnson, a 20-year-old junior at UVA at the time, was arrested shortly after he was refused entry to a bar over an issue with his identification. The department said Johnson was "agitated and belligerent."
The suit accused the agents of violating Johnson's civil rights, conducting a false arrest, and using excessive force, among other allegations.
Johnson's attorney, Daniel Watkins, told NBC affiliate WVIR that the suit "presents important issues." The suit also accused the department of failing to properly train its agents.
The Department of Alcoholic Beverage Control declined to comment on pending litigation Tuesday.
Virginia Gov. Terry McAuliffe ordered a review of training after the violent arrest. The department said in August that it completed the additional mandated training "in areas of use of force, cultural diversity, effective interaction with youth and community policing."