The moment she heard the first pops of gunfire, the teacher knew what she had to do: She needed to make sure that her classroom door was locked. 
But at Robb Elementary School in Uvalde, Texas, that seemingly simple task would require her to take a life-threatening risk.
As most of her students crawled under their desks to take cover, she made eye contact with one child she had always given the same job during their lockdown drills, the teacher recalled in an interview. Without speaking, the student followed her to the classroom door. 
"Do you remember what we do?" the teacher asked the boy, trying to keep her voice calm.
The boy, with tears in his eyes, nodded and said, "Yes, ma'am."
Then the teacher pulled the door open. Took a deep breath. And stepped into the hall, praying that the shooter wouldn't see her.
Moving toward gunfire was the only way she could be certain that her students were safe, the teacher said. That's because Robb Elementary is among thousands of schools across the country lacking a basic safety feature that experts have recommended for decades: classroom doors that lock from the inside.
Despite billions of dollars that have been poured into hardening schools nationally, 1 in 4 U.S. public schools lack classroom doors that can be locked from the inside, according to a survey conducted two years ago by the National Center on Education Statistics, a federal research office.
The safety feature is missing in much of Texas: 36% of the state's schools said they did not have interior-locking doors in the majority of their classrooms, according to a 2018 survey commissioned by Gov. Greg Abbott. Outdated locks are especially common in older school buildings that haven't been renovated, industry representatives said.
Built in the 1960s, Robb Elementary had classroom doors that could only be locked and unlocked from the outside, according to state authorities and the teacher. She spoke to NBC News on the condition that she not be named, because she is not ready to talk publicly about her experiences on May 24, when a gunman opened fire inside a pair of conjoined classrooms, killing 19 children and two teachers.
The Robb Elementary teacher and her colleagues had been instructed to keep their classroom doors closed and locked at all times, using keys that they were required to carry with them, she said. But that system created frequent opportunities for mistakes: Each time she and her class returned from lunch or from the bathroom, she said, she had to use her key to unlock the door handle — and hope that she remembered to relock it again before going back inside.
Once she was inside, the teacher said, there was no way to confirm whether the exterior handle was locked.
To remove any doubt, she came up with a system for the lockdown drills. Anytime an alarm sounded, she would step into the hall and pull the classroom door shut, then test the exterior handle to make sure it was locked and latching correctly. The student she had deputized to follow her to the door would then let her back inside.
But this time it wasn't a drill, and she was terrified. 
After exiting her class, the teacher quickly pulled the door shut and wiggled the exterior handle, confirming it was locked. As she waited for her student to let her back inside, she recalled hearing more gunshots — and footsteps. 
"I was in the hallway with him," she said of the gunman.
Then, her student pulled the door open, just as they'd practiced. She darted back into the classroom, pushed the door closed and they joined the other students hiding on the floor. 
Moments later, the gunman entered a classroom across the hall — just steps away from where she'd been standing — and opened fire.
What's left out of school 'hardening'
Doors that can be quickly and easily locked can mean the difference between life and death when a shooter is on school grounds. That's why post-shooting safety commissions, teachers, fire safety groups and both gun rights and gun control groups have all advocated for interior-locking doors since the Columbine shooting in 1999, in which two students killed 12 classmates and one teacher.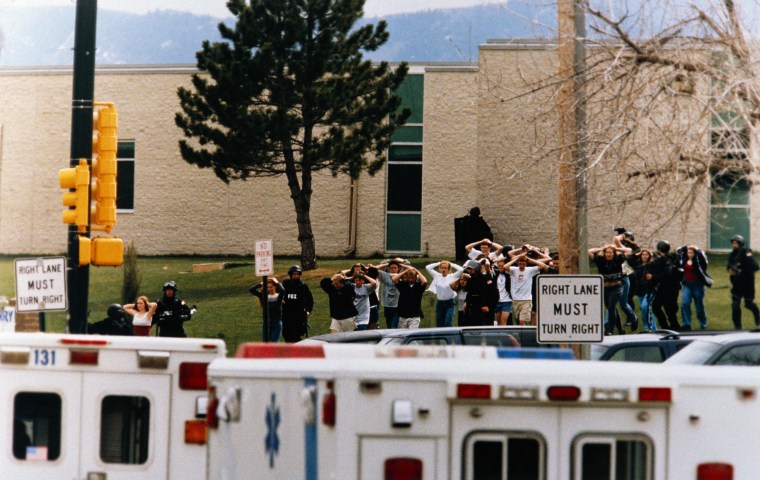 Before Columbine, when security concerns in classrooms were more focused on preventing burglaries than shootings, schools were usually designed with doors that could only be locked with a key from the outside. After the massacre — in which the shooters were only able to access classrooms that were unlocked — schools across the United States began installing specialized classroom security locks, sometimes referred to as "Columbine" locks. 
Such locks allow teachers to secure their classrooms with a key from either side of the door. When the door is locked, no one can enter from outside the classroom, but the door can always be opened from the inside by just turning the knob. That allows students and teachers to exit the classroom freely at all times, as fire codes require. 
The upgrade doesn't come cheap — installing a Columbine lock can cost between $200 and $900 per door, according to one industry estimate, though some older locks can be modified for less. But there is a broad consensus among experts and school safety advocates that this is a simple and effective measure that some school districts have left by the wayside even as they've spent millions on new security. Amid the pressure to "harden" schools, and in the absence of state or local requirements to upgrade locks, districts have bought everything from bulletproof whiteboards to artificial intelligence-powered gun detection devices, despite scant evidence that such products prevent shootings.
"Instead of giving the money to all these security companies, why not use it to change the locks on the doors?" said Randi Weingarten, president of the American Federation of Teachers, the leading labor union for educators. The group co-authored a 2020 school safety plan with Everytown for Gun Safety's research division and the National Education Association recommending that all classrooms have interior-locking doors.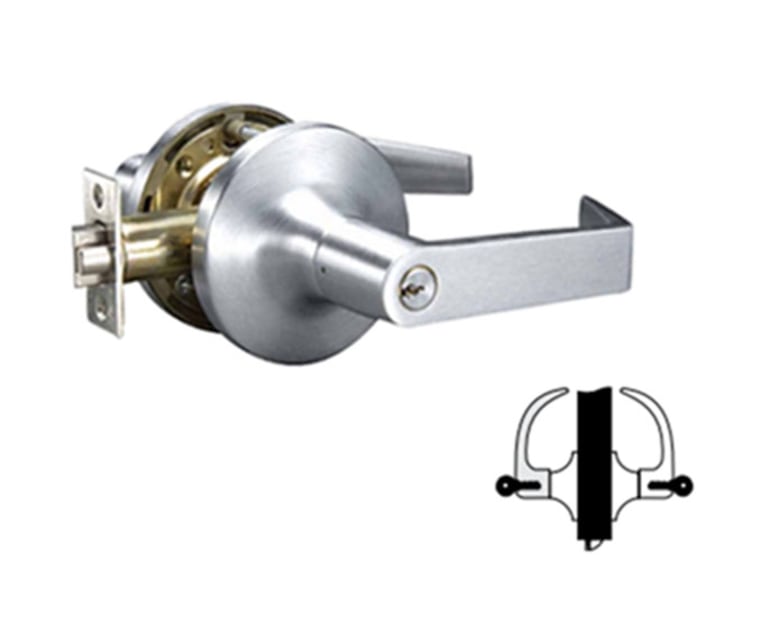 While restricting access to firearms is still their top priority, the groups said that interior locks are critical to deterring shooters who make it into a school. "That's less invasive than virtually any other kind of security measure," Weingarten said.  
Having to step outside the classroom to lock a door during a shooting is "crazy," she added. 
Uvalde's school district did not respond to questions about locks on its classroom doors or the Robb Elementary teacher's account of the shooting. 
The issue has surfaced again and again after school shootings: In 2007, the Virginia Tech gunman repeatedly entered classrooms that could not be locked from the inside, while students and faculty struggled to barricade the doors with their bodies and with furniture; 32 were killed. 
The call for upgraded locks was revived after the 2012 shooting at the Sandy Hook Elementary School in Newtown, Connecticut, in which 20 children and six educators were killed by a gunman, and after the 2018 shooting at the Marjory Stoneman Douglas High School in Parkland, Florida, in which a gunman killed 14 students and three staff members. Neither of the schools had interior-locking classroom doors. 
"There has never been an event in which an active shooter breached a locked classroom door," a safety commission convened after the Newtown massacre pointed out in 2015, recommending the security measure. 
But the logistics and expense of installing these locks can dissuade districts from investing in them, said Amy Klinger, founder and director of programs for The Educator's School Safety Network, a nonprofit group that helps districts protect against gun attacks. 
"Think about how many hundreds of thousands of schools there are in the United States and in each one, you have maybe 200 doors," she said. "The scope of it becomes incredibly expensive and overwhelming to try to standardize."
No state requires all schools to install interior locks, though some recommend it, and a wave of school security grants often follows shootings. But even when they have new funds available, schools have struggled to decide what to prioritize.
"School districts and administrators get overwhelmed with numbers of options and solutions," said Cedric Calhoun, chief executive officer of DHI, an industry group for door security professionals. "A lot of times they can overlook the simplicity of a door lock."
'It's inexcusable'
Like many U.S. school districts, Uvalde had dramatically ramped up its school security measures in recent years: The district hired a social media monitoring firm, brought in drug-sniffing dogs, and used a scanner to see if visitors were registered sex offenders, according to the security plan posted on its website, more than doubling its security budget. 
But the only mention of door locks in the publicly posted plan was the district's requirement that teachers keep their classroom doors closed and locked "at all times" — without describing the steps they might have to take to do so. The district did not respond to questions about the types of locks on its classroom doors or its efforts to make sure the locks worked.
The issue is now under new scrutiny in the aftermath of the shooting at Robb Elementary. Among the array of missteps and errors that allowed the Uvalde shooting to result in so many deaths — including a delayed police response that let the siege drag on for more than an hour — the school's doors have emerged as a major security flaw. Last month, the Uvalde teacher who spoke to NBC News was among those to testify during a closed-door meeting of a special Texas House committee investigating the massacre.
Although she believes the government should make it more difficult to purchase assault-style rifles, including raising the minimum age, she wanted to make sure the lawmakers knew about a more basic concern.
"Classroom doors should not have any windows, and the doors should be able to be locked from inside and outside," she recalled telling the committee. "I should not have to go outside and put myself in danger to verify that my door is locked."
The concern emerged yet again in the public testimony of Texas Department of Public Safety Director Steven McCraw, who said that the shooter had walked through a classroom door that was closed but did not appear to be secured — and could not be locked from the inside. 
"This is ridiculous, and it's inexcusable if you're looking at it from a security standpoint," he said during last month's hearing. He also pointed out another lock security issue that the district had not addressed: The strike plate — the metal fixture that allows the door to latch — was damaged in the first classroom that the shooter entered with the unsecured door. It was a problem at least one teacher had previously flagged to the school, but which was not fixed, McCraw said.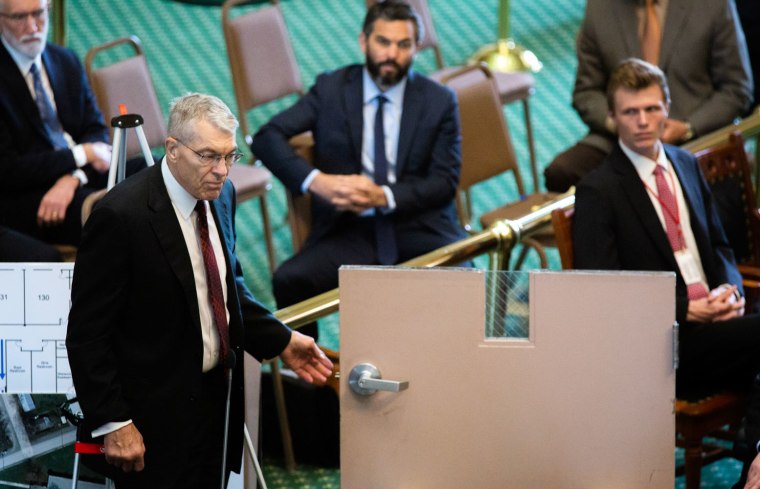 The Robb teacher who spoke to NBC News said that school police officers would routinely roam the halls to ensure that classroom doors were locked. It is unclear, however, whether the locks themselves were regularly inspected. (The school district did not respond to questions about its security measures and oversight of its facilities.) Routine fire inspections typically only test doors to ensure that occupants can exit safely in case of a fire or other emergency, according to the Texas Fire Marshals' Association, a group representing local fire officials.
For the upcoming school year, Texas will require all districts to conduct weekly checks to ensure their exterior school building doors are closed and locked, and says it is in the process of developing new facility standards. But schools are still not required to check whether classroom doors are locked. And it is not certain that the state will take further action on the issue. 
Texas state Sen. Paul Bettencourt, a Republican, said he was appalled to hear about limited door security measures at Robb Elementary. 
"My head exploded when I found out the only way they could check the lock is by checking from the outside," said Bettencourt, a member of the Texas Senate committee investigating the shooting. "You've got to have doors that can be secured and locked from the inside — otherwise you're putting people in the hallway with an active shooter."
But Bettencourt did not specify what, if anything, the state should do to ensure that classrooms had interior-locking doors in place, or whether the government should provide additional funding for such upgrades. 
"There's no question we have to have that discussion," he said. 
Abbott's office did not respond to requests for comment on whether the state should mandate interior-locking classroom doors.
State Sen. Carol Alvarado, a Democrat, said in a statement that it was "worth considering" a requirement for interior door locks, but added that such a proposal must come with funding and the passage of "some basic common-sense gun reforms."
"We must do more than just hardening schools to protect our kids," she said.
The Texas House considered a bill in 2019 requiring newly constructed schools to have interior-locking classroom doors. But it didn't make it to the floor for a vote. 
A renewed push for change
In other states, recent proposals to require interior-locking classroom doors have largely fallen flat. Legislation in Connecticut and Hawaii failed. Florida, Arizona and New Hampshire are among the states that recommend but do not mandate the safety feature.
California is one of the few states to require interior-locking classroom doors, but only under limited circumstances: It enacted a mandate for newly constructed schools in 2011 and expanded the requirements in 2018 to include schools that received state funds for renovations after teachers unions pushed for the changes. Efforts to expand the requirement to all existing schools ran aground after objections over the high price tag and the logistical difficulties of retrofitting older buildings.
Such concerns have also played out on the local level: In North Carolina, Wake County's school board is considering lock upgrades as part of a yearslong security review. Jim Martin, who leads the board's facilities committee, said that he received about a dozen emails from residents asking for the locks to be changed on classroom doors after the Uvalde shooting; he's also received dozens of marketing emails from companies that sell classroom door locks, he said. But the district likely won't be able to afford changing the locks in all 192 of its schools— a step that could cost as much as $5 million, he said. 
Martin also warned against viewing any lock as a panacea. 
"There is kind of a mythology that locks are going to solve all the problems," he said. It is more important to have teachers, administrators, social workers and support staff trained to recognize signs of trouble among students and to get those children help, he said: "It's people and relationships that create safety. There is no lock, no entrance that is going to be as effective as people."
With the backing of industry lobbyists, federal lawmakers have poured funding into school security upgrades. The bipartisan gun control bill that President Joe Biden signed into law last month includes $100 million that schools can use for safety infrastructure improvements. Some states are also ramping up spending: Iowa recently dedicated $100 million in new funds that will grant schools up to $50,000 per building for security measures. 
Those funds will only go so far, however. After Texas dedicated $100 million for school security grants in 2019, the Uvalde school district was awarded about $69,000 to upgrade its security systems, a third of which it planned to spend on perimeter fencing for a single campus, according to the state Education Department. Major facility upgrades can cost millions of dollars in a single school district, and most of the money still has to come from local sources, including bond measures that voters must approve.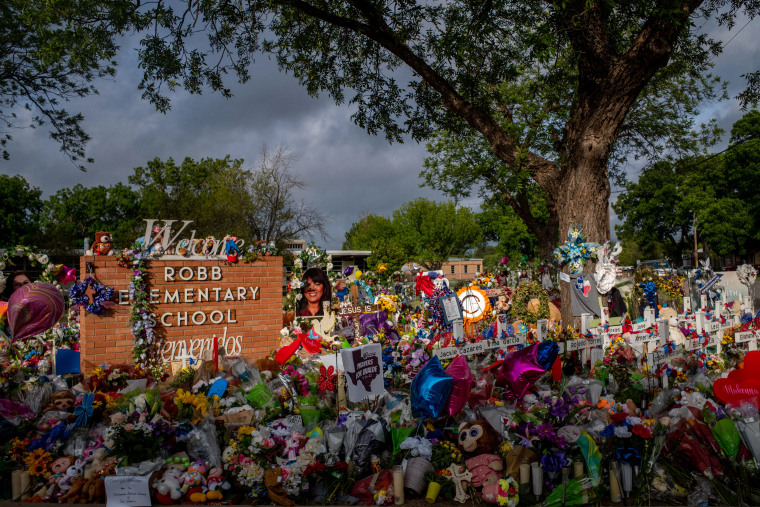 Such obstacles have deterred some school districts from upgrading their locks, said Curtis Lavarello, executive director of the School Safety Advocacy Council, an industry training and consulting group. The lack of interior-locking classrooms is still one of the most common security vulnerabilities that he says he sees in schools — one that he recommends addressing as soon as possible. 
If schools can't afford to change their locks, Lavarello said, they should require classroom doors to be locked at all times and conduct checks to make sure the rule is being followed. But teachers were already required to keep their doors closed and locked at Robb Elementary.
"The cost may be higher for leaving classrooms exposed," he said. 
Hoping for better security
More than a month after the Uvalde shooting, the teacher can't stop thinking of the sound of the gunshots, the children's screams from across the hall and the panicked look her student gave her when she asked for his help making sure the door was locked.
Despite the trauma, the teacher has decided to return to work. This fall, she plans to teach at one of the schools where Robb students will be relocated, in part because she knows that the kids are also struggling with what happened, and she wants to be there for them.
But she has one condition. 
She told her husband that if the school does not have doors that lock from the inside, she's going to have him come to the school with his tools.
She wants to be able to tell her students that they're safe, and to really mean it — even if that requires installing a lock herself.