Officials from the Department of Veterans Affairs testified Thursday before a House committee that they still don't know when their information technology system will be updated to address issues preventing tens of thousand of veterans from receiving their GI Bill benefit payments on time, if at all.
NBC News previously reported that technical glitches and other computer problems at VA have caused GI Bill benefit payments covering education and housing to be delayed for months or never be delivered, forcing some veterans to face debt or even the potential of homelessness.
Dr. Paul Lawrence, who is in charge of the Veteran Benefits Administration, testified in a fairly heated veterans affairs committee hearing Thursday evening, along with Gen. Robert Worley, director of education service, and two officials from the VA's Office of Information & Technology.
Few conclusions came from some of the testy exchanges.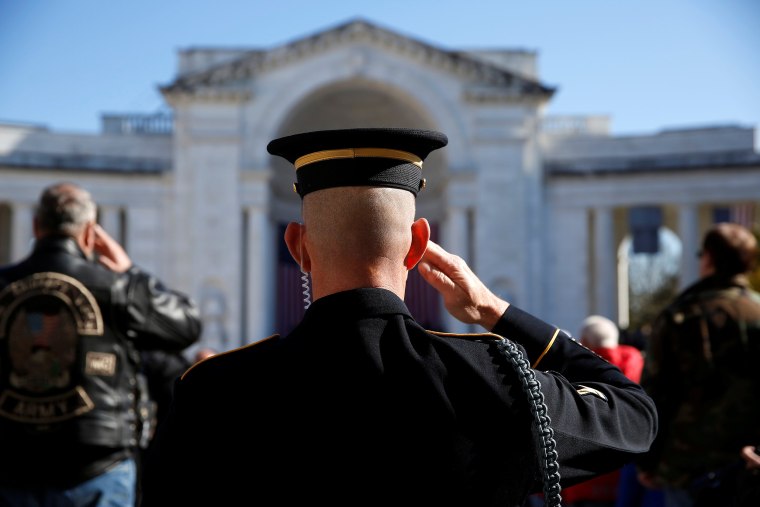 Members of the committee attempted to push for a specific date when the federal agency would be able to send the correct benefit payments after the VBA blew past previous estimates, but the congressmen received few fulfilling answers.
"That was a mistake to give you a day," Lawrence said, referring to previous congressional hearings where VBA had provided an estimate. "We did not understand the certainty around it. That is why we are not giving you a date."
Lawrence said on Thursday that the VBA was essentially caught off-guard by the IT issues, stating in his prepared remarks that 22 of the 34 sections in the Forever GI Bill signed by President Donald Trump last year required IT solutions. Two sections caused more trouble than others, he said, as they complicated how the VA calculates the GI Bill's housing allowance.
Congressmen from both sides of the aisle expressed their frustration with the VBA at the hearing. They were particularly upset that none of the witnesses appeared to take full responsibility for the delay and that the VBA hadn't alerted them to the seriousness of the issue.
"We feel powerless up here because we've given you money, we've given you the authority, we've asked repeatedly for anything else — if there are barriers we're unaware of to remove," said Rep. Jodey Arrington, R-Tex.
"It feels like an exercise in futility," the congressman added.
Ranking Member Beto O'Rourke, D-Tex., pressed the VA officials to provide a date and asked what the committee could help do to mitigate issues in the future.
"I think I speak for everyone in saying that we're all frustrated and want to see something happen," said O'Rourke, who will depart Congress in a few weeks. "You failed to account for the problem and minimized the problem."
Gen. Worley, who will depart his current position to head the VBA's regional office in Houston, shared that 1,000 veterans had gone more than 60 days without their checks, 10,000 had been waiting between 30 and 60 days and about 73,000 total were still delayed. He could not provide the number of veterans who had gone more than 90 days.
But officials with the VA insisted that despite not knowing when portions of the law would be addressed because of the ongoing IT issues, the VA had returned to a normal workload, and they did not expect payments to be delayed in the spring — though veterans may receive the wrong amount of money.
If veterans are paid more than they are owed, the VA would not attempt to recoup that money, Lawrence said. Though committee members appeared to approve of that decision, many questioned how much the overtime costs, additional contract workers and lost dollars due to incorrect payments would cost taxpayers.
"That was my concern," Rep. Phil Roe, R-Tenn., the chairman of the veterans affairs committee, told NBC News after the hearing. "Are we going to go down another rabbit hole with a bunch of money and find out next June that it's a whole debacle? I would not be shocked if that's true."
Lawrence appeared particularly upset over media reports that veterans couldn't pay their bills or faced homelessness. He said some stories misrepresented the facts, citing a Washington Post story published Thursday as an example, though he did not provide any specifics.
Richard Crowe, the senior vice president of software company Booz Allen, also testified Thursday. The VBA contracted out software updates to Booz Allen, but Crowe insisted on Thursday that his company was not at fault.
Crowe blamed the number of system dependencies and the age of the system itself for causing delays in implementing the changes in the Forever GI Bill.
"Many of the underlying IT systems required to implement the changes were past, at, or very near their intended dates for retirement," Crowe said.
Frustrations with witnesses' answers extended into the room at large, particularly to the representatives from veteran service organizations who attended the hearing. Most work in close coordination with the VA, but they were dismayed by the officials' unwillingness to provide clearer answers, especially after Lawrence said he was confident the VBA would have a solution soon.
"If you're very confident, then give us a month. Maybe not April 1, but how about just April? Or the March/April timeframe?" Patrick Murray, deputy director of Veterans of Foreign Wars, said afterward. "Some of those guys in there, they were so in cover-your-ass mode."