Martha's Vineyard, an island retreat off Massachusetts for the Northeast's elite, is a health care desert.
The Vineyard has one hospital with 25 beds and seven ventilators. Local officials estimate the current population at 25,000, meaning the island has about 1 bed per 1,000 residents, far fewer than the state average of 2.4 per 1,000.
Because the Vineyard is isolated from the mainland, its limited medical infrastructure could quickly crumble if a coronavirus outbreak were to sweep across the island. The vacation community is one of many across the country flooded by seasonal residents hoping to escape urban centers amid the pandemic.
As the coronavirus outbreak worsened in the U.S., a Vineyard community Facebook group, "Islanders Talk...," exploded with permanent residents fighting over whether they wanted seasonal residents there. City folk could bring the virus with them on the ferry, some said. But they could also bring money to a place with a largely service-based economy, where hundreds, if not thousands, of residents suddenly find themselves out of work.
Some said the island should allow only essential personnel to make the journey from the mainland, but private jets were already landing at the airport. Local politicians begged seasonal residents to stay away. Some listened; others didn't. Now the island has eight cases and counting.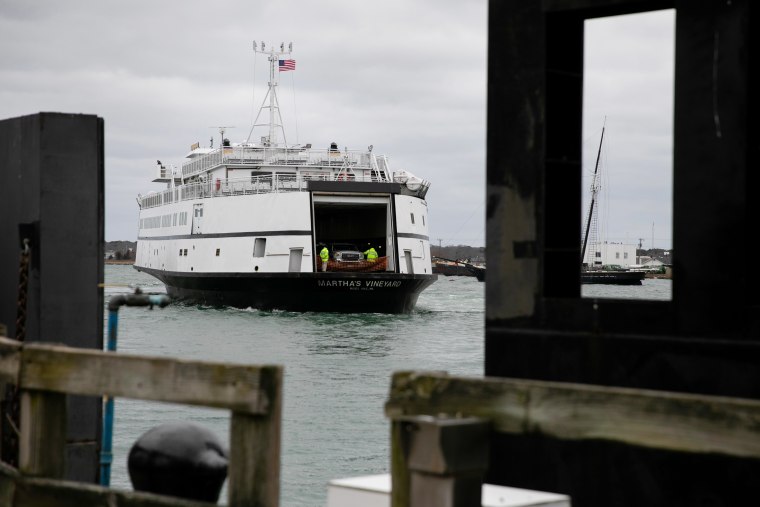 Such scenes have been replicated across the country. In South Lake Tahoe, California, the mayor told visitors to stay away. In the Hamptons on Long Island, some New Yorkers tried to heat their pools as markets ran out of food because they didn't anticipate so many shoppers, and hospital workers worried about being able to manage an influx of patients.
Rhode Island's National Guard and state police are stopping drivers with New York license plates and going door to door to find people who recently traveled from New York to second homes, demanding that they self-quarantine for 14 days.
Full coverage of the coronavirus outbreak
Longstanding tensions in many vacation communities seem to be boiling over as everyone tries to figure out how to keep themselves, their families and their communities safe from a virus that, while ostensibly indiscriminate, is more easily fought by those with wealth and resources than by those without.
The Edgartown Meat and Fish Market on the eastern shore of Martha's Vineyard is still open. Owner Sean Ready saw an "influx" of seasonal residents about two weeks ago. People can shuffle into his market, stand 6 feet from the counter and buy fresh food. He also offers curbside pickup and is doing all he can to keep his staff safe.
"We're happy to be open and continue to pay our employees," Ready said. Business has "certainly gotten busier" than usual in March, but that won't mean much if he doesn't have his usual summer business.
Ready, who has been a permanent resident for 10 years, understands why people are coming to the island.
"If I was in their position and I had a family of four in downtown New York City and I had a house in Edgartown, I would probably want to be in Edgartown, as well," Ready said.
Still, he has concerns. "It is relevant and appropriate for the hospital and local community to look at what resources we have and to say we would be overwhelmed if it was just our year-round population. Let alone the seasonal residents."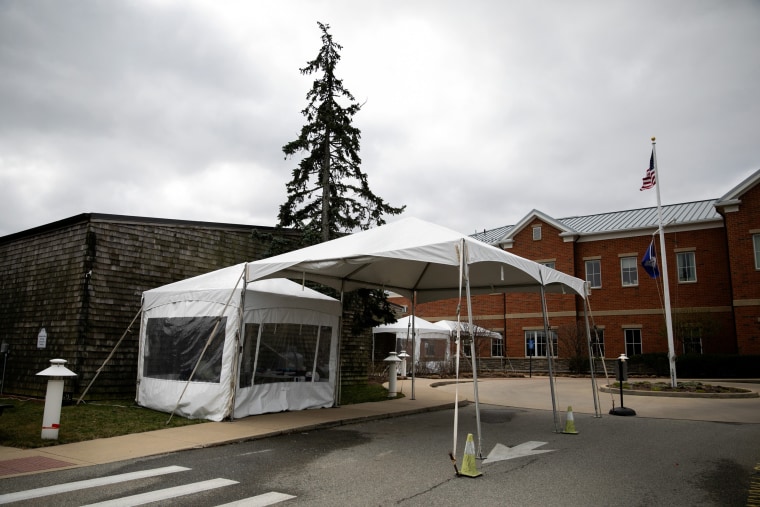 In a livestream for the community, Denise Schepici, CEO of Martha's Vineyard Hospital, painted a stark picture of what an outbreak on the island would look like.
"We have limited beds and limited medical supplies," she said. "We don't have enough staff to care for you during a surge of coronavirus."
Schepici said the hospital, which declined to comment, is "very concerned about passengers coming over on the steam ship" that carries people between mainland Massachusetts and the island. If a surge occurs, Schepici said, the island "would not be able to handle it." It would take only nine serious hospitalizations for the island to be overwhelmed — and it already has eight cases.
That's why Dylan Fernandes, the state representative for Martha's Vineyard and Nantucket, asked seasonal residents to stay away.
"We don't think it's too much of a sacrifice to request people not to come open their beach house so that our local hospitals aren't completely overrun," he said.
Download the NBC News app for full coverage and alerts about the coronavirus outbreak
Of course, Fernandes said, people have a right to stay in their own homes, but in a global pandemic, they ought to consider the scant resources.
"I just don't know that people that don't live on the island and want to come over to their beach house or summer home are fully aware that they're going to be coming to a health care desert," he said.
Fabio Junior Barros, an island resident whose wife was tested for COVID-19 at the hospital Tuesday and is awaiting results, agrees. "The people who have summer houses here need to know the hospital will not be able to attend everyone," he said.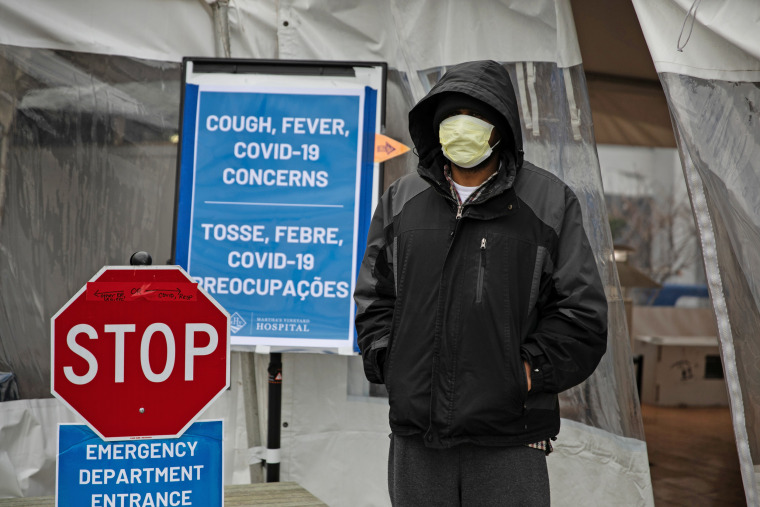 Martha's Vineyard tried to get ahead of the state, enacting stricter stay-at-home orders and banning construction, even though Gov. Charlie Baker deemed it an "essential service."
But many of the Vineyard's 10,000-plus summer homes are filled. The Steamship Authority saw more license plates from New York and New Jersey than usual in March, and local government officials estimate that the island's off-season population has doubled in the past few weeks. Airbnbs quickly went off the market, rented by people looking for places to ride out the pandemic.
As people argue online about whether seasonal residents should be there, tensions have spilled into real life. One seasonal resident told The Martha's Vineyard Times that her son was refused an oil change when the mechanic saw his New York plates.
In some areas, residents have blocked people from entering their communities. Residents of Vinalhaven Island off Maine cut down a tree and placed it across a road to try to forcibly quarantine a group of out-of-towners. Residents on Noirmoutier, in the Atlantic Ocean off the coast of France, wanted to close a bridge to prevent second-home owners from coming, but national authorities said it was illegal.
The decision to flee to vacation homes amid a pandemic has also laid bare class tensions long seen in these communities. While some Vineyard residents are out of work and without health insurance in a community that's been suffering from the opioid epidemic, college students sent home from school early can be seen milling around the streets, passing the time at their parents' second homes.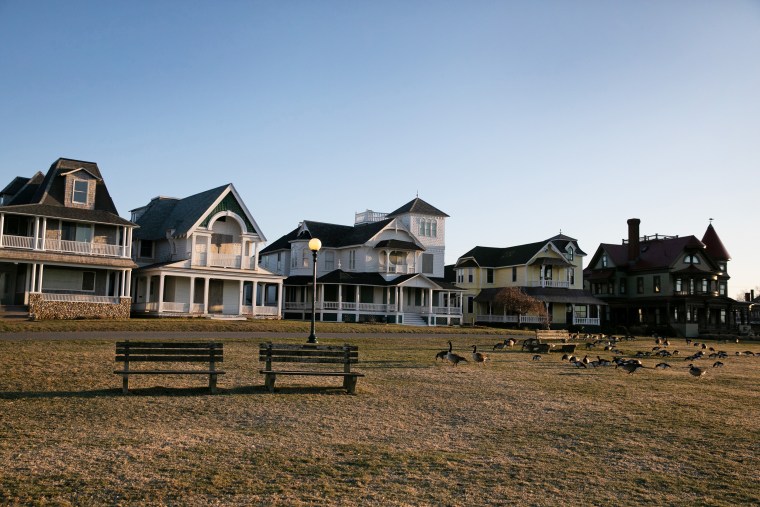 Scott Savoie, a physical therapist on the Vineyard, also understands why some people have come, calling it a "fight or flight" response. But he's been frustrated by seasonal residents who have ignored social distancing warnings. They seem to think the island is a retreat from the virus, he said.
"They had this sense that now they're at the island and they're safe ... well, no. You just came from the hot zone," he said. "If it goes s--- sideways here, the resources are going to run out incredibly quickly."
Savoie thinks the island should have been closed to nonpermanent residents. But now that they're on the island, seasonal residents should have to check in with police and explain why they're quarantining there, he said. If they need supplies during their 14 days of self-isolation, islanders could deliver them, he said.
Stephen Bowen, who with his wife, Susan, owns a restaurant and market on Martha's Vineyard, is focused on trying to keep his business alive and employ as many people as he can. He had to lay off staff at his restaurant, La Soffitta, but he has managed to keep on workers at his cafe, Waterside Market, where he's providing curbside pickup.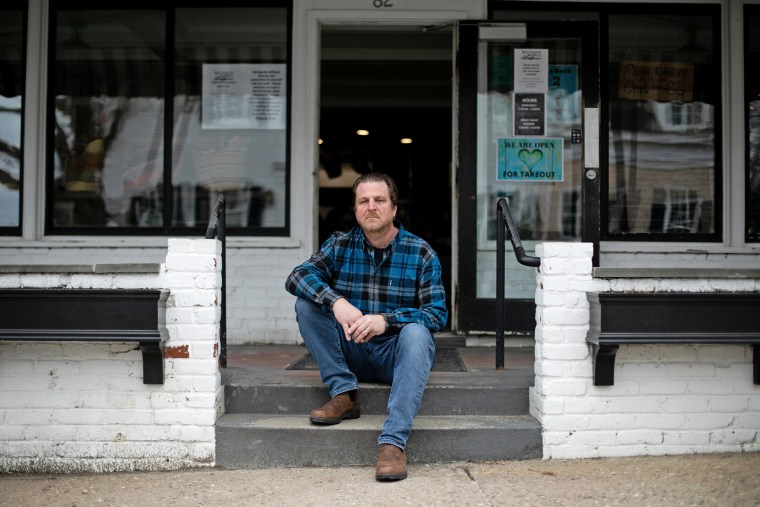 "It's a balance of needing the business and wanting to protect the community," Bowen said. The Vineyard is a strong community, he emphasized, and he hopes permanent and seasonal residents can help one another get through the pandemic.
"Everyone," he said, from fishermen and women to health care workers to second-home owners, "is just doing what they can to get by."