In the latest fallout from the scandal rocking the gymnastics world, the coordinator of the U.S. women's team stepped down Friday, citing stress from "the present climate."
Valeri Liukin — a former Soviet Olympic champion and the father of 2008 U.S. gold-medal winner Nastia Liukin — had been the coordinator since September 2016, when he took over from famed coach Marta Karolyi.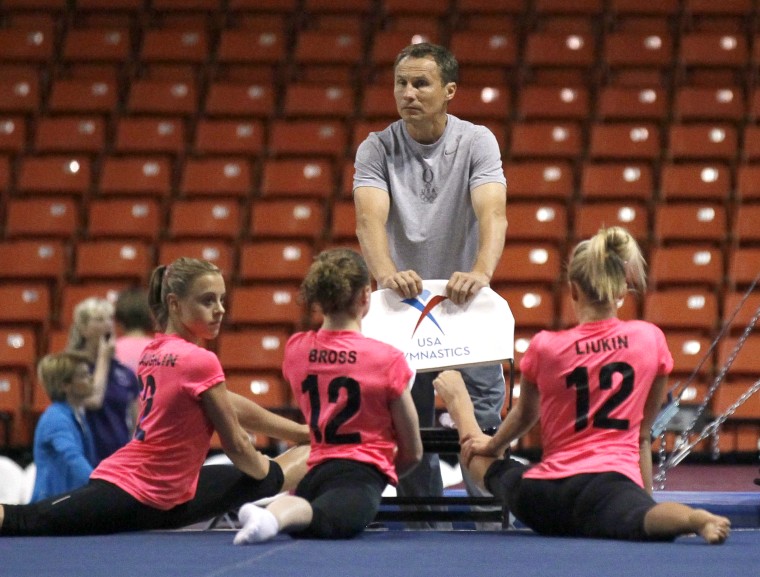 "I was truly looking forward to trying to turn this program around and bring success to our country and the gymnastics community. But the present climate causes me, and more importantly my family, far too much stress, difficulty and uncertainty," he said in a statement.
"It is time to move on in a different direction, at least for now. I wish the coaches and athletes continued success, and I stand ready to encourage and support all of them from a different vantage point."
USA Gymnastics did not immediately respond to a request for comment on Liukin's resignation, which was first reported by USA Today.
The organization has been shaken by widespread criticism of the culture in competitive gymnastics and its handling of sex abuse allegations, including the case of former team doctor Larry Nassar.
During a sentencing hearing for Nassar earlier this month, former national team member Mattie Larson singled out Liukin by name, saying he made her feel "completely invisible" when she was competing.
"It troubles me that he is now in that position, and I hope for the sake of current and future national team members, that he has changed," she said.
In a recent blog post, Nastia Liukin said her father was dedicated to athlete safety.
"He, as much as anyone else, wants to change the culture and environment of this program," she wrote. "The first step was offering one of his two gyms, WOGA in Texas, as a temporary place for the Women's National Team while they search for a new Training Center.
"He continues to stay committed to providing a safe environment for these young women working so hard at a sport we all love so much."
Liukin's resignation is only the latest personnel change since the scandal erupted. The former president of USA Gymnastics was forced out last year, and the entire board resigned under pressure this month. And USA Gymnastics cut ties with the Karolyi Ranch, where some elite gymnasts say they were sexually abused by Nassar or mistreated by coaches.
The U.S. Olympic Committee announced Friday that two former federal prosecutors would lead a fully independent probe of how the allegations against Nassar were handled.
Six Olympic gymnasts, including 2016 star Simone Biles, have accused Nassar of abusing them.