On Monday morning, one Chicago courtroom was the scene of injustice made right. Four floors up, a second courtroom was where the city has been watching how justice will unfold.
On the first story, Kim Foxx, Cook County's top prosecutor, attended court to formally apologize and shake the hands of 18 men whose convictions were tossed out in cases linked to a former police sergeant and his tainted tactical unit. It was an outcome believed to be the largest mass exoneration ever in Cook County.
Meanwhile, as the men celebrated their names being cleared, a high-profile trial continued in its third week involving another Chicago police officer, Jason Van Dyke, who faces first-degree murder in the 2014 shooting of a black teenager.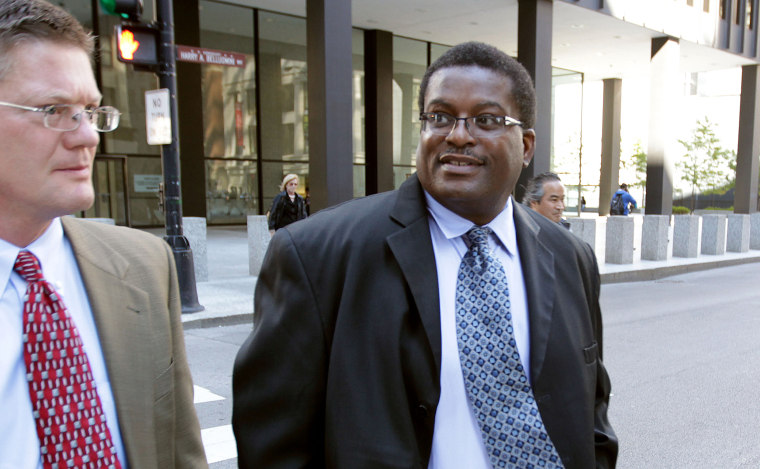 While the two cases are different in nature, together they crystallize how the nation's second-largest police department has been systemically and historically plagued by corruption and accusations of excessive force, policing experts and activists say.
These scandals feature officers "who had engaged and amassed patterns of complaints — repeated complaint after complaint that were ignored, whitewashed and most importantly, the department and city refused as a policy and practice to examine those patterns of complaints," said Craig Futterman, a University of Chicago law professor who has been critical of the Chicago Police Department.
"To date, the underlying conditions have yet to be addressed and reckoned with in those cases," he added.
Monday's exonerations were especially stunning, Futterman said, as the cases involving ex-Sgt. Ronald Watts have now led to 42 people whose convictions have been overturned since 2016.
"We continue to hear that many of these arrests were purely conjured," said Mark Rotert, the chief of the State's Attorney's Conviction Integrity Unit, according to NBC Chicago. "They were basically arresting people and framing them or were claiming that they were involved in drug offenses that either didn't occur or didn't occur the way that those police officers said."
During a news conference, Joshua Tepfer, an attorney for the Exoneration Project at the University of Chicago Law School, stood with several of the men whose convictions were thrown out, including one framed four times.
He noted the absence of anyone from the city or police department "who really owes the apology to these men and so many others for letting this happen and covering it up for so very long."
Last fall, Cook County prosecutors dropped charges against 15 men claiming they were framed by Watts, who was convicted in 2013 of extorting protection payments from drug dealers at a South Side housing project over a five-year period. The former defendants filed federal lawsuits this summer alleging Watts and other officers engaged in a "code of silence" that protected one another while extorting bribes and allowing corruption to flourish.
The lawsuits also accuse the city of failing to do anything to rein in these officers, paving the way for people to be falsely accused.
Fourteen men were wrongly convicted on drug charges and another on gun charges, their attorneys said.
Watts' actions were brought to light after two Chicago police officers, Shannon Spalding and Danny Echeverria, were working undercover with the FBI for two years.
But instead of praise, Spalding and Echeverria alleged they were subject to retaliation by their supervisors and other officers. They filed a federal whistleblower lawsuit, which they settled in 2016 for $2 million instead of going to trial. The city agreed to admit to a code of silence within the department if it meant Mayor Rahm Emanuel would not have to testify, The Chicago Tribune reported.
Watts and another officer, Kallatt Mohammed, who was named in several of the lawsuits, were discovered after shaking down a drug dealer who was working as an FBI informant.
Watts was later sentenced to almost two years in prison and released in 2015.
"Even when good police officers try to come forward, the strength of Chicago's code of silence prevented them from successfully challenging criminally corrupt behavior and abuse, stopping innocent people from being put in jail and officers from regularly committing perjury," Futterman said.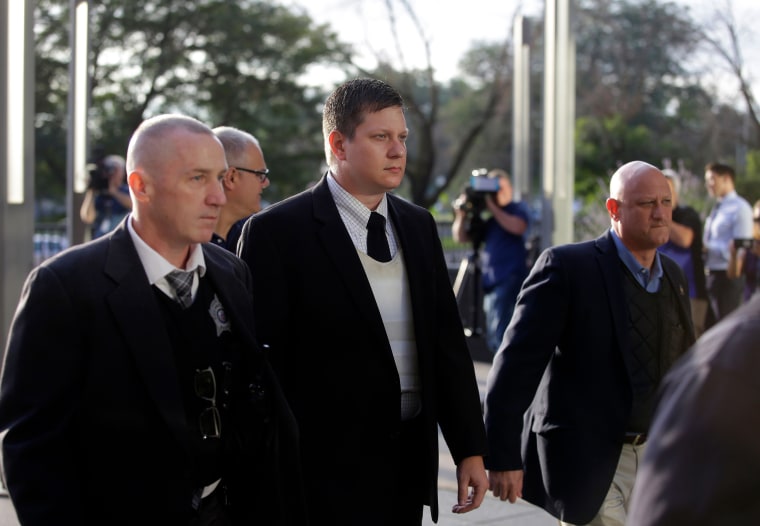 Covering up was also "standard operating procedure" in the case involving Van Dyke, he added.
Three other officers face trial for allegedly lying to exaggerate the threat that Laquan McDonald, 17, posed before Van Dyke fatally shot him 16 times after failing to obey commands to drop his knife. The shooting was captured on police dashcam and sparked waves of protests and demands for police reform, particularly in the black community.
Attorneys for Van Dyke say the officer feared for his life.
The police union has declined to comment on the trial, and Van Dyke remains suspended from the department without pay.
Futterman said the Van Dyke trial and the false arrests under Watts also highlight how black residents of Chicago remain most vulnerable to abusive policing.
Rev. Ira Acree, an anti-violence activist on the city's West Side, said he is hopeful that a proposed court-ordered consent decree, which is still awaiting a judge's approval, will finally bring lasting accountability to the police department.
While he's worried that a not guilty verdict would "set justice back 100 years in Chicago," he's looking toward the next mayoral administration to finally end the code of silence that police have held. Emanuel announced earlier this month he would not seek a third term next year.
"We need a fresh start," Acree said, "and we need to really be serious about it."