An American man freed from captivity in Venezuela on Saturday after being imprisoned for nearly two years arrived in the United States and said he is "overwhelmed with gratitude" to those who helped secure his freedom.
Joshua Holt, 26, was released by Venezuela on Saturday along with his wife, Thamy, who had been held since 2016.
"I'm just overwhelmed with gratitude," Holt said in a meeting with President Donald Trump and others at the White House Saturday night. He said the years of detention were very difficult.
"Not really the great vacation that I was looking for, but we're still together," Holt said. "Starting off a marriage rough, but now we're going to be together."
"I'm just so grateful for what you guys have done — and for thinking about me, and caring about me, just a normal person," he said. "So it really touches me, and thank you."
Holt, a Morman missionary, flew to Venezuela approximately two years ago to marry Thamara Caleno, a Mormon woman he met online.
Venezuelan law enforcement allege that the American man had stockpiled weapons in his wife's family's apartment inside a public housing complex in Caracas, the nation's capital. The two have been held without trial since they were arrested shortly after the wedding in 2016.
The State Department has called the weapons charges "questionable."
Trump at the meeting at the White House Saturday welcomed Holt and his family, and told Holt: "You've gone through a lot. More than most people could endure."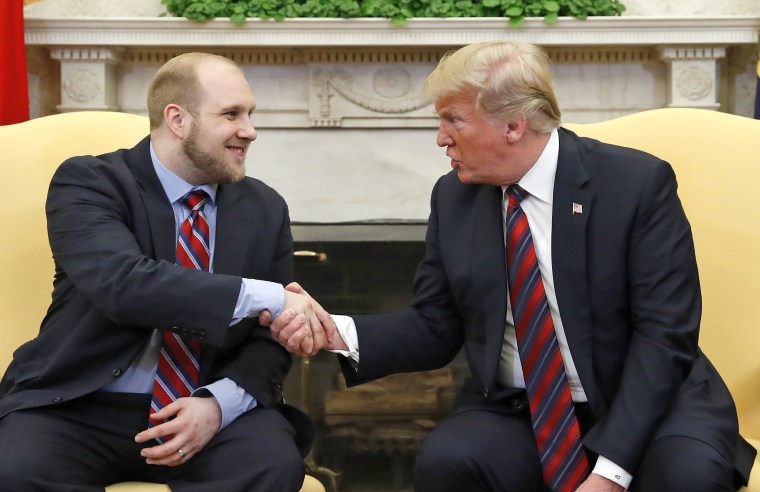 "We are all as a group very happy," Trump said. The president thanked the efforts of Rep. Mia Love and Sen. Orrin Hatch of Utah, and Sen. Bob Corker, R-Tenn., who helped broker the release and returned from Venezuela with Holt and his wife.
Love, R-Utah, tweeted shortly before 7 p.m. ET that "Josh Holt is on American soil again! His flight just landed in DC." Vice President Mike Pence said on Twitter: "Very glad that Josh Holt is now back home with his family - where he has always belonged."
Holt, in a series of texts to NBC News Saturday afternoon, said that "you can't judge a group of people ... because of the actions of a few people," and "I have nothing against the people of Venezuela."
"I know that it would be impossible to thank all of the people that helped my wife and I in our difficult situation. I know there were many tears shed and some sleepless nights," Holt said in the texts. "The only thing I can do is say thank you from the bottom of my heart, thank you for the support, your prayers, and for never giving up and leaving us behind. May God bless you all."
Sen. Hatch, R-Utah, announced the release of Holt in a statement earlier Saturday.
"Over the last two years I've worked with two Presidential administrations, countless diplomatic contacts, ambassadors from all over the world, a network of contacts in Venezuela, and President Maduro himself, and I could not be more honored to be able to reunite Josh with his sweet, long-suffering family in Riverton," Hatch wrote.
Holt's release comes a little over a week after the native Utahn released two short videos on his Facebook page in which he said a prison riot was endangering his life. It is unclear how Holt gained access to a cellphone or the internet from El Helicoide, or the Helix, prison in Caracas.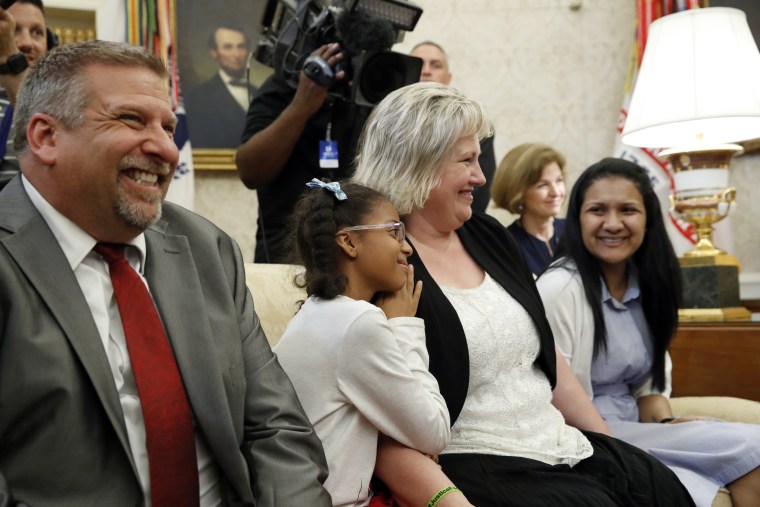 The release comes amid strained relations between the White House and the government of Venezuela. The White House called this month's election in which President Nicolas Maduro was re-elected a "sham."
Last July, the U.S. sanctioned 13 Venezuelan officials. Then-national security advisor H.R. McMaster called the elections that yearto replace Venezuela's National Assembly with a new National Constituent Assembly an "outrageous seizure of absolute power."
Venezuela's communications minister, Jorge Rodriguez, said the release of the couple was a goodwill gesture that followed months of dialogue between the Maduro government and U.S. lawmakers.
Secretary of State Mike Pompeo said on Twitter that the U.S. policy towards Venezuela is unchanged and that the U.S. supports the Venezuelan people and "their efforts to return to democracy."
Corker said that it was dramatic 48 hours that ended with the release of Holt and his wife. Corker told Trump at the White House that they were in the plane going down a runway to return to the United States Saturday when the the engines were turned off and the plane turned around.
"So, we still weren't sure we were leaving," Corker said. However, the problem was just an instrument issue.
Trump on Saturday night also said that his administration was working to secure the release of American pastor Andrew Brunson, who is being held in Turkey and is being tried on charges he acted a spy. Brunson was arrested in 2016 in a post-coup crackdown which saw mass detentions.
"They say he's a spy but he's not a spy," Trump said. "There's a trial going on, but the trial is not so much of a trial. And we're talking to the folks in Turkey about doing something about it," Trump said.
"Pastor Brunson, I hope you can hear us," Trump said. "We'll be helping you at some point. We've been working on it for a while. He's been there a long time, and he's a totally innocent man."