Federal authorities deported a military veteran who served two tours in Afghanistan but was later convicted of drug crimes, an agency spokeswoman said Sunday.
In a statement, the spokeswoman, Nicole Alberico of Immigration and Customs Enforcement, or ICE, said immigration agents returned Miguel Perez Jr., 39, to Mexican authorities on Friday.
In an email to NBC News, Perez's lawyer, Chris Bergen, said Perez was left with no money and only his orange prison uniform.
"He was dumped in one of the most dangerous areas of the Mexican border," Bergen said. "We will continue to fight his case and appeal his citizenship denial."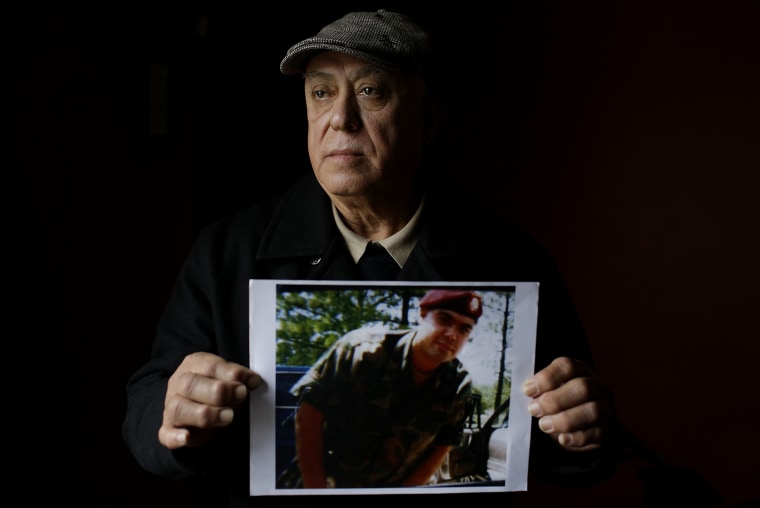 Perez had lived in the United States as a legal permanent resident since age 11 but was never granted citizenship, said Sen. Tammy Duckworth, D-Ill., who has advocated for Perez and criticized ICE's handling of his case.
"This is a deplorable way to treat a veteran who risked his life in combat for our nation," she said in a statement Friday.
Alberico said the agency was "very deliberate" in its review of veteran deportation cases.
"ICE exercises prosecutorial discretion, when appropriate, on a case-by-case basis for members of the armed forces who have served our country," she said. "ICE specifically identifies service in the U.S. military as a positive factor that is considered when deciding whether or not prosecutorial discretion should be exercised."
Perez was convicted in 2010 of manufacturing or delivering more than two pounds of cocaine in Cook County, Illinois, and was sentenced to 15 years in prison.
In an interview with the Chicago Tribune this year, Perez said that after his service, he had been diagnosed with post-traumatic stress disorder. He also may have had a traumatic brain injury. Perez started hanging out with an old friend who gave him free drugs and alcohol, he told the paper, and while he was hanging out with that friend, he delivered a laptop case with cocaine to an undercover officer.
He told the Tribune that he mistakenly believed his military service granted him citizenship. It doesn't: In 2002, President George W. Bush signed an executive order allowing non-citizens who served honorably after the terrorist attacks of Sept. 11, 2001, to apply.
Perez's parents and children are citizens.
Related: Is Trump carrying out a mass deportation? It feels that way to some
Hector Barajas, director and founder of the Deported Veterans' Support House, a service agency in Tijuana, Mexico, told NBC News that it was unclear how many veterans had been kicked out the country.
"The government isn't tracking them, so we don't know," he said.
Nor was it clear whether the deportation rate has changed during the Trump administration.
"The pattern I'm seeing is that less people are getting deported from the new wars because the military is doing a better job at making them citizens," he said. "But we don't have the real numbers."