BAGHDAD — Vice President Joe Biden arrived in Iraq Thursday for a visit intended to help resolve a political crisis that's hindering efforts to defeat the Islamic State group.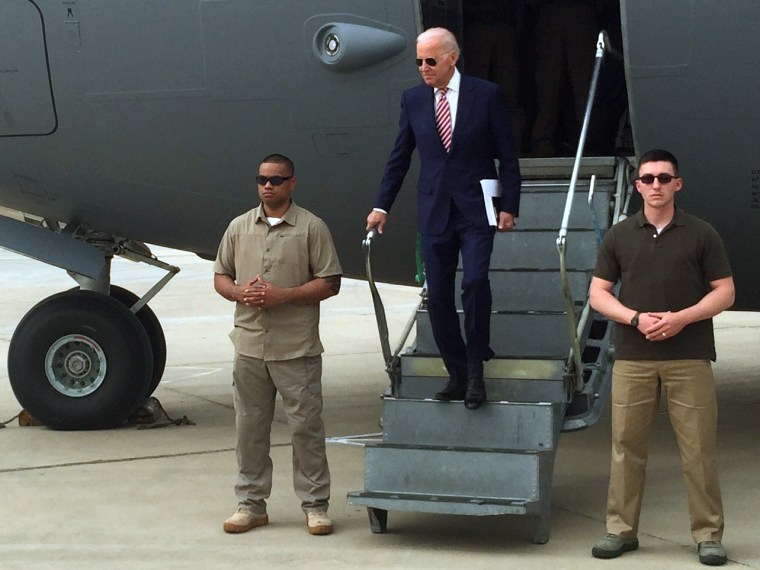 Biden flew overnight from Washington to the Iraqi capital. The White House isn't publicly disclosing his itinerary due to security concerns, but Biden is expected to meet with Iraqi leaders.
Biden was greeted on the tarmac by U.S. Ambassador Stuart Jones and Lt. Gen. Sean MacFarland. He then traveled to the government palace to meet with Iraqi Prime Minister Haider al-Abadi.
The two men met for about 90 minutes.
He later met with Iraq's Speaker of Parliament Saleem al-Jabouri.
"In my last meeting with the prime minster, we talked about the plans that are in store for Mosul and the coordination going on with all of our friends here," Biden told reporters. "And so I'm very optimistic. And I'm anxious to hear what the speaker has to say."
Though the trip was scheduled months ago, the vice president is "arriving at a moment of a lot of turbulence," the official told reporters.
"The vice president has been the point person on Iraq for the administration since the beginning," a senior administration official told reporters traveling with the vice president. "He's been itching to get back for a while; looking for an opportunity. This seemed like a good moment to do it."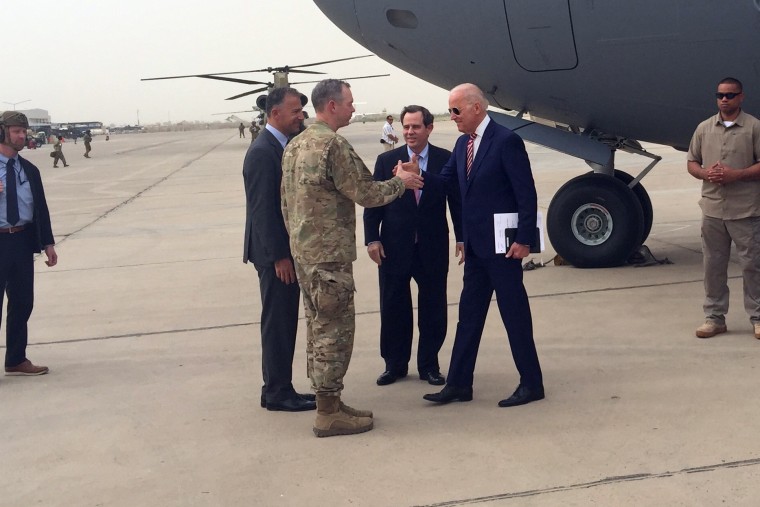 Iraqi Prime Minister Haider al-Abadi is struggling to deliver on reforms pressed by protesters who are angry about corruption and political patronage. Al-Abadi has tried to appease critics but faces opposition from Iraq's entrenched political groups.
Biden talks to the prime minister roughly every 10 days, the official said. Biden has an "extraordinarily good personal relationship with these leaders."
The Obama administration this month agreed to send 200 more troops and Apache helicopters for the fight against ISIS. But the political turmoil has become a distraction and diverted critical resources. The vice president's visit comes on the heels of Defense Ash Carter's recent visit to Iraq and on the same day he gives testimony before the Senate Armed Services Committee on the efforts to fight ISIS in the region.