NASHVILLE, Tenn. — A 9-year-old known for brightening up the neighborhood with her Broadway-like performances in the driveway. A school custodian who loved students like they were his own kids. And a school leader who was determined to help every child, no matter what challenges they faced.
These were some of the victims of Monday's rampage at The Covenant School in Nashville, where three students and three adults were killed.
Authorities identified the victims at the small Christian school as Evelyn Dieckhaus, Hallie Scruggs and William Kinney, all age 9; school head Katherine Koonce, 60; substitute teacher Cynthia Peak, 61; and school custodian Mike Hill, 61. 
Investigators were still looking into the motive for the shooting as details about the lives it cut short emerged.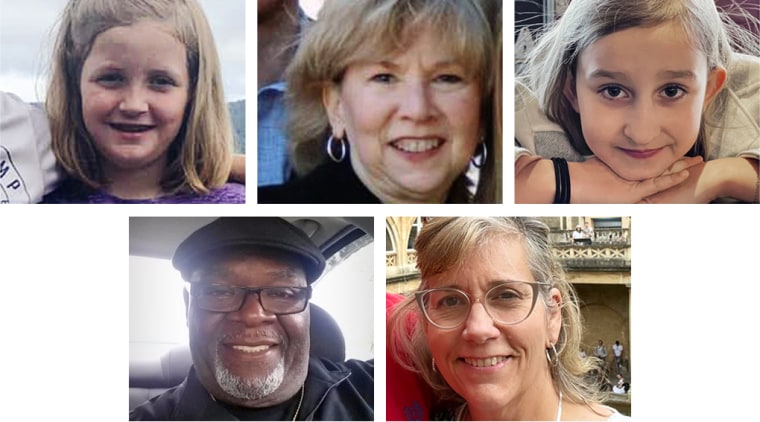 Evelyn "was everything a 9-year-old should be. She was in and out of our house on a regular basis playing tag," said next-door neighbor Nick Riegal, 45, whose two children played with her.
There were often games of hangman and laughter coming from the back porch, he said. And plenty of fun times during the day and evenings.
But it was the lively outdoor theater performances, in which Evelyn and other neighborhood kids each chose a character from the Broadway hit "Hamilton," that Riegal said he will remember most. 
"They worked really hard on Hamilton," Riegal said, adding that all of the children proudly learned 20 minutes of the popular show.
Clay Stauffer, senior minister of Woodmont Christian Church, where Evelyn's family are members, shared a statement on the family's behalf.
"Our hearts are completely broken," the family said. "We cannot believe this has happened. Evelyn was a shining light in this world."
"We appreciate all the love and support but ask for space as we grieve," the statement added.
Evelyn's older sister cried at a vigil Monday night at Woodmont. She could be heard saying through tears, "I don't want to be an only child," The Tennessean reported.
Housed inside Covenant Presbyterian Church, The Covenant School serves preschoolers through sixth graders. On Tuesday morning, a mound of teddy bears and flowers placed by mourners rested by the entrance.
Hallie, another child killed in the shooting, was the daughter of Chad Scruggs, a pastor at Covenant Presbyterian Church.
She was the youngest and the only daughter out of the Scruggs' four children, said Mark Davis, senior pastor at Park Cities Presbyterian Church, where Scruggs used to work.
"She held her own against three boys," Davis said with a laugh. "She was always just a radiant little girl. And that radiance, I believe, was Jesus in her." 
Hill, 61, the school custodian, was a "sweet man" who was called Big Mike, according to a former Covenant pastor.
"He loved the kids in the school," Jim Bachmann said, adding that Hill was like a father figure to them. "The kids loved him too."
Bachmann said Hill was sometimes a greeter for church services at Stephens Valley Church in Nashville, where Bachmann is now the senior pastor.
"When he was greeting, he dressed just like he was going to meet the president," Bachmann said, adding Hill would wear a suit and tie and his shoes polished.
Bachmann's wife, Kristen, added that Hill would stop what he was doing and give you a hug as soon as you walked in the door.
"Because that's how he treated everybody," she said.
Hill's family said in a statement that he was the father of seven children and had 14 grandchildren. The statement said they "are so grateful that Michael was beloved by the faculty and students who filled him with joy for 14 years."
Peak, the substitute teacher who was killed, graduated from Texas Christian University in 1983, a spokesperson for the college said Tuesday. Louisiana state Rep. Charles Anthony Owen grew up in Leesville, Louisiana, with Peak.
The world is "missing a sweet soul who cared about people," Owen said. "She was a devout follower of the Lord, Jesus. She was very outgoing, but gentle in her faith."
Koonce, Covenant's head of school, was described by former students as a champion to all children, whether they faced learning difficulties or were gifted and needed extra challenges. 
Barrett Severance, 33, credited Koonce with helping him to graduate high school. He knew her when she worked at Christ Presbyterian Academy, a small private Christian school he attended in Nashville.
"I was not a great student, so I saw Katherine before school and after school and in the summers in between. She fought for her students oftentimes after we quit fighting for ourselves," he said. "I definitely credit my graduation date to her not giving up on me."
Another former student, Robert Gay, also knew Koonce at Christ Presbyterian Academy, which he attended from 2000 to 2006.
"She loved people and students and children and families in a way that she would describe as 'loving them through God's eyes,'" he said.
A statement from Koonce's family released Wednesday called her "devoted to her family, her friends, and especially the children she cared for."
"She gave her life to protect the students she loved," the statement said, adding: "We are grateful for the prayers of many on our behalf, and we pray for the families of the six others who died."
On its Facebook page on Tuesday, The Covenant School said the community is "in shock coming out of the terror that shattered our school and church." Previous posts show snapshots of students smiling on field trips, performing in Christmas plays and celebrating basketball wins.
Gay said he felt there were still lessons he could learn from Koonce as he processed the news of her death.
"I really want to learn from her spirit of serving people with kindness," he said, "How can we respond in love and in care for every single member of our Nashville community? I think that's the best way to honor her memory." 
Deon Hampton reported from Nashville and Elizabeth Chuck from New York. Marlene Lenthang, Antonio Planas and Daniella Silva in New York and Jake Lubbehusen in Washington contributed reporting.