All four members of a family that died in a fire at the Florida home of professional tennis player James Blake were shot, authorities confirmed on Thursday evening — and the father had recently bought a lot of fireworks and gasoline.
Darrin Campbell, his wife Kimberly and their two teenagers are believed to have died in the blaze on Wednesday morning, surrounded by fireworks and gasoline. The medical examiners' office still hasn't made a final determination of the victim's identities.
At a press conference Thursday, Col. Donna Lusczynski, with the Hillsborough County Sheriff's Office, said that all four victims had gunshot wounds, but didn't say where.
On Wednesday, officials had said that the victims "were found with upper-body trauma."
Lusczynski also announced Thursday evening that Darrin Campbell had purchased "an exceedingly large amount of fireworks" on Saturday, and also purchased "several cans of gas that same day" at a local Home Depot.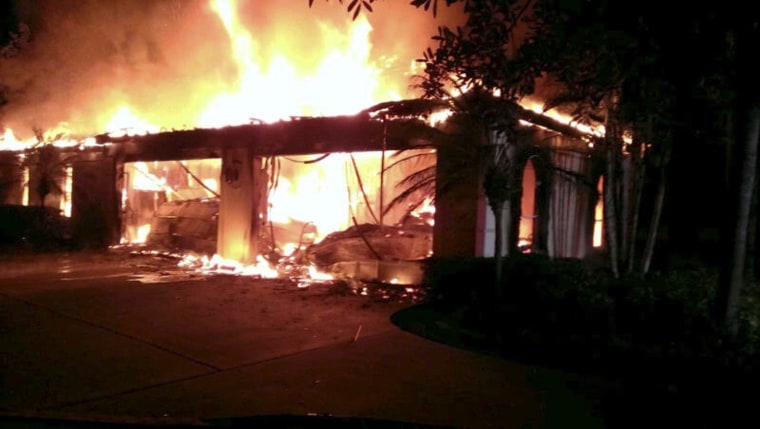 A gun registered to Darrin Campbell was also recovered in the home, but officials have stopped short of describing the case as a murder-suicide.
"We're not going to get into theories right now," Lusczynski said.
She also denied reports that the victims had fireworks strapped to their heads.
"There were fireworks throughout the residence, but not strapped to anybody's heads," she said.
Lusczynski said that investigators were looking into financial records to see if the Campbells had any money problems.
Blake, who retired from professional tennis in 2013, bought the home in 2005 for $1.5 million, according to Hillsborough County property records. It had five bedrooms and five bathrooms. He wasn't in it at the time, as he was renting to the Campbells.
A former neighbor, George Connley, said Darrin Campbell was the treasurer of Carrollwood Day School, a private school in Tampa attended by the Campbell's teenage children, Colin and Megan.
— with NBC News' Dan Shepherd