The mother of a murder victim is placing the blame on California officials for failing to supervise two parolees accused in the rapes and murders of four women while wearing GPS monitoring devices.
Steven Dean Gordon, 45 and Franc Cano, 27, were arraigned on felony murder charges Tuesday.
Both men were wearing court-ordered GPS electronic monitors when they committed the murders last fall, authorities said. On Monday, Gordon sliced the GPS device from his ankle as police surrounded him, jumped on a bicycle and pedaled across the street before being apprehended.
Evidently their system doesn't work...
After their arrests, Anaheim police Chief Raul Quezada did not say how the suspects could have carried out the killings while under supervision, but said information from the GPS devices helped "put the case together."
But Estepp's mother said the electronic monitoring system should have prevented her daughter's killing.
"California is responsible for them, and evidently their system doesn't work," Jodi Piere Estepp told NBC Los Angeles Tuesday.
In another recent case involving electronic monitors, 79-year-old Howard Rudolph of Sun City, Arizona — accused of killing his wife in an apparent mercy killing — cut off his tracking device and vanished on Sunday. He has not been seen since.
And the two cases this week are just the latest in a string of high-profile incidents of what seems to be a failure of electronic monitoring devices.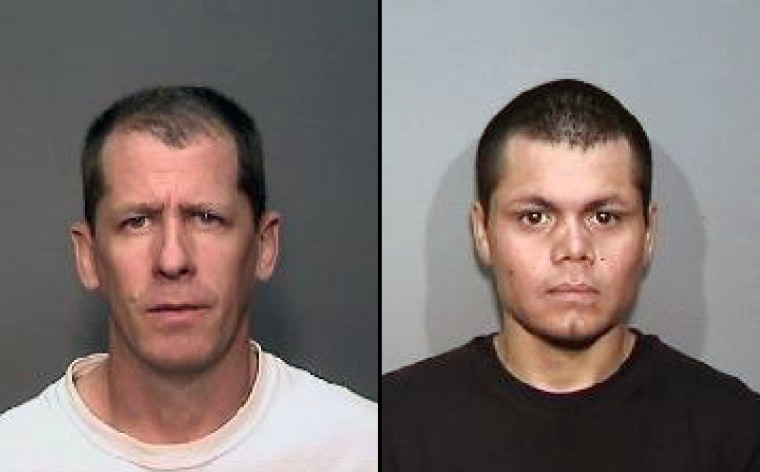 In another case last year, parolee Evan Ebel tore off his ankle bracelet in Colorado then killed pizza deliveryman Nathan Leon before going to the home of Colorado corrections chief Tom Clemens and gunning him down, officials said. Ebel was later killed in a shootout with authorities in Texas.
George Drake, a former corrections manager who now consults with law enforcement agencies in order to improve the performance of electronic monitoring, says the devices are an easy target but necessarily to blame.
Convicted criminals or other suspects for years have been let out of prison or released to the community without any GPS monitoring, he said.
"Thousands of people every day are placed on probation without any tracking device and any one of these individuals could also commit these types of heinous crimes," he said.
But law enforcement agencies do face challenges with the devices — one is the limitations of the bracelets themselves. They are made so that in a medical emergency, such as a traffic accident, they can be cut off relatively easily.
"It's medically not feasible" to have a device that can't be cut off, Drake told NBC News.
"There are some 70,000 to 80,000 people in the United States wearing these tracking devices and every day someone is involved in an accident or a vehicle mishap or they've fallen down and broken or sprained an ankle," he said.
Swollen ankles can create health risks when wearing the tight-fitting ankle bracelets.
When the device is cut off, it is supposed to go into a tamper state, he said, that sends an alert to the monitoring agency.
Other limits to monitors include that GPS has a hard time tracking people indoors and the cellular network, used to transmit location information to computers that can then be viewed by officers, in some parts of the country has dead zones.
But the biggest limitation of electronic monitoring is that law enforcement agencies can underestimate the number of officers needed to watch and monitor the parolees or suspects 24 hours a day, Drake said.
"The most common problem I've found is a lack of staffing to adequately supervise the people being monitored," he said, acknowledging he has not reviewed any of the cases this week.