The victims of the construction crane accident in Seattle over the weekend were identified Monday as a college freshman who wanted to be a nurse, a retired city worker who championed development and construction in the area and two ex-Marines who died pursuing among the most dangerous professions in American industry.
The King County Medical Examiner's Office ruled that the deaths on Saturday of Sarah Wong, 19, Alan Justad, 71, Andrew Yoder, 31, and Travis Corbet, 33, were accidents.
Yoder and Corbet, who were members of the International Association of Bridge, Structural, Ornamental and Reinforcing Iron Workers, were working on the crane when it collapsed as it was being disassembled, while Wong, a student at Seattle Pacific University, and Justad, a retired deputy director of planning and development for Seattle, were in separate cars on busy Mercer Street, authorities said.
Wong, of South Pasadena, California, had planned to major in neonatal nursing, Seattle Pacific University said Sunday.
"She was very intentional about everything that she did, and somebody else remembered her for being extremely positive," Craig Swanson, pastor of Wong's church, Faith Bible Church of Seattle, said as he joined a group of her friends downtown to mourn.
"It was a shock. People don't know what to say, what to think," Swanson told NBC affiliate KING.
Wong's family flew to Seattle after they heard the news. Swanson said the church was focused on supporting them.
"We have the hope, especially coming off resurrection Sunday last week, we have the hope of seeing her again," he said. "It's difficult to deal with this, but we know this is not the end."
Justad, the father of two adult daughters, promoted growth and development as a planning official in the administrations of two Seattle mayors. He was enthusiastic about concentrated downtown development like that in the area where Saturday's accident occurred — in the tech-centric South Lake Union District, where the crane was being used on a construction project for Google LLC.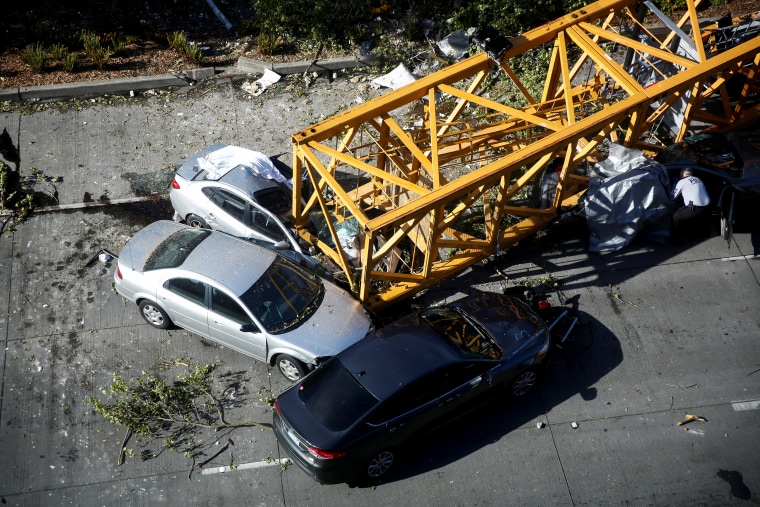 Referring to the explosive growth in South Lake Union during the tech boom, Justad, who retired in 2014, said in an interview in 2007 with The Seattle Times' Sunday magazine: "We're looking to concentrate that growth where we can best serve it."
"The City of Seattle family has lost a true public servant," Seattle Mayor Jenny Durkan said Monday.
Corbet and Yoder were both ex-Marines who went into the construction industry after they left the military. They were in the cab of the crane when it collapsed on the west side of Fairview Avenue North and Mercer Street, Seattle fire officials said.
Corbet served as a Marine for about five years before he moved to Oregon City, Oregon, to become an iron worker, his wife, Samantha Corbet, said in an interview on Monday.
The Corbets were married only last year, and they had planned a delayed honeymoon in Hawaii in June, Samantha Corbett said.
"It's just been a whirlwind of emotions ever since," she said Monday. "It's been awful."
Travis was "a friend, he's a son, he's a brother, he's a nephew, and he just touched so many people around him that are just going to miss him so much, because he touched so many people's lives." she said.
Yoder, who was married with two young sons, was also a former Marine. A Marine Corps flag was displayed alongside a U.S. flag at the scene of the accident on Monday to accompany a framed picture of Yoder.
Yoder was the "toughest man you (would) likely meet," a longtime friend, Micah Swan, a Realtor from Salem, Oregon, said in a memorial on Facebook.
But he was also "a true man of God" who exemplified honesty and integrity, Swan wrote.
"He so deeply loved as a father and husband," Swan wrote.
In choosing the construction industry, Corbet and Yoder traded the military for a profession that federal data show is one of the most dangerous in America.
Almost 21 percent, 971, of the 4,674 worker deaths in private industry in 2017, were in the construction industry, according to data from the federal Occupational Safety and Health Administration, or OSHA. That's the last year for which full figures are available.
Data from the federal Bureau of Labor Statistics indicate that, on average, 44 people are killed working with or on construction cranes every year.
"This is literally my worst fear come true," Samantha Corbet said Monday.
"I've talked to him about it, because I know that he works high up there, and sometimes you see pictures, and it's kind of scary to see sometimes," she said.
"He would always tell me: 'Don't worry, it's safe. Everything we do is safe,'" she said.
OSHA began enforcing regulations requiring employers to test crane operators before allowing them to run cranes independently only this year.
Under a final rule issued in February, crane operators must now be certified or licensed and receive ongoing training to operate new equipment. Operators who were certified before December don't have to be re-assessed.
The evaluations must rate operators' fitness based on the individual type of crane he or she is operating; under previous regulations, crane operators were required to be certified only by the general size and capacity of crane.
"It's very dangerous," said Stever Frein, lead crane instructor at West Coast Training near Woodland, Washington.
"Cranes are probably the most dangerous piece of equipment there is out there," Frein told NBC affiliate KGW of Portland, Oregon. And "disassembling a tower crane or a lattice boom crane is the most dangerous part."
"There's people that have been operating for 20 years and they get too complacent, too comfortable with their machine, and they mess up," he said. "I always tell all my students, never get too comfortable in a crane, no matter how long you've been in it. You've got to stay a little bit afraid of that machine so you'll be OK."