A Louisiana child care center is under investigation after a video of the owner appearing to drag a boy down a hallway was shared by an employee and went viral.
The St. Charles Parish Sheriff's Office said in a statement Thursday that it had reviewed several videos taken from security cameras inside Special Angels Outreach in Luling, outside New Orleans.
Stephanie Kidd, the mother of the child, shared three videos on her Facebook page. One shows a woman walking with a child, who Kidd said was just under 2 years old, when he appears to let his legs give out. She then appears to drag him in two short motions about two yards down the tile hallway before entering a room.
Kidd wrote that her son had fractured his foot at the center before the incident "due to lack of eyes on the children." She said the owner, Lori Bercegeay, dragged the child after he injured his foot.
The mother said she knows her son doesn't always behave. "What kid does??" she wrote, but "never have I ever thought it was okay to drag him ANYWHERE!"
"Someone I trusted with our children has betrayed us and many others," Kidd wrote.
The sheriff's office statement said the incident happened Jan. 13 and that it received a complaint about it Jan. 17.
In addition to reviewing the videos, detectives spoke with the center's owner and other employees, the statement said. The sheriff's office forwarded its findings to the state's Department of Children and Family Services, the state Department of Education and the St. Charles Parish District Attorney's Office for further review.
The Department of Education found that Special Angels Outreach is not licensed to operate as a day care center, the agency's director of communications, Sydni Dunn, told NBC News.
Owner Bercegeay said Special Angels Outreach is not a day care, but rather an "activity center."
She said she opened the center in 2017 to provide an option for parents of special needs children because "there is no place for them to go. They can't stay in school for before- and after-school care. Day care centers won't take them."
Bercegeay says she operates the center as a nonprofit. The Louisiana Secretary of State's Office confirmed to NBC News that Special Angels Outreach has been registered as a nonprofit corporation since 2015, and is currently in good standing with the state.
"I don't want to close" because of the videos, Bercegeay said.
"I don't care about me," she said. "The center is for the special needs kids."
The video captured a moment in which the little boy was "buckling his legs," Bercegeay said.
"He was walking, he was crabby, he was fussing, he was ready for a nap," she said. "He does that all the time, and I was trying to lift him to stand. When he didn't, it was really like two lifts."
Bercegeay said the boy's foot was not injured at that point in the day. She said he hurt it in the afternoon when he fell out of a chair.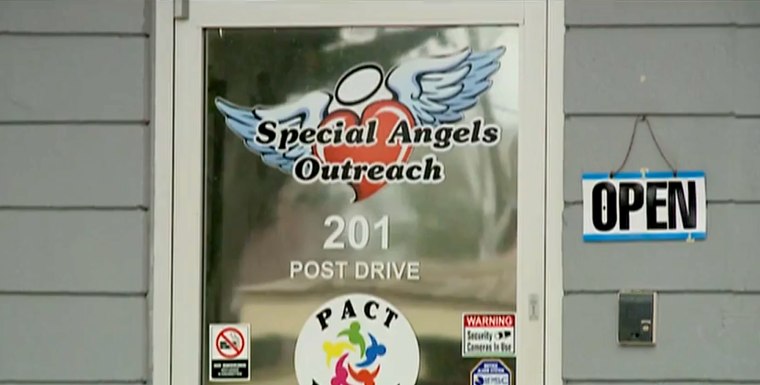 She said the Department of Education visited Thursday and she was told she would have to reduce the number of children she cares for if she doesn't want to have to get licensed as a day care.
"I have no problem with that," Bercegeay said. While she opened the center for special needs children, she said most of the children she cares for are not special needs.
Bercegeay said she cares for about a dozen children a day, but the number increases during school breaks and during the summer. Still, she said, she staffs up over breaks and makes sure that there is one employee for every five to six children.
She said that she also cares for special needs adults up to the age of 23 because "daycare centers won't take kids over 12, but special needs kids can't stay home alone."
Special Angels Outreach is not licensed and does not receive government funding, Bercegeay said, because she does not want to have to adhere to government oversight.