Baltimore police are investigating a school police officer who was caught on camera hitting a 16-year-old boy inside a public school.
A widely circulated cell phone video that appeared to have been shot by a student at the school shows the school police officer kicking and slapping him while another school officer stands nearby. Neither the officers nor the victim have been publicly identified.
Baltimore City Public Schools released a statement late Tuesday evening saying that school officials and city police were looking into the incident, calling it a "deeply concerning encounter."
"City Schools is taking the incident very seriously and has therefore asked that the Baltimore Police Department conduct an independent criminal investigation. We are confident that this step will result in fair and just action," the statement said.
School officials said the altercation happened Tuesday morning at REACH Partnership School, a middle and high school that prepares students for college and careers in healthcare and construction.
Karen Parks, Executive Director of Communications with Baltimore City Schools, told NBC News on Thursday that both school police officers involved were placed on administrative leave with pay.
Baltimore police said in a statement that their Special Investigation Response Team will serve as the primary investigators. Police also assigned an investigative liaison to assist school police.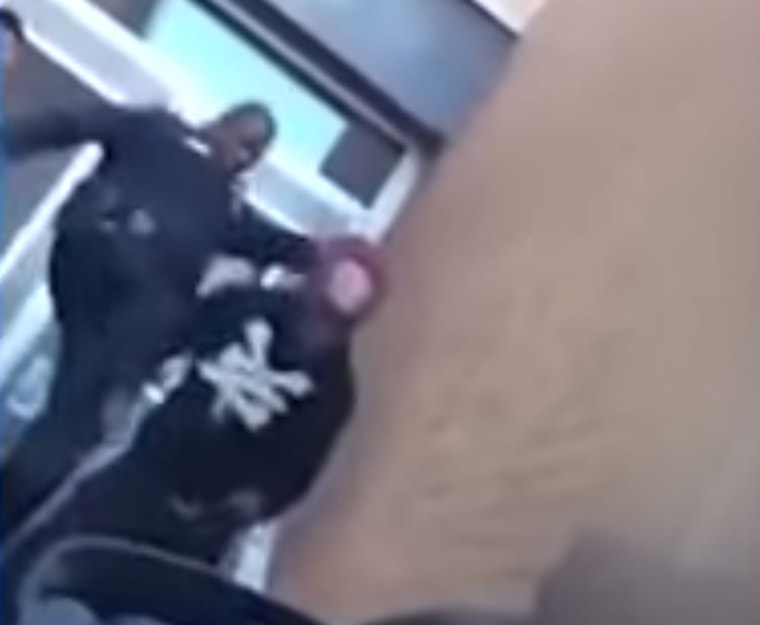 "Acting Chief Hamm contacted me on Wednesday evening and requested our assistance in this investigation," Baltimore Police Department Commissioner Kevin Davis said. "This is the right thing to do in a case like this and I have assigned S.I.R.T. to handle all aspects of this criminal investigation."
Prosecutors are also working with the city and school police to investigate, according to Baltimore state's attorney's office spokeswoman Rochelle Ritchie.
Lauren Geisser, an attorney for the teen in the video, told NBC News on Thursday that the victim is a 10th grade student who attends REACH Partnership School.
"The officers are alleging that my client was an intruder on the premises. We have proof that the child in question was enrolled at the school where the incident occurred," she said.
Geisser said she obtained a printout with the student's name on the school roster.
"The child and the family want to keep their names private. He's a minor child. He was injured and his family is traumatized by what happened," she said.
School officials said they were still working to confirm the victim's identity as of Thursday morning, and hadn't spoken to him yet.
"We believe that we may have been given some bad information by the school regarding whether he was a student. It has something to do with days that he was in school and when he was not," Parks told NBC News.
Baltimore City School Police Union President Clyde Boatwright told NBC Baltimore affiliate WBAL that he met with one of the officers after the video was made public.
"It is in the early stages of the investigation, and we look forward to a full and complete investigation and at this point we're just waiting for those results," Boatwright said.