A video released Thursday shows the moment Christopher Watts, the Colorado man serving multiple sentences for killing his pregnant wife and two daughters, admitted to killing his wife.
"They're gone. There's no bringing them back," Watts told police, after explaining to first his father and then investigators that he strangled his wife, Shanann, because he saw her kill their two daughters, Bella, 4, and Celeste, 3.
The video, which also included footage of Watts failing a polygraph test when asked if he caused his wife's disappearance, was part of a trove of information related to the August murders released by the Weld County District Attorney.
He eventually pleaded guilty this month to killing his whole family, in a deal to avoid the death penalty. The girls' bodies had been found submerged in oil and Shanann's body was found buried in a shallow grave on the property of a gas company, where Watts worked.
WANT BREAKING ALERTS FROM NBC NEWS? SIGN UP HERE
Watts, 33, initially said his family was missing and made a public plea for their safe return, but investigators quickly saw through the facade when they discovered the father was having an affair with a coworker.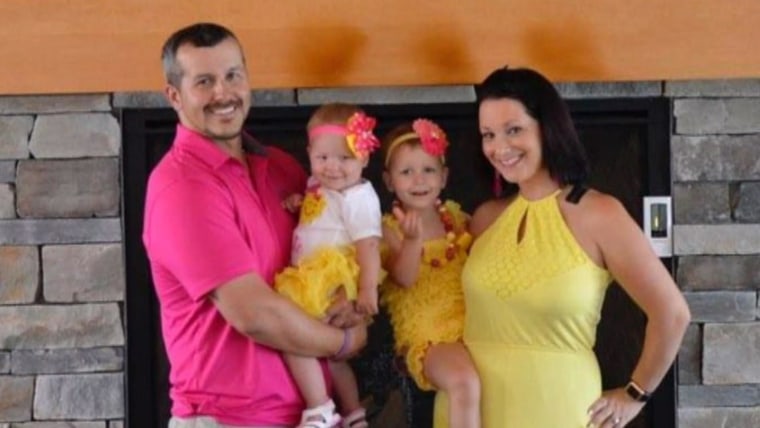 That affair, according to phone logs and interviews with the mistress, had begun six weeks before the murders. During that time, Shanann was away on a trip, and was blindsided when her husband abruptly indicated he wasn't happy in their marriage.
Friends told investigators that when the couple abruptly canceled a gender reveal party they had planned for when Shanann returned from her trip, they grew concerned.
A friend texted Shanann to ask what why the party was canceled, logs show. "Chris said we are not compatible anymore," she texted her friend.
"What the hell changed in 6 weeks?," the friend responded.
"He said he had a lot of time to think ... I've cried myself to sleep over a week now," Shanann said.
Messages Shanann sent to Chris had a similar shocked element. "l don't know how you fell out of love with me in 5.5 weeks. I left you, you lcouldn't\ (sic) take your hands off me. You show up and I have to practically ask for a kiss in airport."
Toward the end of Shanann's trip to North Carolina, Chris joined her there, the documents indicate. He told police that "they fell out of love for each other," and insisted that he wasn't seeing anyone.
But he was, and that woman knew she had to talk to police when she learned from news reports that the missing wife of her boyfriend was pregnant.
Nichol Kessinger, 30, told police that when she found out about the baby on the way, "I thought, if you are lying to me about this, what else are you lying to me about? And it made me realize that maybe his wife was in danger at this point ... it was day two and she still wasn't home."
Kessinger told investigators that Watts had repeatedly told her that he and his wife had drifted apart and mutually decided to get a divorce. He said he was living in the basement of their home, and not speaking with his wife.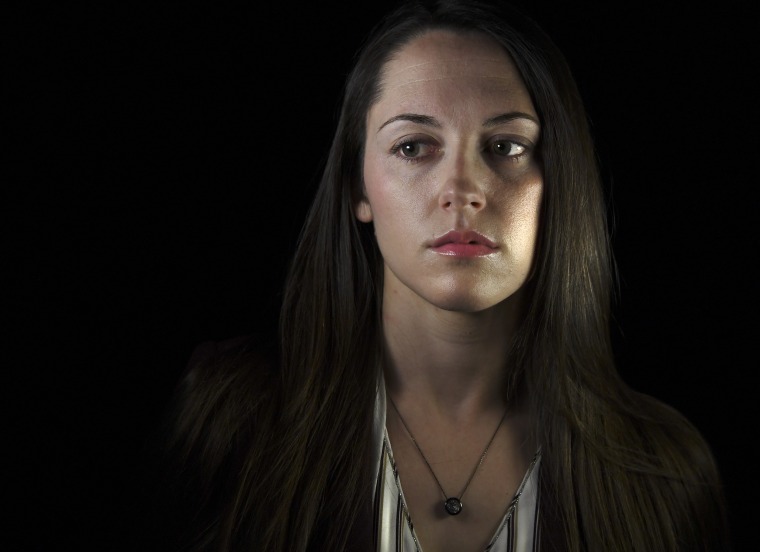 The story checked out, Kessinger said, because during the span of their six-week relationship, Watts appeared to be unattached.
"I really was under the impression that they were separating. It was told to me so many times and it made sense to me," Kessinger told police. "He called me whenever he wanted."
Kessinger fully cooperated with authorities and was never charged with a crime. She expressed concern during her interview with police that "raunchy" photos she had sent Watts would be uncovered by the media after she turned her phone over to authorities.
At least one photo has surfaced. Police said Watts kept the photos of Kessinger in a password-protected app on his phone that was disguised as a calculator.
Watts had also allegedly used his phone to arrange an affair with at least one other woman before killing his family. The woman told police that the two met on Tinder, went to Chick-fil-A, and then had sex.
Kessinger didn't suspect any of it. She told police that she had encouraged Watts to try to make it work with his wife, and to read up on how separation affects children.
But police reports show she Googled: "Man l'm having affair with says he will leave his wife."
Around the same time, Watts was Googling "When to say I love you; When to say I love you for the first time in a new relationship; What do you feel when someone tells you they love you; and How does it feel when someone says I love you?"
Kessinger said she had told Watts she loved him, but he said it to her more often. She told police that he was always calm and spoke lovingly about his daughters.
"To this day, I do not see any red lights in the way that he spoke of his family. At all," she told police days after the family went missing.
Before sitting down with police, Kessinger spent hours on the internet looking at related news reports, and searched about cops accessing text messages.
She also did web searches about Amber Frey, a woman Scott Peterson was having an affair with before he murdered his pregnant wife in 2002. Kessinger looked into Frey's net worth and how much she made on a book deal, police found.
Meanwhile, Watts was texting his dead wife: "Just let me know you are ok. I am worried bout you."