A not-so-stealthy Ohio burglary suspect appeared to be stunned as he dropped from a bank's roof into a trash can — only to then find officers awaiting his arrival, according to police body camera footage.
The suspect was released from jail Friday following his early Wednesday arrest on multiple allegations, including breaking and entering, Huron Police Chief Terry Graham said Friday.
The confrontation at VacationLand Federal Credit Union in Huron, a city about 50 miles west of Cleveland, was captured on video via the body camera of at least one officer.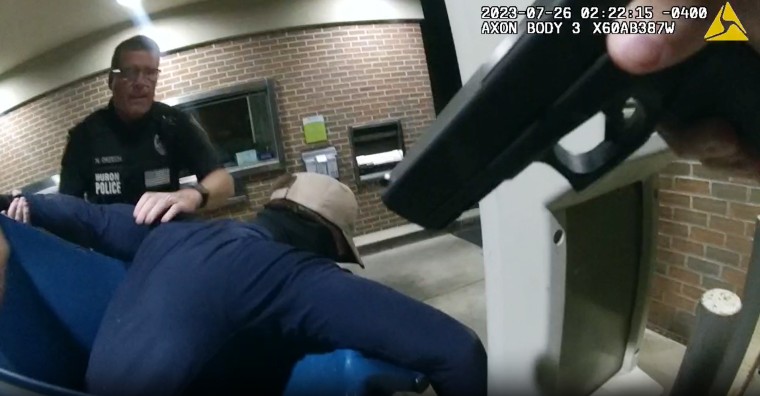 Officers responded shortly after 2 a.m. Wednesday based on an alarm notification, Graham said in a statement.
The body camera footage shows two officers focusing on sounds that seemed to come from an access door above the credit union's drive-thru.
Soon enough, the door opened and a bag of what Graham said were tools dropped from the hatch. Not far behind was the suspect, a man in black and navy blue wearing gloves, sunglasses and face covering, the video showed.
The suspect dropped to a blue waste bin below the hatch, and his weight appeared to push him through the lid, according to the clip.
The bin fell forward, and the suspect relaxed his body in a display of surrender, the video showed. "Aw, f---," the suspect proclaimed as he realized his predicament.
He did not get any cash or valuables, Graham said.
He was identified as Tristan J. Heidl, 27, of Huron. Officers booked him on suspicion of breaking and entering, possession of criminal tools, and safecracking, Graham said.
The suspect posted $50,000 bond and was released Friday following a court appearance, the chief said by email. It wasn't clear if he entered a plea or has obtained legal representation; the Erie County Public Defender's Office did not immediately respond to an inquiry.
"When asked why he did this, he responded that he was broke," Graham said Friday.
VacationLand did not immediately respond to a request for comment. The institution was founded in 1956 by General Motors manufacturing employees in nearby Sandusky.
The region was once known as Ohio's Vacationland for its popularity with summer tourists seeking to be near the Lake Erie shoreline.