A North Carolina school resource officer was on administrative leave Tuesday after he was videotaped throwing a teenage girl to the ground, authorities said.
The girl was home Tuesday night after having been checked for possible injuries at a hospital following the incident at Rolesville High School, about 15 miles northeast of Raleigh, her mother told NBC News.
Eight seconds of video posted to Twitter shows the resource officer — identified by police as Ruben De Los Santos, a five-year veteran of the Rolesville Police Department — picking up the girl and dropping her to the floor before ushering her away from the scene.
The American Civil Liberties Union of North Carolina called the video, which quickly went viral, a "disturbing use of force ... that should never be used against kids in schools." But the circumstances leading up the incident remained unclear early Tuesday evening.
Mayor Frank Eagles told NBC News that there is body camera video of the confrontation, which hasn't been released, but that he had few other details. At a news briefing Tuesday night, police confirmed the officer's name and said the State Bureau of Investigation had been called in to review the episode.
Dhedra Lassiter, the school's principal, said she was "deeply concerned about what I saw in the video." The Wake County Public School System said it was aware of the video and was cooperating with the investigation.
The girl's mother told NBC station WRAL of Raleigh that her daughter was trying to break up a fight among other students when the officer confronted her.
"When I'm looking at this video, I'm like, 'Oh, my God, this cannot be happening to my child,' because I was just up at the school and they didn't even tell me what happened to her," the girl's mother said.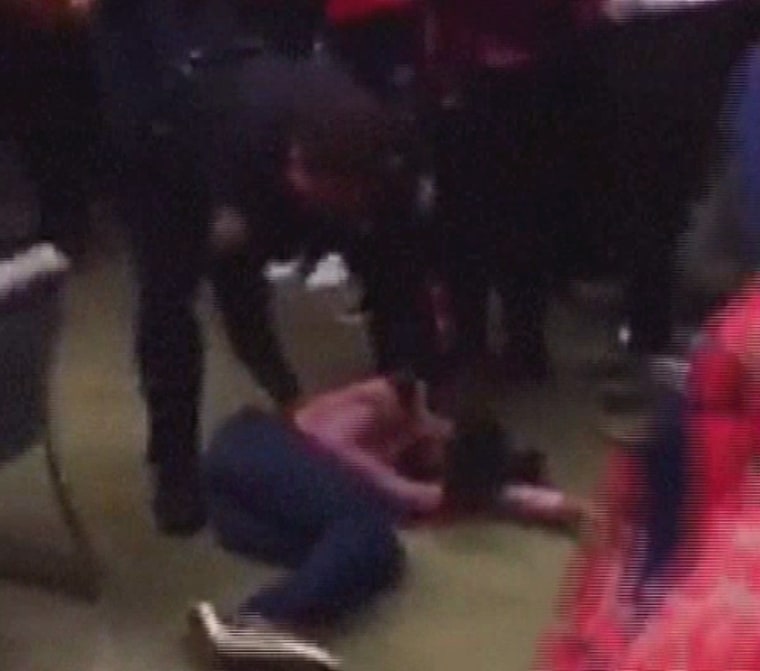 "They were so busy trying to get rid of the one who was in a fight but didn't even say something about the one that was not involved in anything," she said.
The incident is the second such episode in two days, both of them sparking national controversy after video was posted online.
A Philadelphia police officer who hasn't been identified is also on administrative leave pending an investigation after she was recorded repeatedly punching a 16-year-old girl during a street brawl Monday afternoon, police said Tuesday.
The video shows the girl yelling at the officer, then shoving and grabbing her, NBC Philadelphia reported. It ends with the officer throwing the girl to the ground, straddling her and repeatedly punching her as the girl fights back.
The girl's legal guardian told NBC Philadelphia that police "threw me against the car, and they slammed her on the ground."