A massive boulder pummeled into a Hawaii home and nearly struck a woman inside — and the close call was all caught on video. 
Video from a home security camera shows the moment the boulder, around 5 feet wide, smashes through a wall into the home with a deafening "boom." The boulder then rolls down a hallway, mere inches in front of a woman standing inside. 
It crashes farther down in the home, breaking up the walls in its path of destruction. 
Occupants are heard yelling in shock in the video. No one was hurt, but the boulder did damage the home extensively. 
NBC affiliate KHNL of Honolulu reported the boulder struck Sunday night in Palolo Valley.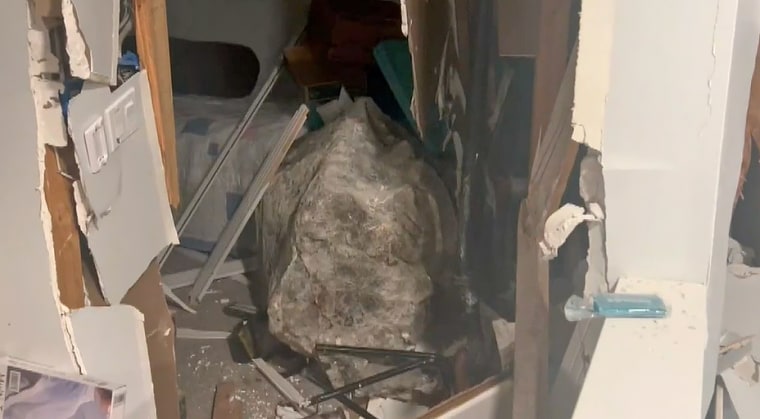 The Sasaki family told the station that they moved into the home this month and that they're seeking answers as to the cause of the boulder crash. 
"I heard the loud boom, and apparently the boulder passed right in from of me, which I didn't know — I couldn't see it," Caroline Sasaki told the station. "All I heard was the boom."
The family said that insurance adjusters still have to come to the home to assess the damage and that as of Monday, the boulder remains in their residence.  
It's not clear what caused the boulder to roll down a hill behind the home. The incident happened days after heavy rain hit the area.
NBC News has asked the Honolulu Fire Department for comment.