The remains of a U.S. Air Force pilot who died while serving in the Vietnam War were personally flown home by the man's son⁠ — 52 years after the two saw each other for the last time.
Col. Roy A. Knight Jr. was shot down May 19, 1967, as he led an airstrike in northern Laos. He was declared dead in September 1974 after search and rescue efforts had failed.
His remains landed at Dallas Love Field Airport on Thursday afternoon, the same airfield where he said goodbye to his 5-year-old son, Bryan, all those decades ago.
It was Bryan Knight, now a captain with Southwest Airlines, who flew his father home.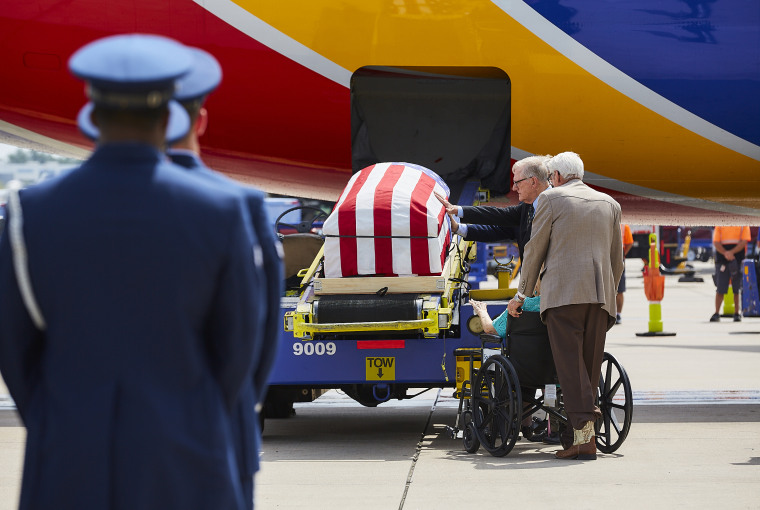 The older Knight enlisted in the United States Air Force in 1948, just after his 17th birthday, following in the footsteps of his five older brothers, according to his obituary. He was accepted for pilot training at Laredo in 1957 and served as a fighter pilot in Germany and France before returning to Texas as an instructor a few years later.
He received his orders to go to war in 1966 and was deployed to Udorn Royal Thai Air Force Base, from where he flew daily combat missions.
On his mission in Laos, he was hit by anti-aircraft fire. The plane burst into flames and U.S. authorities were unable to retrieve it in the hostile territory, according to The Defense POW/MIA Accounting Agency (DPAA).
The site of his crash was first excavated in 1994 and revisited several times over the years. Human remains were found in January and February this year while a joint U.S./Lao People's Democratic Republic team were working on the area.
Using old dental records, DPAA scientists were able to identify the body as that of Roy A. Knight Jr.
Knight's eldest son, Roy Knight III, told reporters Thursday at Dallas Love Field that his father's return was a day the family thought would never happen.
"And the fact that it did is just remarkable, it's actually miraculous," he said. "There's a lot to this, there's competing emotions, not only because he's coming home ... which is a good thing, it is a very good thing, but there's also the aspect that we're reliving the loss."
Southwest said in a statement to NBC News that Knight was received with full military honors at the airport to "express a nation's thanks" for his service to the country.
"Our Southwest Airlines family is honored to support his long-hoped homecoming and join in tribute to Col. Knight as well as every other military hero who has paid the ultimate sacrifice while serving in the armed forces," the airline said in its statement.
Knight's return was reportedly announced over the intercom at the airport on Thursday, where travelers and airport employees stopped to observe the fighter pilot's casket being removed.
Knight, who was posthumously awarded the Air Force Cross, Silver Star, Distinguished Flying Cross, Purple Heart and six Air Medals, will be buried Saturday in Weatherford, Texas.