Last month, authorities in Dallas noticed an uptick in violence that threatened to spoil the city's decade-long drop in crime.
Police Chief David Brown, an architect of the historic decline, responded by redeploying more officers into high-crime areas, noting that there was still plenty of time to turn things around. "We never have the attitude that it's not going to be down by the end of the year," Brown told officials.
Police around the country are finding themselves in a similar pinch. Violent crime — killings, robberies, rapes and assaults — is rising in half of the 10 biggest U.S. cities, including Los Angeles, where the rate is up 25 percent. Murders are up in four of the biggest cities, most notably New York, the nation's poster child for crime reduction.
"After years of declining rates in nearly every big city, we're now seeing many cities break that trend and begin climbing back up," said Richard Rosenfeld, a University of Missouri at St. Louis criminologist and one of the country's leading researchers on crime rates.
Figuring out why it's happening is difficult. Crime is subject to a complex combination of factors, many of which have little to do with how police do their jobs. Studies have pointed to the effects of the economy, the aging population, even the amount of lead in people's bodies.
But police tactics have taken on new power in the past year, as many communities have protested aggressive anti-crime techniques, including stop-and-frisk and the use of force. That backlash, which turned violent in Baltimore and Ferguson, Missouri, has sparked police slowdowns, which in turn has been blamed for upticks in crime. St. Louis Police Chief Sam Dotson has called it the "Ferguson effect."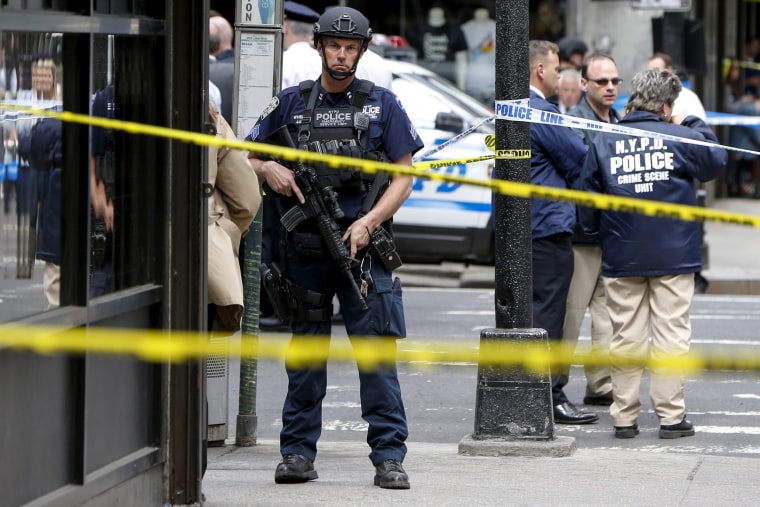 Dotson has noted a 17 percent increase in the crime rate this year, including a 25 percent uptick in murders.
Following riots in Baltimore, arrests plummeted while homicides hit a 40-year mark.
Similar things may be happening in some of the bigger cities suffering through spikes in violence.
"In part, it can be attributed to tensions associated with recent police shootings and the associated publicity," Rosenfeld said.
But Rosenfeld, who is leading a multi-year research project to better understand crime trends, cautioned against making blanket correlations. "It may also have to do with local factors specific to a particular city," he said.
Take Los Angeles, historically one of the country's biggest success stories. In 2014, violent crime increased for the first time in a dozen years, and that trend has continued into 2015, although the number of homicides has declined. Police have blamed a jump in domestic violence cases, skid row robberies and a new system for classifying crimes.
In New York, where stop-and-frisk tactics have come under fire, a 15 percent spike in murders this year has raised questions about a dramatic drop in such street searches. Now pressure is growing on Mayor Bill de Blasio to reconsider the new strategy.
Chicago, which has embraced new social-science models of combating murders, has been struggling to keep a lid on them this year; killings are up 18 percent.
Jim Bueermann, president of the Police Foundation, a reform-minded non-profit, said the spikes in violence are calling more attention to the police backlash, regardless of whether evidence shows that it's actually having an effect.
"There's a belief that when de-policing occurs, crime will go up. But we don't know that's the case," Bueermann said.
He recommends that police departments hire their own criminologists to help cops understand the factors at play in their communities.
"Everyone wants to take credit when crime goes down," Bueermann said. "But if you take credit and don't take a scientific study to determine why, you have to take responsibility when crime goes up."
Andrew Karmen, a professor at the John Jay College of Criminal Justice and author of "New York Murder Mystery: The True Story Behind the Crime Crash of the 1990s," said it was much too early to say whether the "Ferguson effect" was real.
He pointed out that some cities have seen upticks in violence without having any large scale anti-police unrest. There are also many cities that haven't seen crime increases at all this year.
But the "Ferguson effect" argument is troubling, Karmen said.
"If you accept it at face value that they're above criticism and that if we do criticize them we're going to pay a terrible price, that's not a healthy attitude in a democracy," he said.