A violent encounter between a New York City police officer and a bystander that police said began as an attempt to enforce social distancing rules has prompted concerns about unequal policing.
The city's public advocate, Jumaane Williams, posted pictures on Twitter on Sunday — one of swarms of white people sitting in parks and three images from what appeared to depict encounters between police and people of color.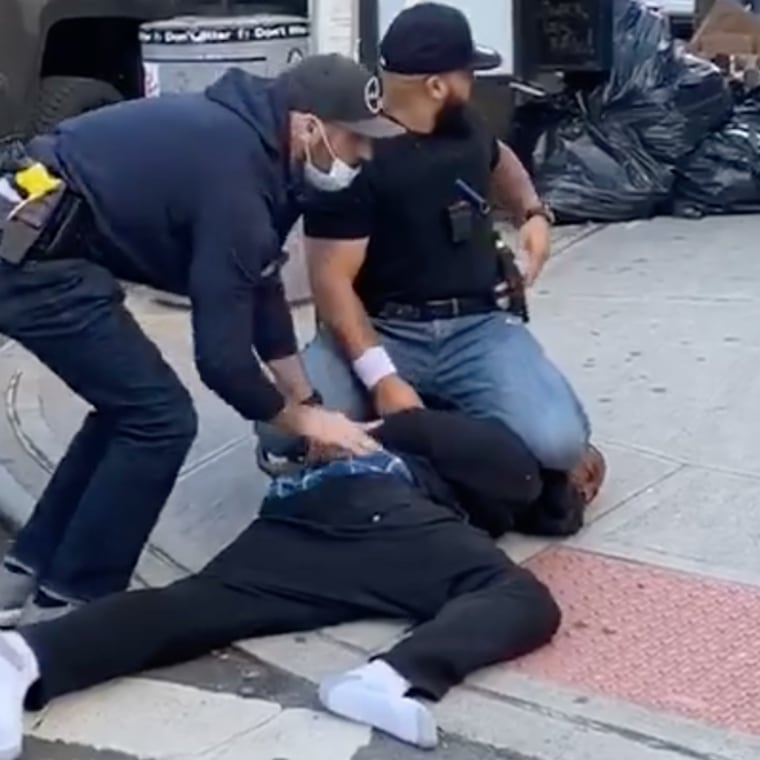 One of the images was a still from a video captured Saturday that has been widely shared online. It shows a plainclothes police officer, who is not wearing a mask, pointing a stun gun at bystanders on Avenue D in the East Village in Manhattan. NBC News has not been able to verify what happened before or after the events shown in the video, which also depicted the officer, who has been identified by The New York Times and other media outlets as Francisco Garcia, punching and slapping a man to the ground.
Full coverage of the coronavirus outbreak
The man, Donni Wright, 33, one of three people arrested during the encounter, was charged with assault on a police officer, resisting arrest, menacing and two counts of disorderly conduct.
A police spokeswoman, Sgt. Mary Frances O'Donnell, said in a statement Sunday that Wright "took a fighting stance against the officer" when he was ordered to disperse and that he was arrested and charged. Neither Garcia nor Wright could immediately be reached for comment Monday at numbers listed for them.
Caitlyn Fowles, a spokeswoman for the Manhattan District Attorney's Office, said Monday that the charges have been deferred pending further investigation.
Police Commissioner Dermot Shea said Sunday that Garcia was placed on modified duty while the department's Internal Affairs Bureau investigates the encounter.
Mayor Bill de Blasio wrote Sunday night on Twitter that he was "really disturbed" by the video and that the behavior he saw "is simply not acceptable."
The mayor was asked explicitly Sunday about unequal enforcement of social distancing rules but did not comment directly. Last week, de Blasio personally oversaw the dispersal of a crowd of mourners in the Williamsburg neighborhood at the funeral of a Hasidic rabbi, which he and the commissioner said drew thousands of people.
"What we see in some places is a large number of people in a small area, and our job is to make sure they practice social distancing," de Blasio said Sunday. "If not, they're running the risk of a summons."
The viral video prompted questions about whether the department was unevenly enforcing social distancing rules.
Williams said Monday that his office requested data on the demographics of who was being summonsed and arrested two weeks ago because "we had a feeling that there was not equity in enforcement."
"And a few weeks before that, we made it clear to the mayor that reliance and overreliance on police to enforce this was going to be a problem," Williams said at a news conference. "It's just like COVID and corona is magnifying structure inequities in communities. It's not creating new ones. It's magnifying the ones that exist.
"It's also magnifying problems in leadership and problems in other areas, like policing, in the same way," Williams added. He said he suggested several weeks ago that the city have a communal enforcement response whereby police, fire and sanitation departments, among others, would be responsible for reminding people of social distancing rules.
Download the NBC News app for full coverage and alerts about the coronavirus outbreak
Williams said his requests have gone unanswered. Patrick Lynch, the president of the Police Benevolent Association, said city police officers need to "get out of the social distancing business altogether."
"The cowards who run this city have given us nothing but vague guidelines and mixed messages, leaving the cops on the street corners to fend for ourselves," Lynch said in a statement Monday.
Shea said Monday on NY1 that police wrote about 70 summonses for violating social distancing rules over the weekend.
Shea said that a stun gun that did not belong to police and a small amount of marijuana were recovered at the scene of the incident Saturday and that the officer involved was stripped of his gun and placed on modified duty that evening. He said there are believed to be multiple videos of the incident.
"We're still in the process of trying to gain all the facts," Shea said. "But certainly [there were] some tactics that I was not happy with."