ALEXANDRIA, Va. — One minute it was a sunny morning in Virginia. The next it was a war zone.
It took just seconds for an intruder armed with a high-powered rifle to turn a field where a group of Republican lawmakers had been playing baseball Wednesday morning into a shooting gallery.
"It was a firefight," an eyewitness named Scott told NBC News. "There's no other way to describe it."
The Capitol Police officers at the scene quickly returned fire and shot the gunman, but not before a disgruntled Illinois man named James T. Hodgkinson, 66, wounded House Majority Whip Steve Scalise and several others during the rampage at Eugene Simpson Stadium Park in Alexandria. Scalise was later listed in critical condition after getting out of surgery.
Related: Congressman Steve Scalise, Four Others Shot at Alexandria, Virginia, Baseball Field
When the shooting started, Scalise "was playing second base, fielding balls at the time," Arizona Senator Jeff Flake recalled.
As the GOP players hit the dirt, the wounded Louisiana lawmaker dragged himself some 15 yards into right field, leaving a trail of blood.
"He was lying with most of us out there but we couldn't get to him until the shooting stopped," Flake said.
Rep. Mo Brooks of Alabama said batting practice was about to get under way when the gunfire erupted.
"I was on the third base side of home plate getting ready to have batting practice and the first shots were pretty much past the first base dugout, maybe 10 or 15 feet and I hear the big blam and I think it's a car backfiring," Brooks said.
Then, said Brooks, "I see the rifle barrel and a white male taking careful aim at congressmen, staffers, anyone he could get a hold of."
Brooks said he and several other congressmen were just 90 feet away from the gunman and they were sitting ducks.
"We ran and jumped into the first base dugout, which is about two feet below ground level because it's got some protection," he said. "The shooter was actually shot behind home plate where all of us, two of three of us on the ground there, would've been the next victims."
Rep. Joe Barton of Texas got choked up as he recalled how he and his sons Jack and Brad, who were with him at the practice, escaped the mayhem.
"My son Jack got under an SUV and he was very brave. My other son Brad was in the batting cage and he was also very brave," he said.
Meanwhile, pandemonium reigned.
Noah Nathan was at the dog park near the ball field walking his Goldendoodles Coco and Jazz when he heard what he at first thought were fireworks. Seconds later, he too was down on the ground with his dogs, hiding between two metal trash cans.
"I'm just lying on the ground holding on to my dogs making sure they don't get away," he said. "I'm sort of thinking, 'I hope I don't get shot,'"
Nathan said when he looked up he saw frightened lawmakers trying to hop the fence as police officers exchanged gunfire with the shooter.
"There were a lot of shots," said Nathan, who estimated that the gun battle lasted at least five minutes.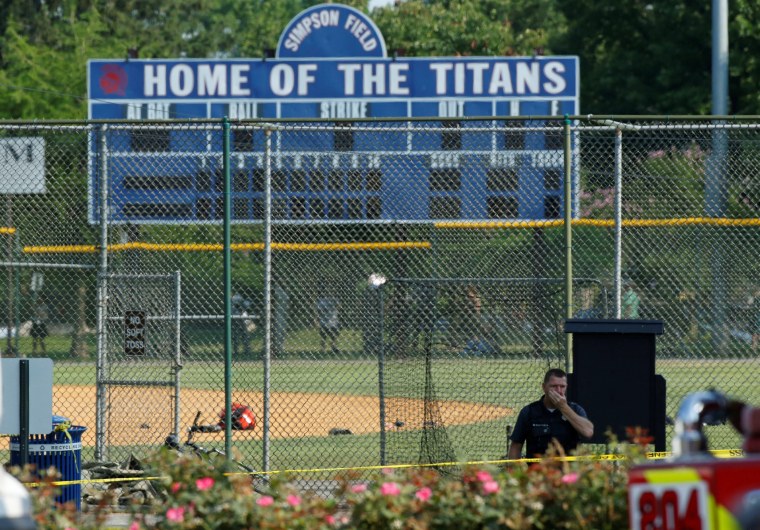 At one point, Nathan said, he heard the Capitol police officers telling the gunman to put his weapon down and then heard somebody yelling at the officers to just shoot the suspect. He said he knew who the gunman was shooting at because the GOP congressional baseball team practices at the field "all the time."
"So we knew they were here and we knew who they were," Nathan said. "We didn't think some crazy person was going to come shoot them."
Scott, who declined to give his last name because he works in national security, said he and his fiancé Kendra Newman were having coffee at their house across from the park "like any other Wednesday" when they heard the shots. They quickly determined it was not construction sounds and made sure their kids were safe in the basement.
"We come to this park with our kids every weekend," a horrified Newman said. "We are here at this place all the time."
Leonard Crook was working out at the YMCA across the street from the park when the gunfire started. His first inkling that something was happening came when he "heard this banging on the door."
"This woman was trying to get in, hysterical," he told NBC News.
The next thing Crook knew, he and everybody else in the gym were rushed "into the basement and everyone stayed there until everything blew over."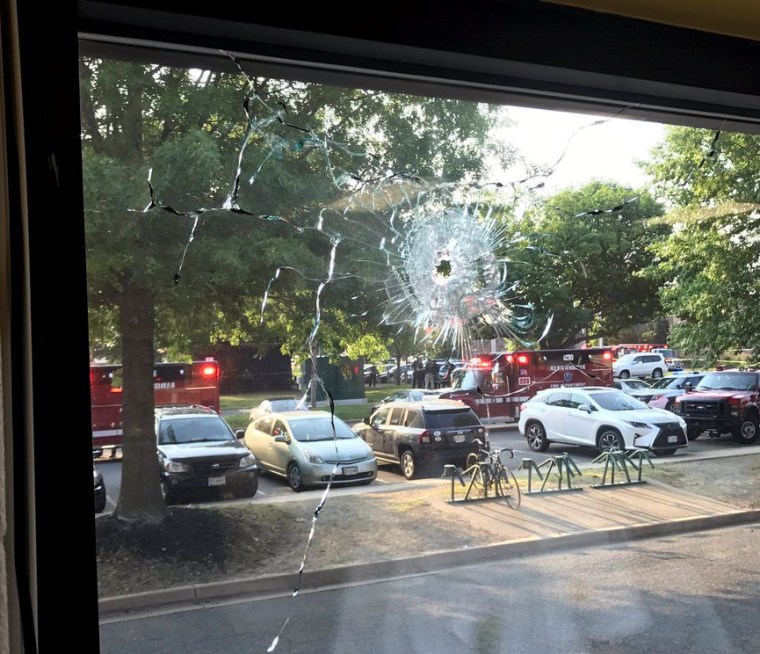 "We were locked down in the Y and not allowed to go anywhere," Crook said.
With them were a couple of women "who actually saw it," Crook said, referring to the shooting. "Several people here actually saw the shooter, but they didn't want to talk for some reason."
When they finally were allowed to leave the basement, Crook said he spotted two or three bullet holes in the windows of the YMCA.
"The home plate is at the Y side of the complex so next to the bleachers and dug outs were where a lot of Secret Service were standing," he said.
Laura Russell said she had just finished her workout at the YMCA and was talking outside to a friend when she heard a "loud boom that sounded like a starter pistol." She said she turned to her friend and asked, "What was that? It's a little early."
Before her friend could answer, Russell recalled, "the gunshots kept coming and coming."
Russell said that while her friend ducked down beside his car, she took off running. As she raced past the park, Russell said she glanced over at one point and saw somebody by home plate "drop to the floor." She said it felt like the bullets were coming in her direction and practically "felt them at my back."
"You don't even know what is happening or where it's coming from or where it's going," said Russell, who escaped the horror unharmed.
David Woodruff said he was jogging on the ball field when the shots rang out. In the chaos that followed, he ran across two lawmakers he knew from his days as a Congressional staffer.
"They were clearly distraught, very shaken up," he said.
Woodruff said he took cover, but didn't feel like he was in any danger until he discovered a bullet hole in a car he had walked past just minutes before.
Alexander Seitz-Wald reported from Alexandria, Virginia. Emmanuelle Saliba, Ariana Brockington and Corky Siemaszko reported from New York City.