A 21-year-old Virginia Tech student is presumed dead after falling overboard from a cruise ship near the Bahamas over the weekend. The U.S. Coast Guard called off the search Tuesday for Cameroon Smook, who was on the cruise with several friends, his family said in a statement Wednesday.
Smook — a graduate of Deep Run High School in Glen Allen, Virginia — was poised to graduate from Virginia Tech this spring with a mining engineering degree. A possible cause for his fall wasn't released.
"We thank the Coast Guard for their outstanding service and for keeping us informed throughout this ordeal," his family said in a statement provided to NBC affiliate WSLS.
The search ended at sunset after about 6,500 nautical square miles were combed by air and sea, Petty Officer Jon-Paul Rios told NBC News on Wednesday morning. The cruise ship Carnival Glory had left Miami on Saturday for a seven-day Caribbean tour. Smook was reported missing Sunday morning after officials confirmed his fall based on camera footage, WSLS reported.
The search was conducted about five miles south of Great Abaco Island, Bahamas, according to Rios.
Carnival said a second ship, the Carnival Ecstasy, was temporarily diverted to help with the search Monday. Carnival Ecstasy passenger Rachel Nicole wrote on a blog post online that the ship's captain announced around 9 p.m. Tuesday that the search had been called off.
"The captain seemed really chocked (sic) up about it and asked everyone to keep the passengers family and friends in our prayers," Nicole wrote.
Cruise company officials didn't immediately respond to a request for comment Wednesday, but said earlier that they "extend our heartfelt sympathy and concern for the family and loved ones of our missing guest."
Smook's family thanked people for their prayers and said a memorial service is pending. The college senior "had just accepted an employment offer," they added, "and was looking forward to a very bright future."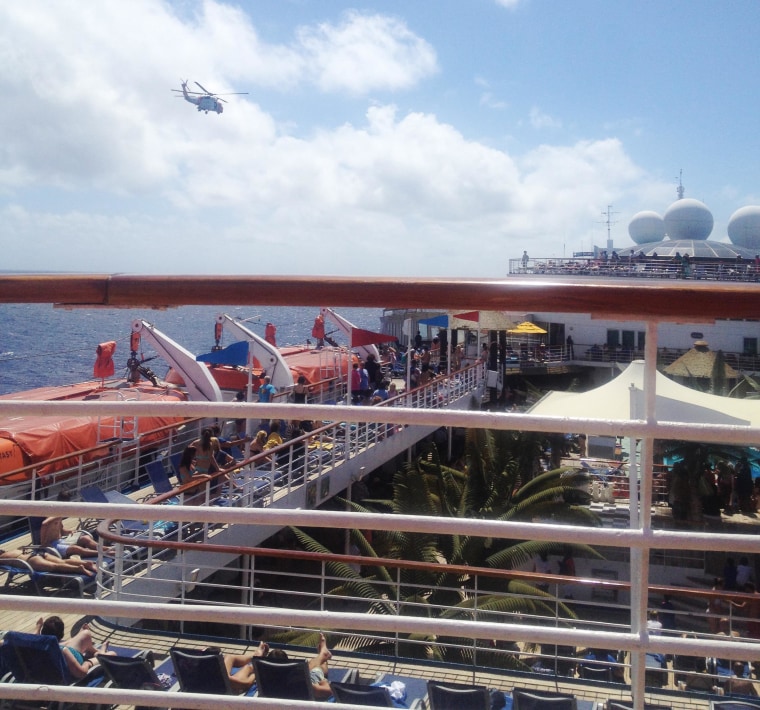 — Erik Ortiz