A 27-year-old man wielding two handguns shot former "The Voice" contestant Christina Grimmie after a Friday night concert in Florida, and then fatally shot himself, police said Saturday.
Grimmie, 22, died from her injuries from the shooting, which happened around 10:30 p.m. ET at The Plaza Live in Orlando. The singer had opened for the band Before You Exit and was meeting fans and signing autographs a half hour after the concert ended when she was shot.
Police hailed Grimmie's brother as a hero, and said he rushed the suspect, whom they described as a white male with two loaded magazines and a large hunting knife in addition to the two handguns he was carrying.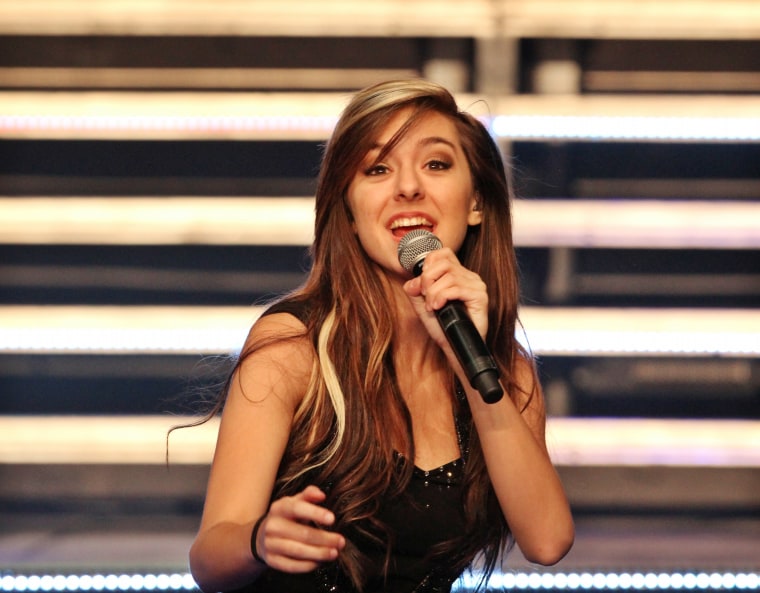 "Almost immediately, her brother Marcus Grimmie tackled the suspect," Orlando Police Chief John Mina told reporters Saturday. "Shortly after that, the suspect killed himself."
Police did not release the attacker's identity, but said he had traveled to Orlando from his home somewhere else in Florida. Authorities initially said he was 21 years old, then corrected his age later Saturday to 27.
"The suspect traveled to Orlando apparently to commit this crime and then had plans to travel back to where he came from," Mina said.
Detectives were scouring his cellphone and computer to find a motive for the killing. Mina said there was "no indication" so far that he knew Grimmie.
The shooting happened inside the venue as about 120 concertgoers crowded around Grimmie for a chance to meet her and buy merchandise. Fans' purses and backpacks are typically checked when they enter The Plaza Live, but there are no metal detectors there, Mina said.
"This isn't a crowd that you would suspect would be carrying guns into a venue like this," he said of fans of Before You Exit, an Orlando pop/rock band.
The Plaza Live said in a statement that it was "deeply saddened by the tragic events," and would be suspending all events there until further notice, including a Kidz Bop concert that was scheduled for Saturday night.
Detectives planned to meet with Grimmie's family later Saturday.
The name of her killer could be released as early as Saturday afternoon, Mina said. It wasn't clear whether the man had a prior criminal record. (UPDATE: The suspect has been identified as Kevin James Loibl, a 27-year-old from St. Petersburg, Florida.)
It's "unknown what his plans were for after killing Christina, but very heroic actions by Marcus Grimmie to jump in definitely could have prevented future loss of life there," Mina said.
A witness said multiple shots were fired.
Josh Call, who was working at a vegan hot dog stand outside the venue, told the Orlando Sentinel he heard four or five shots.
"It was quick like pow, pow, pow," he told the paper. After a few minutes, he said he went inside and saw a man and a woman on the floor bleeding heavily.
"It was horrifying," he told the Sentinel.
Grimmie, a native of Marlton, New Jersey, came in third place on Season 6 of "The Voice," NBC's singing competition, which aired in 2014. She was just 19 when she auditioned with Miley Cyrus' "Wrecking Ball" and chose Maroon 5 lead singer Adam Levine as her coach.
"This is yet another senseless act of extreme violence."
Levine said he and his wife "are absolutely devastated and heartbroken" by Grimmie's death.
"Christina was a natural, a gifted talent that comes along so rarely," he said. "This is yet another senseless act of extreme violence. I am left stunned and confused how these things can conceivably continue to happen in our world.
Before You Exit called the singer "such a loving, caring, beautiful person with the biggest heart" in a statement posted to Twitter hours after her death was announced.
"She was an absolutely incredible musician and an even better friend," it added. "We are so so saddened by her passing and are completely heartbroken."
NBC's Carson Daly, host of "The Voice," told TODAY that Grimmie was "such an incredible talent and incredible person."
"She really was special," he said. "She had an infectious laugh, she was determined, she was confident, but she was so incredibly sweet. You would never forget meeting her."
Related: More from Carson Daly: 'We're All Still in Shock'
Other fellow artists and fans also wrote tributes to Grimmie, who was discovered on YouTube and had more than 3 million followers on her account zeldaxlove64. When reports of Grimmie's death first surfaced, #PrayforChristina was the top trending hashtag on Twitter.
Grimmie's publicist Heather Weiss confirmed her death early Saturday morning.
"It is with a heavy heart that we can confirm that Christina has passed and went home to be with the Lord," Weiss said in a statement. "We ask at this time that you respect the privacy of her family and friends in their time of mourning."
After her death was confirmed, #RIPChristina became the top trending hashtag as Grimmie's fans took to social media to express an outpouring of grief.
The Philadelphia Inquirer reported in 2014 that Grimmie moved to Los Angeles two years earlier after joining Selena Gomez on tour.
Her brother, who goes by Mark, frequently appeared on Grimmie's social accounts, starting with YouTube videos that attracted millions of views before she was on "The Voice." In some, he plays guitar while Grimmie sings and plays piano.
Mark Grimmie told The Philadelphia Inquirer in 2014 that he was in awe of his sister's talent.
"I'm done being surprised by cool things she does. She's very talented and she's worked incredibly hard — it's a dangerous combination," he said.