Hawaii's Kilauea volcano continued to erupt Friday afternoon and the island suffered a series of earthquakes with the strongest registering as a 6.9 on the Richter scale, the United States Geological Survey said. Authorities confirmed that some homes were "touched by the lava flow" after more than a thousand residents were forced to flee.
A barrage of earthquakes struck the Leilani Estates region this week, and while they did not trigger a tsunami, strong shaking was felt across the region Friday, according to the National Weather Service. The largest recorded earthquake in the area struck the same region more than 40 years ago, registering as a 7.1-magnitude.
In total, Hawaii County civil defense officials ordered thousands of residents on the eastern coast of the Big Island to evacuate late Thursday and Friday as steam and red lava began emerging from a crack in the earth in the Leilani neighborhood.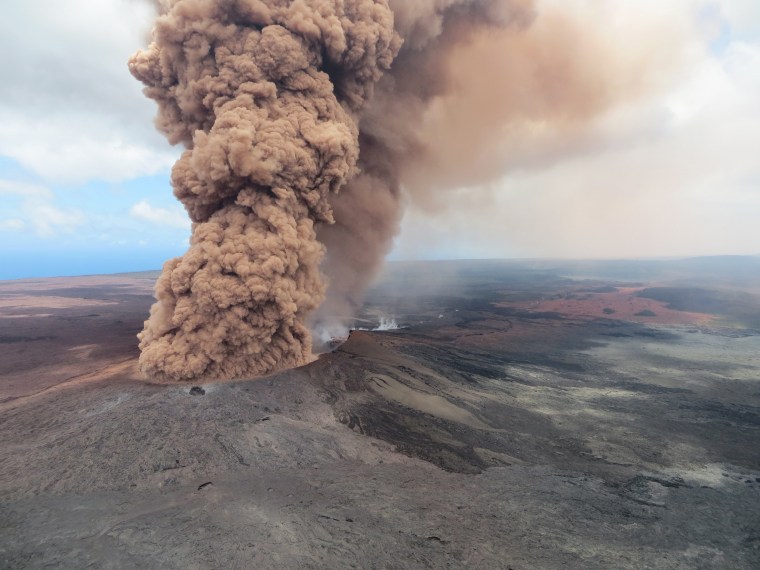 Several new vents opened as the volcanic eruptions continued on Friday, the County of Hawaii Civil Defense said. Authorities warned that "first responders may not be able to come to the aid of residents who refuse to evacuate," according to NBC News affiliate KHNL.
Gov. David Ige activated the Hawaii National Guard to assist with evacuations and security.
About 770 structures are in the threatened mountainside subdivision. Government officials opened shelters at two community centers to accommodate those who rushed out of the lava's path.
There were no immediate reports of injuries, and the extent of the damage to the homes was not immediately known, Doug McCormick of Hawaii County's health and safety departments told NBC News.
High levels of "dangerous" sulfur dioxide gas was detected in the air early Friday morning. Fire officials on the Big Island said elderly residents, young people and others with respiratory issues were most susceptible to the poor air quality. A temporary flight restriction was in place for most of lower Puna.
Earlier eruptions were reported at about 4:30 p.m. Thursday (10:30 p.m. ET), about six hours after a magnitude-5.0 earthquake rattled the active Kilauea volcano following several days of smaller tremors, said the Hawaiian Volcano Observatory, an agency of the U.S. Geological Survey.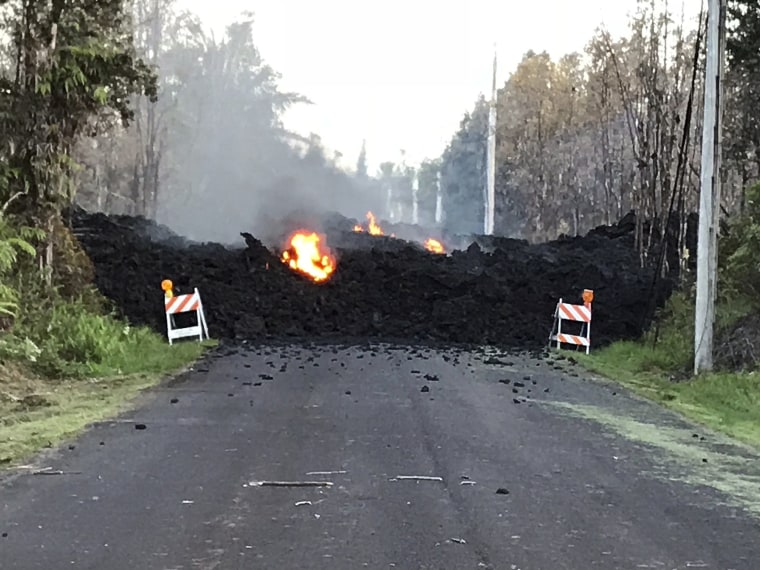 The observatory said the lava was erupting from the volcano's lower East Rift Zone. NBC affiliate KHNL of Honolulu quoted residents as saying they could see lava spilling from cracks in roadways.
Ikaika Marzo said he first noticed fountains of lava spouting 100 feet, and scrambled to call everyone he knew in the area.
"When we drove on that road, we heard a noise in the forest and it was like a little thump," he told KHNL. "Next thing, like three to five seconds after that, we smelled sulfur. After that, that's when there was tons of sulfur. Then we saw some lava popping out."
Some residents took the evacuations in stride.
"I'm just hoping that it doesn't hurt anybody's home or hurt anyone, wherever Pele decides to pop out," Bailee Yamada of the Puna region told KHNL, invoking the name of the Hawaiian goddess who legend says lives on Kilauea's summit.
"If Pele comes, Pele comes," Curt Redman of Puna told the station. "Now we're kind of crossing our fingers to see what Pele might do next."
It's unclear how long the eruption will continue, scientists say.
Kilauea is the most active of the five volcanoes that form the island of Hawaii. Its most recent major eruption came in June 2014, disgorging lava flows that continued for months before they stopped just short of the town of Pahoa.