LUMBERTON, N.C. — A line of cars stretched as far as the eye could see down N. Roberts Avenue as about 125 volunteers at the Hyde Park Baptist Church prepared to hand out 20,000 hot meals and bottles of water. Volunteers are here twice a day, working from an outdoor kitchen and helping tens of thousands who are in need after the destruction of Hurricane Florence.
Gregg Riggs, the disaster relief team leader of North Carolina Baptist Men, said he expected around 8,500 cars to roll through this church parking lot over the course of 2 1/2 hours beginning at 6 p.m. ET. People were handed hot meals in Styrofoam containers, sometimes four at a time. In one case, that meant chicken patties on rolls, with sides of carrots and apple sauce.
The group would be back at 11 a.m. the next morning to start handing out lunch, and would continue to feed people for however long they deemed it necessary.
"These cook teams come in for four day cycles," Riggs said. "That's about all they can stand. When you look at these folks, these volunteers, they're 60, 70, 80-year-olds. It's hot and the temperature works on them. One hundred percent of the people are volunteers. We sleep on the floor in the church classrooms and we eat the food here, too."
President Donald Trump visited a similar kitchen that was also run by North Carolina Baptist Men and Baptists on Mission earlier this week when he came to see the devastation caused by Hurricane Florence. The organizations have nine mobile sites throughout the state.
The organization's volunteers were still here working on post-Hurricane Matthew recovery projects caused by 2016's heavy flooding when Hurricane Florence hit the coast late last week. They hoped to restore 200 houses for residents here, but they hadn't quite made it to that number when Hurricane Florence rolled through and devastated the same area.
And it's mostly predominantly black neighborhoods here that have been affected by the flooding — a disaster that is nearly a mirror image of the damage caused by Matthew.
Floodwaters still present Saturday were expected to remain a problem for another week or more and homes continued to be inaccessible. Store doors were kept shuttered and hundreds in the area still did not have electricity, according to Duke Energy.
"South Lumberton and West Lumberton have never recovered from Matthew, it has been a ghost town for the past two years," said Carole Allen, 54, who is typically a substitute teacher for the local school district but is spending her time after the storm volunteering. "People have tried to move back in, but they're afraid and they have good reason to be."
Allen helped direct two lines of traffic through a parking lot that wraps around this massive brick church. Standing in the shade of the church's steeple, she noted that Lumberton remains one of the most impoverished communities in the state.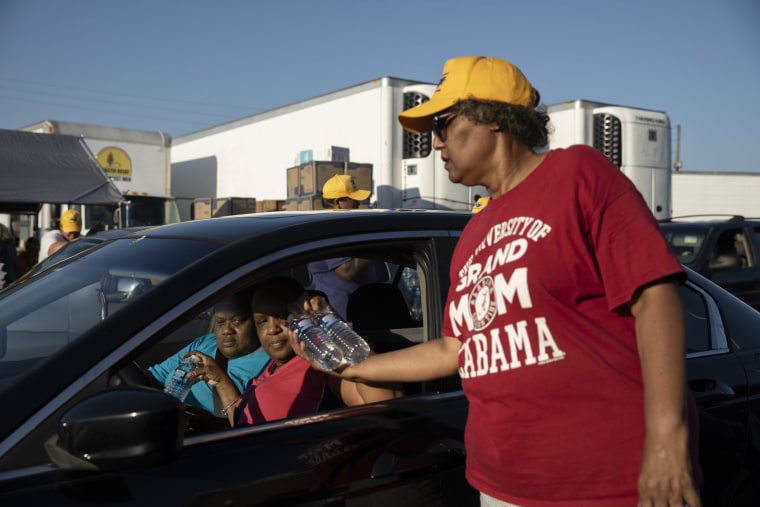 "We have so many people who couldn't evacuate because they couldn't afford to," Allen added. "We don't have family anywhere else, we don't have money to get gas and get out of here, we can't leave what we do have here, so the mindset is because of the poverty, they can't get out and put themselves in a better situation."
While Allen's home hadn't been affected by the flooding — though she was prepared to deal with a few fallen trees — not all the volunteers were quite as lucky.
Bradley Abbott, 18, is a student at the University of North Carolina Pemberton, but as of now he, along with his father and brother, are homeless. He said his father is devastated, as the house is all he had.
"Right now we're at my grandfather's house," Abbott said, as he organized some water for those driving through. "Everyone just keeps going, I'm working, my dad's working my brother's working. Gonna keep doing that until we find out what to do because the water isn't even receding yet."
It's the second time that Abbott's father has had to grapple with hurricane damage after Matthew overwhelmed the community in 2016.
This is the second round of flooding in two years that can be considered a near 100-year flood, or having a statistical 1 percent chance of occurring in any given year. It's taken a heavy toll on residents, according to Riggs, the disaster relief team leader.
"The morale is way lower than it was last time," Riggs said. "We're seeing a lot of despair this time. But we're going to be in there and working with them still. That's what we do."
But the volunteers here expected to continue handing out meals and helping to rebuild Lumberton — no matter how long it takes.
"People are hot, they're tired, they're sunburned," said Steven Loven, 20, who is organizing the local volunteer effort at the church here. "But as long as the Lord's work's not done, then ours isn't either."