PARADISE, Calif. — They are tacked to bulletin boards and trees. They fly across the web — from Twitter, to Instagram to Facebook. They fill long sheets from a legal tablet, 22 pages in all, taped to a church bulletin board. They are the names of the missing and they go on and on.
The fire that roared through the Sierra Nevada foothills just before the first chill of fall has killed at least 76 people, a grim record in the history of wildfires in America. But even harder to fathom might be the number listed as missing — 1,276 as of Saturday night, though no one can be sure if that is close to the real number.
Some names might have been double-listed, with information crisscrossing so many channels. Others may have been located, but the information not yet passed on to authorities. A final accounting appears months away.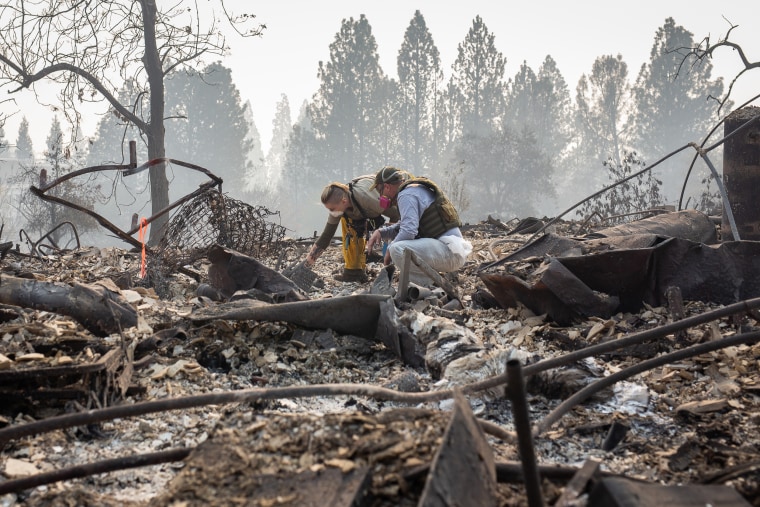 It's been eight days since the Camp Fire flew down a ridge line through this tranquil town and still, no one has heard from Jackie Parker, 101, the oldest of those listed missing, or from 21-year-old John Tyler Scarbrough, the youngest. No one has heard from a beloved octogenarian, known as Aunt Evie, or from a home health care worker, Sheila Santos, or — for a long time this week — from a half-dozen relatives of Vietnam veteran Randy Somerby.
On Friday morning, Somerby, 65, scanned the long roster of the missing on the whiteboard at the Neighborhood Church in Chico, his home of the last week.
"They're all gone," he said of the stepfather, mother and brother who he had been unable to reach. "I'm the only one left."
With the 146-000-acre fire zone closed to everyone but firefighters and recovery workers, Somerby and all the others were left mostly to wait. Working up the mountain to provide some answers are more than 600 firefighters, sheriff's deputies, National Guard members, forensic anthropologists and search and rescue volunteers from dozens of California counties.
No victim in the Butte County fire zone has been found alive for more than a week. And much of what is left to be found is likely to be bone, teeth and prosthetic devices, a few of the searchers said. Yet the teams, including civilians more accustomed to hunting down missing hikers, dutifully trudged from one gutted property to another this week, continuing the bleak accounting.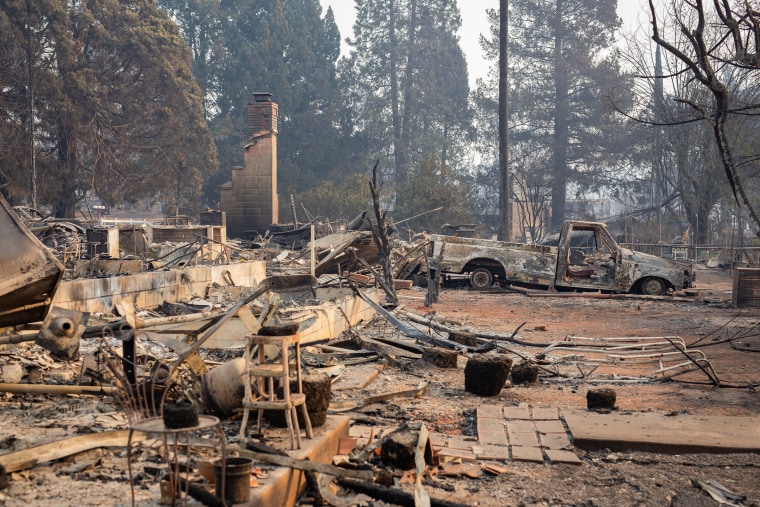 With 9,700 homes and 144 apartment and condo complexes destroyed, the work has only begun. Officials here won't say how many structures they have been able to inspect or how long the work will take. But it's likely less than 20 percent of leveled homes have gotten even a first inspection for remains, said a Butte County official, who asked not to be named because he had not been authorized to speak on the topic.
Enrique Bergzinner served with the Marines in Iraq in 2005 and 2006. He huddled with the rest of a search and rescue team from nearby El Dorado County, at the Tall Pines Entertainment Center, the Paradise bowling alley that is now the command center for the search.
"This is total destruction — total," said Bergzinner, who can't recall anything like it, even during his time in Fallujah and Anbar Province. "You are walking on what used to be someone's roof and now it's just five inches of ash. There's nothing left."
Yet Bergzinner and hundreds of others volunteered to join in the work. Among his comrades: a horsewoman in her 70s, a retired school superintendent, a tax accountant and a massage therapist. Each morning since the fire passed, they, or volunteers like them, have donned white hazmat jumpsuits and grabbed rakes and shovels.
In the unrecognizable heaps that were once houses and mobile homes, they combed gently through ashes, from 8 a.m. until sundown. County officials divided Paradise and surrounding mountain towns, like Magalia, into evacuation zones for such an emergency. And the search crews had divided those blocks — more than two dozen of them — into yet smaller quadrants to organize their work.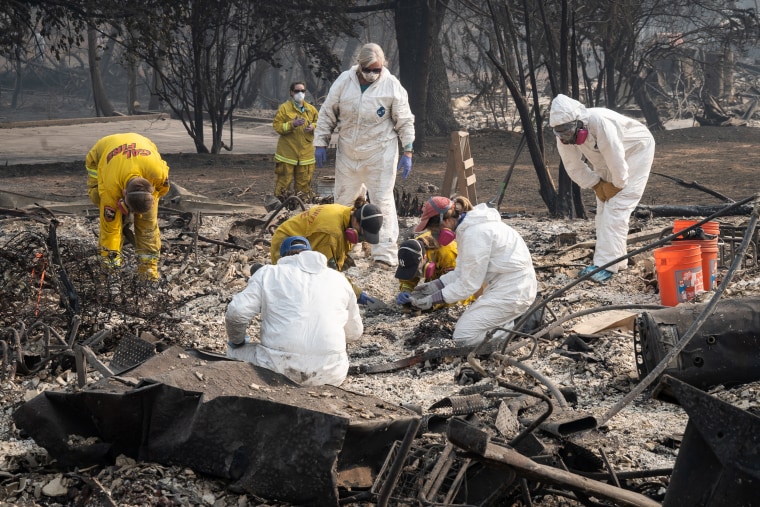 "The amount and the extent of the work left to be done is incredible. It's just incredible," said Tim Tuggle, a Fresno County Fire Department battalion chief leading one a of about a dozen strike teams of search and rescue workers. "The goal is to let people get back to their properties. And to do that we have to make sure no one finds missing people, or their loved ones."
As the teams pushed from one charred enclave to the next, Tuggle's team placed an X on a map of areas completed. H's marked spots where heavy equipment will be needed — to pull aside the corrugated metal roofs, now melted like sliced cheese over vanished motorhomes. A real search can't be finished until the roofs have been moved aside.
Team Echo-9 from El Dorado County included the school superintendent and the massage therapist, the tax man and half a dozen others, supervised by a sheriff's sergeant.
Over two days and dozens of homes, the group did not encounter anything that looked remotely like human remains.
"It's not so much what I have seen but what I haven't seen," said Dave Freeman, 74, the retired school superintendent. "There's not much that's recognizable."
About 20 dogs trained to sniff out human remains, even when they have been cremated, joined some of the search teams. By day's end, the cadaver dogs return to base camp, exhausted from their work
Between searches, the volunteers encountered rabbits, squirrels and deer wandering the ashy moonscape, some with singed fur. The deer, still in shock, did not run off but paused to watch the search teams quizzically, before wandering off in search of food they won't find any time soon.
More than one of the searchers told of the strange duality in the work — wanting to be thorough and find what is to be found, but dreading what that might be.
At one home, crew member Adena Sherburn suddenly startled. A small hand reached up through the ash. A step closer and she relaxed. The hand belonged to a porcelain doll. Later, she and another team member found a bathtub — often a refuge for victims in a fire. Filled with ashes and debris, the pair dug through the detritus, Sherburn repeating to herself, "Please let it be clear, please let it be clear." It was.
Sherburn, 50, a massage therapist, only completed her training to work with El Dorado's search and rescue team three weeks ago. For two days this week she was in a place she could not have imagined. But she felt like she was where she needed to be.
"I've got feet, I've got eyes. So this is something I can do to help," Sherburn said. "I would rather be here doing this than anywhere else right now."
For most of those waiting, many of them in Chico and other communities in the valley below, the wait has seemed interminable.
Marque Henson and her husband had made the mad run down Paradise's main drag, the Skyway, on the morning of Nov. 8. Flames burned high on either side. A tall tree fell, narrowly missing their car.
Wracked with fear, Henson also had a sick feeling because she didn't have time to get miles across town to the home where her aunt, Evelyn Cline, lived alone. Aunt Evie had always been there for her, coming to support her even as Henson's mother hopscotched across the country, leaving Henson feeling rootless.
A neighbor woman was paid to look after Aunt Evie, 83. But on the morning of the calamity, Henson realized a list with all her phone contacts had been left behind. She and a cousin who has been Evie's primary overseer have no way to reach the caretaker.
Henson's son took to social media. "Has anyone seen my aunt Evie Cline?" Paul Henson pleaded on Twitter, above a picture of Evie, a pale woman wearing a pale purple sweatshirt embroidered with flowers.
Her home on Roberts Lane in Paradise is now just a shell. Atop a wood-burning stove, there is a ceramic figure of a mother owl and two chicks. Cline loved owls, and such knick-knacks dotted her home.
"My aunt is my last living relative, besides my children," said Marque Henson, her voice clutching with emotion. "It's hard to think that she won't be there to come home for Christmas or Easter, or Thanksgiving."
Tammie Konicki knows a little more about the fate of her mother, but still not enough. Sheila Santos, 54, lived at Holly Hills Mobile Estates, where not a single home out of dozens remains.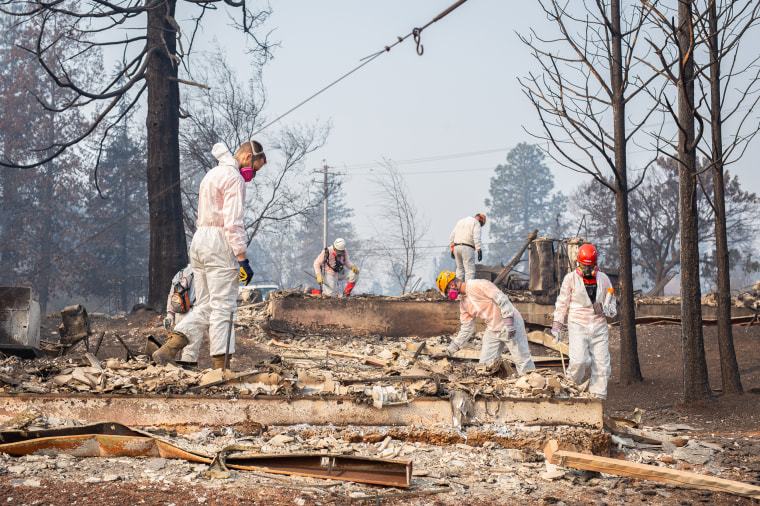 There is a marker at what used to be her unit, number 34, that Konicki said she has learned was left by the coroner's office. She has been told that authorities have asked for a DNA sample to see if the body might be matched to her mother's roommate, Vinnie Carota, 65.
The Butte County coroner's office has not identified the remains found outside the mobile home. A marker there says only "Doe C."
Greg Carota told the San Francisco Chronicle that he had pleaded with his brother to get out the morning of Nov. 8, but he couldn't get Vinnie to budge. He was stubborn and said he would ride it out.
Konicki lives near Cleveland, but she jumped in her car as soon as she heard about the danger around her mom's home. She drove straight through — sleeping for only a handful of hours in a 55-hour journey to Chico. In the days since, she has papered every shelter, hospital and relief center with flyers, asking for any sign of Santos.
She received one call from someone who thought they recognized the missing woman from the picture on the flyer. But by the time Konicki arrived, there was no sign of her mother.
Her mother had fought through addiction to become a home health care worker, Konicki said, and she has some tiny hope maybe she will be a survivor again.
"I don't want to sit here for weeks and weeks. I want to know," said Konicki, 34, an Army veteran. "I am not going anywhere until I find my mom."
Somerby, who served two tours with the U.S. Navy in Vietnam, had left the Sherwood Forest Mobile Estates before 7 a.m. the day of the fire for a group support meeting at the Veteran's Administration in Chico, 25 minutes away. Before he left, the TV weatherman had said there might be high winds that day. But no word of fire.
He arrived in Chico to find the meeting canceled and no safe way to get home. He spent two nights in the cab of his Nissan pickup truck in the parking lot of a Raley's supermarket. Then he moved to the shelter in the auditorium of the Neighborhood Church, operated by the Red Cross.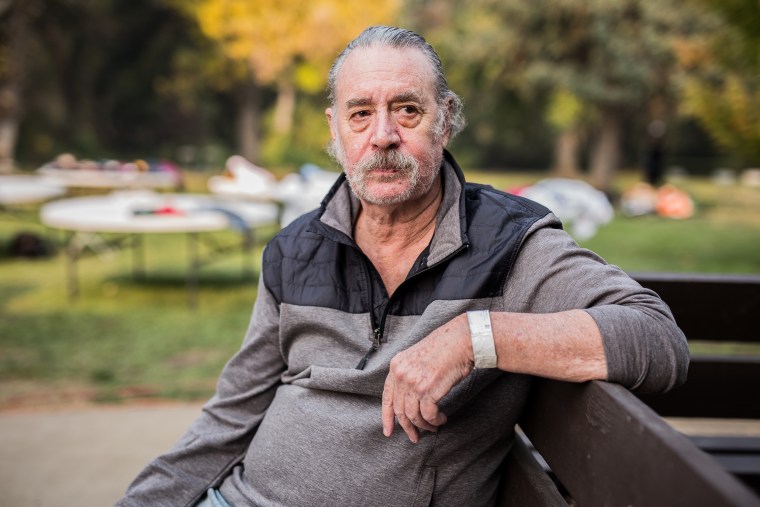 He doesn't own a cell phone, but several times a day he had the Red Cross and a veteran's group check websites to see if his brother, his 85-year-old mother or his 91-year-old stepfather had checked in. They hadn't.
On Saturday, an NBC reporter was able to reach the corporate office of the senior living facility where Somerby's parents lived. A spokesman said the entire complex, including Lorraine Somerby's cottage, had been safely evacuated the morning of the fire.
The couple ended up, after a few stops earlier in the week, at another senior home the company owns in suburban Sacramento. When told that his parents have been safe, Randy exhaled deeply. "Oh God. Thank God."
He soon learned his brother had made it out, too, and was with the parents. Brother Ken Somerby, 56, said the whole family will reunite for Thanksgiving, if not before, probably in Sacramento.
"Yes, it's a happy ending, but not for everyone. There are a lot of people who didn't make it out," Ken Somerby said.
With his mobile home burned to the ground and the world he knew gone, it was hard to think about the future. But the younger Somerby brother was certain of one thing. He has had enough of fires and danger.
"We will go back and salvage what we can," he said, "but I don't care if they make it the most beautiful place in the world, we will never live in Paradise again."