A long overdue reckoning with America's post-slavery subjugation of black people unfolded in Florida and Louisiana on Tuesday, as voters threw out vestiges of the post-Reconstruction Jim Crow era. Two laws were overturned: One had prevented felons from voting in Florida, and the other allowed jurors in Louisiana to convict someone without a unanimous vote.
Both laws, which were written into the states' Constitutions in the late 1800s in response to a wave of new rights granted to black Americans, had survived multiple court challenges but crumbled when put before voters. Ballot referendums doing away with the laws each passed with 64 percent of the vote, a level of bipartisan support that could provide momentum to dismantle similar statutes in other states.
"I sense a growing awareness among people that our justice system is not always fair to everybody, that it is built upon systemic oppression," said Angela Allen-Bell, who helped push the campaign in Louisiana as director of the Louis A. Berry Institute for Civil Rights and Justice at the Southern University Law Center. "That was an awakening that came out of last night."
Hundreds of thousands of new voters in Florida
The results in Florida could mean that an estimated 1.4 million people with felony convictions will ultimately regain the right to vote, a scope that puts the change on par with women winning the right to vote in 1920, the Voting Rights Act of 1965 that protected the right of racial minorities to vote, and the lowering of the voting age to 18 in 1971, experts said. Florida now has more felons barred from voting than any other state.
"The historic significance of this is difficult to overstate," said Sean Morales-Doyle, a lawyer in the Democracy Center at the Brennan Center for Justice at NYU School of Law, which has been trying to overturn the Florida law for nearly two decades. "Just in terms of the number of people impacted by this, there are few parallels in the world of voting-rights advances."
Florida's strict felon disenfranchisement law is a relic of the period of Reconstruction after the Civil War, when black people were given the right to vote. In response, many states, particularly in the South, enacted laws that sought to limit their freedoms, mainly by toughening penalties for crimes and then targeting black people with biased enforcement. With more black people convicted of crimes, limiting felons' ability to vote undermined their political power.
Today all but two states, Maine and Vermont, have some sort of felony disenfranchisement law, with an estimated 6 million Americans unable to vote because of them. Some states have moved to make their felony disenfranchisement laws less strict, but Florida, until this year, resisted. With Tuesday's results, Florida will allow felons to regain their voting rights after completing their sentences, including parole or probation, except for those convicted of murder or sex offenses. Kentucky and Iowa are now the only states that permanently bar all felons from voting. Virginia does as well, but uses an executive clemency program to work around it.
"I do think hopefully this has an effect on the momentum for felony rights restoration across the country," Morales-Doyle said.
Howard Simon, executive director of the ACLU of Florida, which spent more than $5 million on the campaign to eliminate the disenfranchisement provision, said in a statement that Tuesday's vote was "one of the largest expansions of the franchise in our nation's history."
Louisiana kills law rooted in white supremacy
The vote to end nonunanimous jury verdicts in felony cases in Louisiana will scrap a system that researchers say was created to boost white supremacy by ensuring convictions of black defendants.
It was created in 1898, when the drafters of Louisiana's Constitution found a back-door method to put more black people in prison — and keep them out of the voting booth, researchers say.
The law allowed nine jurors to vote for conviction, instead of all 12. The law was changed in 1973 to increase the number of votes to 10.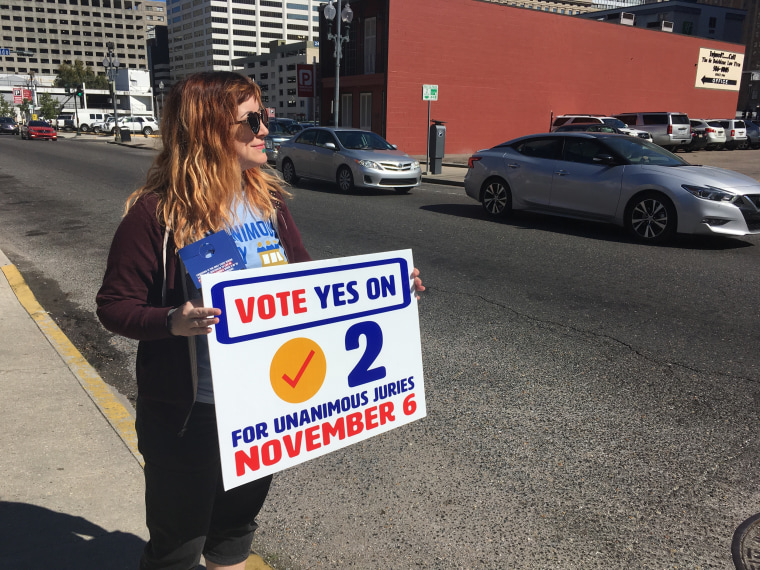 Either way, it has been used to disproportionately target black people: An analysis this year by The Advocate newspaper found a wide disparity between the conviction rates of black defendants and of white defendants by nonunanimous juries.
"It has clearly had a racially adverse impact on black defendants," said Lawrence Powell, a Tulane University historian.
It is also seen by critics as a blatant violation of the right to fair and impartial trials.
John Kay Jr., Louisiana state director of Americans for Prosperity, a conservative political advocacy organization backed by the billionaire Koch brothers, said he didn't realize that Louisiana allowed split verdicts until he learned of the campaign to prevent them. He joined the effort.
"I don't think a lot of people even in political circles knew this was on the books in Louisiana," Kay said. "It was one of those things we took for granted."
With Tuesday's vote, Oregon remains the only state that allows split verdicts. Oregon's law was enacted in the 1930s as a response to fears of immigrants and Jews, researchers say. There is a pending legal challenge to the law, and lawmakers have said they'll bring it up in next year's legislative session.
Kay and others see Tuesday's vote as part of Louisiana's attempt to drop its reliance on mass incarceration. It has enacted reforms that have shrunk the prison population and narrowly approved a bill to restore voting rights to people on parole or probation. The state no longer has the country's highest incarceration rate.
"This is a defining moment for us about who we are as a people in the state of Louisiana," Allen-Bell said.