The brawl and shootout at a Waco sports bar that left members of the Bandidos dead is the latest bloody chapter for a group with a history steeped in violence.
"We are the people our parents warned us about" is among the gang's mottoes, and their fearsome reputation has been built on a history of murder, beatings and a litany of other crimes in the U.S. and abroad.
They "constitute a growing criminal threat to the U.S. law enforcement authorities," according to the Justice Department, which features the Bandidos on its list of outlaw motorcycle gangs. The feds allege that the Bandidos "are involved in transporting and distributing cocaine and marijuana and are involved in the production, transportation and distribution of methamphetamine."
"The Bandidos see the Hell's Angels as too nice"
Sunday's gunfight ended with nine people killed — all of them Bandidos or members of the Cossacks, a Texas-based rival biker gang. About 170 people were being held Monday on $1 million bond on charges of engaging in organized crime, according to police and court records.
With about 900 members across 93 chapters across the U.S., the Bandidos are one of the two largest outlaw motorcycle groups in America, according to federal officials. The other is the Hell's Angels.
"The Bandidos see the Hell's Angels as too nice," said Julian Sher, a Canadian investigative journalist and author of two books about biker gangs. "They relish their brutal pedigree. Among the bad guys, they are the baddest of the bad."
He added: "You don't join an outlaw motorcycle gang because you like riding a bike. You join knowing their reputation for violence. The Bandidos go one step further. They view the Hell's Angels as too corporate, so you are talking about extreme people who join."
The gang has other chapters in 13 other countries — including Canada, Sweden and Germany — and at least 2,000 members worldwide.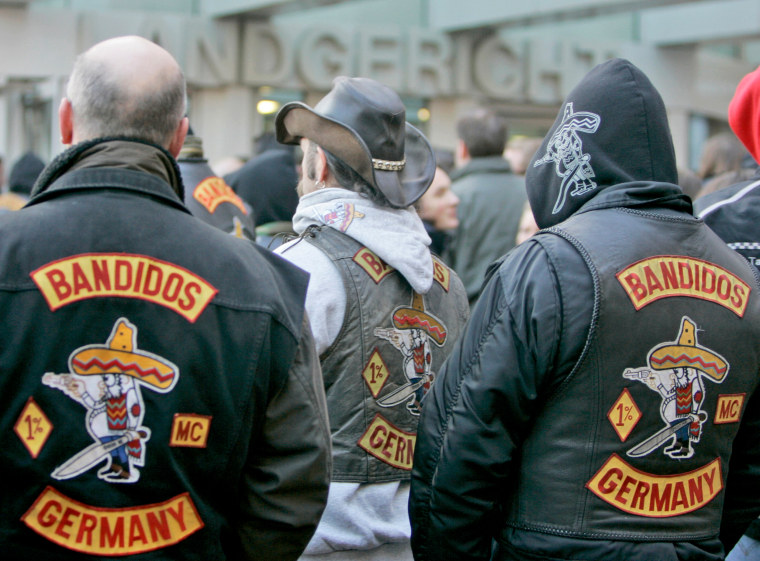 Last year, six Bandidos were convicted after stuffing the bullet-ridden bodies of eight fellow members into cars at an abandoned farm in rural southwestern Ontario in April 2006. It was one of the Canadian province's largest mass slayings.
Sher highlighted that "the group was also involved in the cycle wars in Quebec that claimed over 120 lives" from 1994 to 2002 and that "we've seen them involved in shootings in Australia."
Bandidos also fought the Hell's Angels in Scandinavia during the "Great Nordic War" from 1994 to 1997, which resulted in at least 11 killings and dozens of attempted murders, Sher noted.
While the gang's U.S. website is vague about its history, the Swedish chapter's homepage says the group was founded by Vietnam War veteran Donald Chambers in San Leon, Texas, in 1966.
Chambers and two other members were jailed six years later after forcing two dealers who had allegedly sold fake drugs to the group to dig their own graves before shooting them with shotguns and setting fire to their bodies.
According to Texas authorities, Sunday's shootout was out of character for the Bandidos — not because they're usually peaceful, but because they know how to carry out horrendous crimes under the radar.
The gang "conducts its illegal activities as covertly as possible and avoids high-profile activities such as drive-by shootings that many street gangs tend to commit," the state Department of Public Safety said in an assessment of gang activity last year. "They seek to turn public sentiment in their favor by organizing frequent charity runs."
The PR front hides a brutal truth, said the department, which ranked the Bandidos right up there with vicious gangs like the Bloods, the Crips and the neo-Nazi Aryan Brotherhood as being "responsible for a disproportionate amount of crime across urban, suburban, and rural areas of Texas."
In 2005, 26 members and associates were indicted in Seattle on racketeering and other charges across three states. The gang's president at the time, George Wegers, was sentenced to 20 months in prison in a plea agreement the next year.
However, former Bandidos member Edward Winterhalder insisted that the group's reputation was unfounded and that most of the members joined because they liked the biking culture.
"You get a few guys whacked out on meth, and everyone wants to help their brothers out, and that's how fights start," Winterhalder, the author of "Out In Bad Standings: Inside the Bandidos Motorcycle Club," told NBC News on Monday.
Winterhalder added: "Most of the guys, around 60 or 70 percent, are just regular guys. They all have jobs, they have families and they don't get involved in crime. ... They all have visual means of support."
Police disagree.
"This is not a bunch of doctors and dentists and lawyers riding Harleys," Waco Sgt. Patrick Swanton said after Sunday's gunfight. "These are criminals on Harley-Davidsons."
The Cossacks — the other gang to suffer fatalities in the Waco incident — were founded in 1969, according "The One Percenter: The World of Outlaw Motorcycle Clubs." Their motto is: "We take care of our own."
The Cossacks are not thought to have international chapters, but Winterhalder said they had "a very large presence in Texas."
M. Alex Johnson of NBC News contributed to this report.