The man suspected of killing four people and wounding four others after opening fire inside a Tennessee Waffle House has been arrested following an extensive manhunt, according to police.
Travis Jeffrey Reinking, 29, was taken into custody on Monday afternoon, moments after a news conference in which police said they had no new leads. He is accused of gunning down four people while wearing nothing but a green jacket at a Waffle House in Antioch, a Nashville neighborhood, early Sunday morning.
Reinking was carrying a semiautomatic gun and ammunition in his backpack when police spotted him after following up on a tip, officials said at a news conference about an hour after the arrest.
"At 1:07 this afternoon, Travis Reinking was taken into custody in a wooded area near here," Don Aaron, a spokesman for the Metropolitan Nashville Police Department, said in a parking lot across the street from the Waffle House.
Reinking was taken to a precinct station house, where he immediately requested a lawyer and refused to make a statement, Aaron said.
He was then taken to a hospital to be examined and will eventually be taken to the Nashville jail, where he will be charged with four counts of criminal homicide, Aaron said.
Lt. Carlos Lara said officers had been investigating a potential sighting of Reinking at a construction site in a wooded area not far from his Nashville apartment. At the site, construction workers told the officers that a person matching the suspect's description had gone into the woods, Lara said.
After spreading out in the woods, one officer spotted Reinking and told him to get on the ground, Lara said. He did so without a fight and was handcuffed, Lara said.
When the officers looked inside Reinking's backpack, they found the semiautomatic weapon and .45-caliber ammunition, he said.
Earlier, police said Reinking was found in a wooded area near Old Hickory Boulevard and Hobson Pike, which is less than two miles from the Waffle House.
Authorities had previously searched that same area both by air and using police dogs on Sunday and again with a ground search earlier Monday, police said in a tweet.
"His movements since the shooting are unknown," the tweet said.
Pictures tweeted by the Metro Nashville police showed Reinking in the back of a patrol car wearing a torn red long-sleeve shirt and dirty blue jeans. He appears to have scrapes on his skin.
Reinking had been added to the Tennessee Bureau of Investigation's "Top 10 Most Wanted" list after the Sunday morning shooting, according to the agency's Twitter page.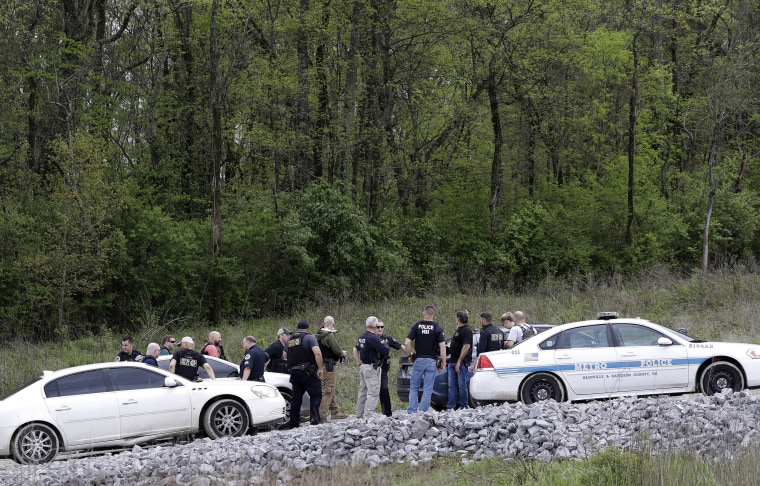 Approximately 160 law enforcement officers on the federal, state and local level had spent hours searching for Reinking in the neighborhoods near the Waffle House where Taurean C. Sanderlin, 29; Joe R. Perez, 20; DeEbony Groves, 21; and Akilah Dasilva, 23, were all killed, officials said.
Police began going door to door on Monday after no credible reports of Reinking's whereabouts had been made. The last sighting was on Sunday, when a neighbor saw him enter the woods behind his apartment complex.
Aaron said investigators now believe that Reinking stole a BMW last week after visiting a dealership and somehow obtaining a key fob. Police said Reinking refused to give his name or identification to salespeople before taking off in the car. Because of GPS technology in the car, it was later located at Reinking's apartment complex by police in Brentwood, Tennessee, a suburb of Nashville. But because officers didn't know who took the car and it was empty when they found it, they were unable at the time to link the theft to Reinking.
When police searched Reinking's apartment after the Sunday morning shooting, they found the BMW key fob.
Aaron also said a computer case was found by a civilian in Davidson County, which includes Nashville. Inside was a handwritten identification card with Reinking's name and phone number.
Aaron added that it was unclear if Reinking dropped the computer case before or after the shooting.
When asked if he had heard reports that Reinking was "hurling racial slurs" at a nearby supermarket, Aaron said, "I have not."
Questions had been raised about the racial nature of the shooting because Reinking is white. Three of the people he is accused of killing are black and one is Latino.
Reinking's arrest was not his first encounter with law enforcement. He was arrested last year after "crossing an exterior security barrier near the White House complex" on July 7, according to Aaron. He told Secret Service agents that he wanted to set up a meeting with President Donald Trump, NBC Washington reported.
At the time, Reinking lived in Morton, Illinois. After the White House arrest, Illinois revoked Reinking's license to carry firearms and seized four guns, but Illinois authorities then returned those firearms to Reinking's father, who Aaron said admitted giving the weapons back to his son.
Police had warned that Reinking could be armed after failing to find two of those guns in his apartment after the shooting. The semiautomatic weapon found in his backpack on Monday was one of those missing guns, police said, while the other remains missing.
Later Monday, Reinking was ordered held on $2 million bond.
Reinking's father could potentially face charges for giving the weapons back to his son, Marcus Watson, a special agent with the Bureau of Alcohol, Tobacco, Firearms and Explosives, said at the Monday afternoon news conference.
"He should not have had weapons," he said of Reinking.