The man who wrestled an AR-15 out of the hands of a nude gunman at a Tennessee Waffle House early on Sunday morning is being hailed as a hero — even though he says he doesn't see himself that way.
James Shaw Jr., 29, said that after going to a nightclub he decided to go to a Waffle House with a friend early Sunday. But the first one he went to was too crowded, so he ended up going to another one in Nashville.
Fatefully, he ended up there just minutes before the accused gunman, Travis Reinking, 29, of Morton, Illinois, entered the restaurant and opened fire.
"When I first heard the gun shots immediately it's like a what's-going-on type of feeling, and I saw a gentleman near the door of the Waffle House and I jumped from the high countertop seats and jumped toward the bathrooms," Shaw told "Today" on Monday. "The bathrooms seemed like a bad idea — kind of like shooting fish in a barrel."
Shaw said he felt that Reinking was going to "get [him] either way" and waited for an opportunity to act.
"I was waiting for chance, so when I saw the barrel down I saw an opportunity, and I attacked and took it and it worked out for myself and others who were in the Waffle House at same time," Shaw said.
Shaw said it was then that they began wrestling, ignoring his own pain as he grabbed the hot barrel of the AR-15 weapon. On Sunday afternoon, his right hand was bandaged from the encounter.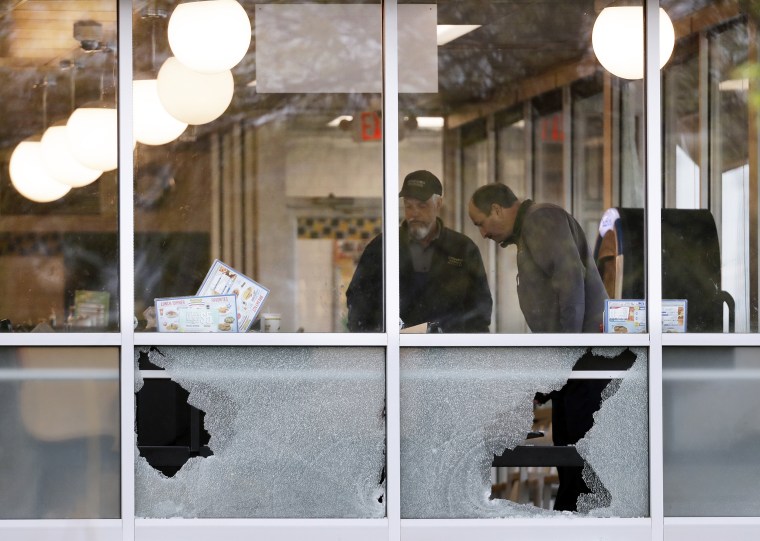 "He was kind of cussing while we were wrestling around. When I finally got the gun he was cussing like I was in the wrong," he said. "It wasn't any kind of talking between us; I just knew I just had to get that away from him."
Shaw said he wasn't sure if the gunman had a knife or another weapon on him when he made his move, but felt he just had to get him outside.
"Later on I learned he had other magazines in his gun and could have reloaded, so I'm glad I acted," Shaw said.
Reinking, who killed four and injured four others after opening fire in the Waffle House, escaped after being confronted by Shaw.
On Monday afternoon, Reinking was caught in a wooded area less than two miles from the Waffle House where the shooting took place.
Reinking's alleged shooting spree was not his first encounter with law enforcement.
Don Aaron, a spokesman for Metro Nashville police, said federal and state authorities had run across Reinking before.
The Secret Service said Sunday afternoon that Reinking was arrested on July 7 and charged with unlawful entry "after crossing an exterior security barrier near the White House Complex."
After the incident, Illinois revoked Reinking's license to carry firearms and seized four guns — including the AR-15 that was used in the Waffle House shooting — at the request of federal authorities, Aaron said at a news conference later Sunday.
But Illinois authorities then returned those firearms to Reinking's father, who Aaron said admitted to giving the weapons back to his son.
As the manhunt for Reinking continued on Monday, four families in Tennessee were mourning the loss of loved ones. Taurean C. Sanderlin, 29; Joe R. Perez, 20; Deebony Groves, 21; and Akilah Dasilva, 23, were all killed in the early morning shooting on Sunday, according to the Nashville Police Department.
Abede Dasilva, Akilah's brother, was inside the Waffle House when the shooting occurred.
"I didn't really see nothing, I just heard. Just gunshots, we just all ran, all I could think of when I'm hiding is where is my brother? It was all like a blur," Abede Dasilva said.
He added that his brother, who he described as a humble and intelligent aspiring rapper, didn't die until he reached the hospital.
"He was there. He was alive. He was conscious the whole time he was in there. We talked," Abede Dasilva said.
Police are crediting Shaw with ensuring that no other lives were lost on Sunday.
Shaw joined law enforcement officials and Nashville's mayor at a news conference Sunday, some 12 hours after the shooting, his right hand bandaged. There he was singled out by Waffle House CEO Walter Ehmer, who was present and thanked Shaw for his bravery.
"You don't get to meet too many heroes in life," Ehmer said before addressing Shaw, who dabbed at tears in his eyes. "We are forever in your debt."
Shaw said on Monday that he was sore from bruises, burns and a bullet graze along his right elbow.
"I would rather be sore than severely shot," he said.
When Shaw's father went to visit him in the hospital early Sunday before he was released, he had one piece of advice for his son: "Don't do that again."
"I take no pride in him charging a loaded gun," James Shaw Sr. said. "I do take pride in him helping save the lives of other people."
Now, James Shaw Jr. says he's thinking of those he was unable to save on Sunday.
"I'm thinking of the other victims, the ones who have passed," he said. "I hope people are just as concerned about them as they are about me."